pkl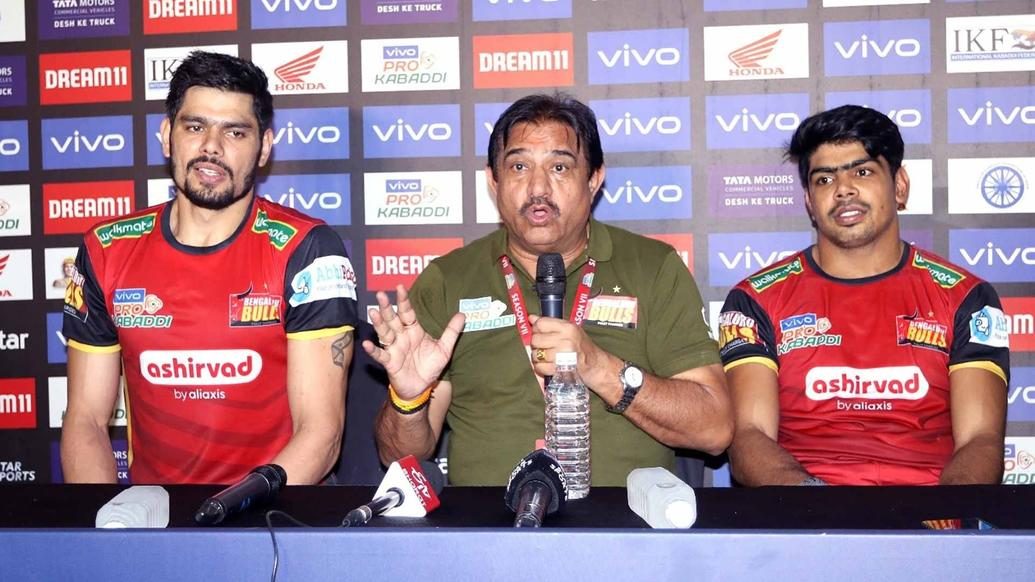 Bengaluru Bulls' coach stressed on the importance of his team's 40-39 win over Patna Pirates.
A sensational performance from 'Hi-Flyer' Pawan Kumar Sehrawat saw Bengaluru Bulls beat Patna Pirates 40-39 at the Sree Kanteerava Stadium in Bengaluru on Wednesday. At the post-match press conference, coach Randhir Singh Sehrawat, skipper Rohit Kumar and raider Pawan Sehrawat took questions for Bengaluru Bulls. while Patna Pirates were represented by coach Ram Mehar Singh and captain Pardeep Narwal.
Bengaluru Bulls
Q. What, according to you, was the moment that changed the game?
Randhir Singh Sehrawat: Pawan scoring two points against a defence of five and then the defence not allowing Pardeep to pick a bonus and tackling him. That passage of play really put us in the ascendancy. The game kept going back and forth and it was the perfect endorsement for the sport of kabaddi.
Q. How crucial was this win?
Randhir Singh Sehrawat: This was one of the most crucial wins of the campaign for us. We let a couple of teams get the better of us and we couldn't let that happen again.
Q. How important were your points in the second half?
Rohit Kumar: The Super Tackles that we conceded cost us big. The coach told me that it was important for me to stay on the mat and I told him to let me have one more shot against their three-man defence. In that moment, I had confidence in my ability and I'm glad I could contribute to the team's cause.
Q. How important is it as a raider to know that your defence has your back?
Pawan Kumar Sehrawat: A team that lacks a good defence will never do well. So, it is extremely important that the defence plays well. All the defenders in the team, be it Mohit (Sehrawat), Amit (Sheoran), Saurabh (Nandal) or Mahender (Singh), have all stepped up and made an impact.
Patna Pirates
Q. Thoughts on the game?
Ram Mehar Singh: It was a good game. We could have won. We made some critical mistakes that ended up costing us the match. We were in control. The defence played well. The last three minutes did not go as planned and that ended up being the difference.
Q. Pardeep, where did you think the game changed?
Pardeep Narwal: That two-point raid at the end which tied the scores. That is where the game turned in their favour.