pkl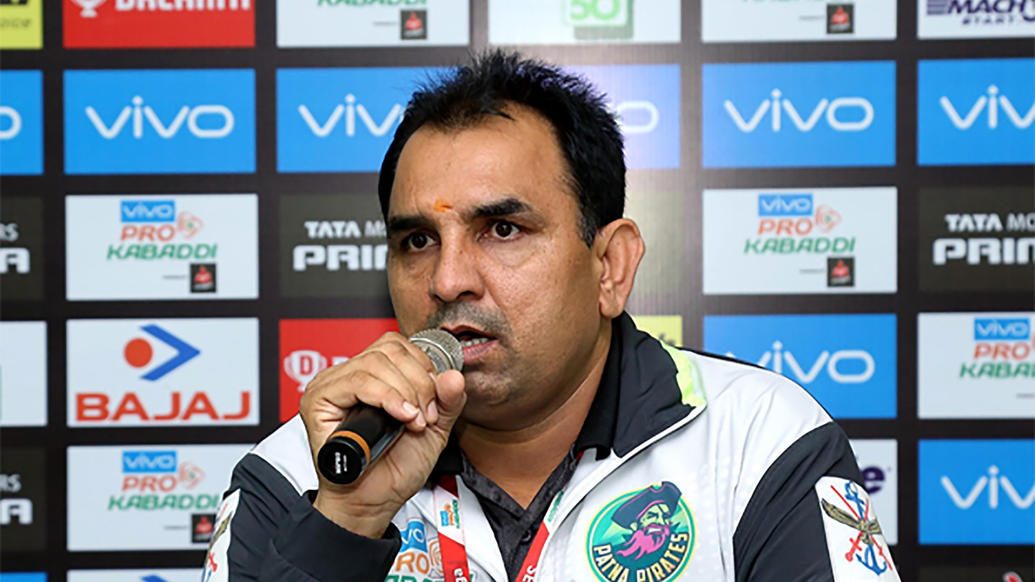 A second-half rally from Bengaluru Bulls, led by captain Rohit Kumar, fell just short as Patna Pirates held on to win by a scoreline of 35-32 at the Shree Shiv Chhatrapati Sports Complex in Pune on Sunday. In the post-match press conference, Patna Pirates coach Ram Mehar Singh took questions for his side, whereas Bengaluru Bulls were represented by coach Randhir Singh and captain Rohit Kumar.
Patna Pirates
Q. Five wins in five games. Thoughts on the performance?
Ram Mehar Singh: Hard work pays off. I believe every time the defence does well, we win. If you assess the best teams in the league, their defences are thriving. I felt our defence was outstanding in neutralising their offence. Jawahar Dagar, Jaideep, Vikas Kale were crucial for us. Towards the end, they did well to climb back into the contest, but we did well to hang on and win.
Q. Thoughts on Jawahar Dagar?
Ram Mehar Singh: Jawahar Dagar was outstanding today. His solo tackles on Rohit Kumar and Pawan Kumar Sehrawat were brilliant. Our Left Corner Jaideep has been playing well and if our Right Corner starts performing at a high level, naturally, the team would excel.
Q. Plans on the rest of the campaign?
Ram Mehar Singh: We have eight games left and the aim is to win as many as it takes to reach the Super Playoffs. We've won five in a row and hope to continue the momentum.
Q. What happened in the second half?
Ram Mehar Singh: Rohit Kumar happened. He was outstanding in the second half. In the first half, our offence and defence managed to neutralise them, but in the second half, Rohit Kumar played at a very high level and, towards the end, their defence made some key tackles. That's what made the game close.
Bengaluru Bulls
Q. Thoughts on the match?
Randhir Singh: In the first half, we should have played better. But towards the end of the second half, when we reduced them to three and gave away a Super Tackle, had we capitalized on the situation then, the game would have been ours to lose. Even a few minutes before that, we had them pegged but gave up some raid points and let their lead climb back up. We could have had the upper hand then.
Q. Thoughts on the performance of the defence?
Randhir Singh: Defence could have done better. It was much better in the second half, though.
Q. Another Super 10. Your assessment of your performance?
Rohit Kumar: We planned to start off slow to assess them. In defence, we ended up giving a few easy points and built pressure on the raiders to deliver. Their raiders were excellent as well.
Q. Were you confident that you could come back?
Randhir Singh: 100%. We have three excellent raiders and we were confident that we could climb back. But their Right Cover Jawahar Dagar and Jaideep were excellent in the second half.