pkl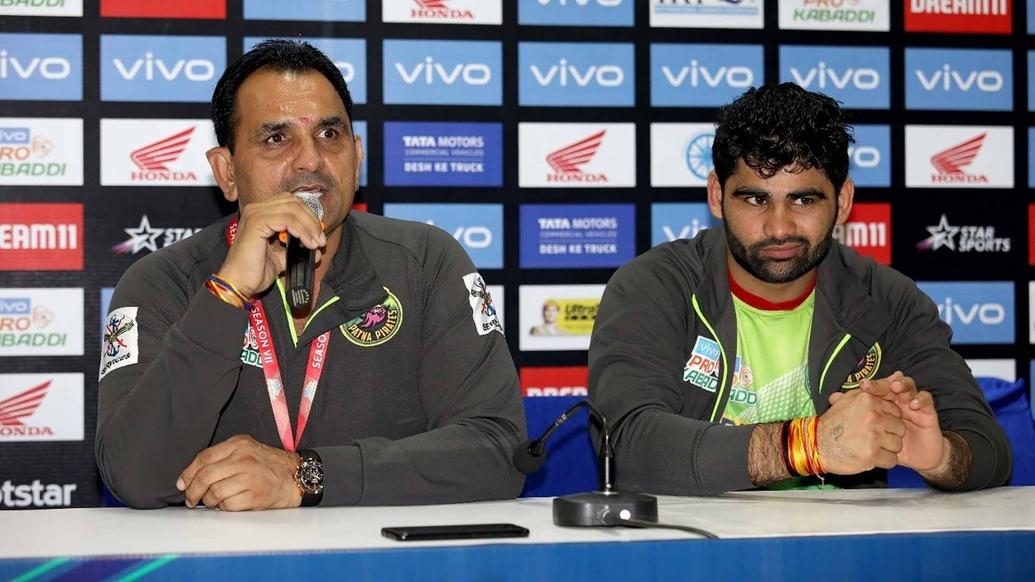 Patna Pirates coach Ram Mehar Singh lauded his team's effort against Gujarat Fortunegiants.
Seven unanswered points in the final minute of the contest saw Patna Pirates upstage Gujarat Fortunegiants 39-33 at the Shaheed Vijay Singh Pathik Sports Complex in Greater Noida on Saturday. At the post-match press conference, Patna Pirates coach Ram Mehar Singh and skipper Pardeep Narwal took questions for their team, while Gujarat Fortunegiants were represented by coach Manpreet Singh and skipper Rohit Gulia.
Patna Pirates
Q. Thoughts on the game?
Ram Mehar Singh: Our pride was at stake today and I'm glad that the team fought right up till the end and secured the win.
Q. What was the turning point, in your opinion?
Ram Mehar Singh: I can't really pinpoint one moment, but we had them pegged down to three and then two on the mat before giving up a point or two every time, which delayed the All Out. Had we been able to inflict an All Out earlier, we would have been in control of the contest. I believe that's where we ended up shooting ourselves in the foot.
Q. Pardeep, you finished with 17 raid points. Do you feel that the team cannot win without you performing well?
Pardeep Narwal: I don't believe that is the case. The defence came up big in the closing stages of the match and that is the only reason we won today. Lee's touch point kickstarted that spell for us right at the end. So, it was a team effort today.
Gujarat Fortunegiants
Q. What was the turning point of the game in your opinion?
Manpreet Singh: Jang Kun Lee's raid right at the end was the turning point, I believe. After that, our raiders couldn't pick up any points.
Q. The team has lost close matches, which is uncharacteristic of them. What has been the issue?
Manpreet Singh: Luck hasn't been too kind to us this season. All the players have tried their best in every match so far this season, but we just couldn't get the job done. We will have to assess the situation at the end of the campaign.
Q. Rohit, how challenging is it to be the captain of the team?
Rohit Gulia: Not much. The coach has a very meticulous plan and we all know our roles. As long as we communicate and perform at the level the coach expects us to, we know we will do well.