pkl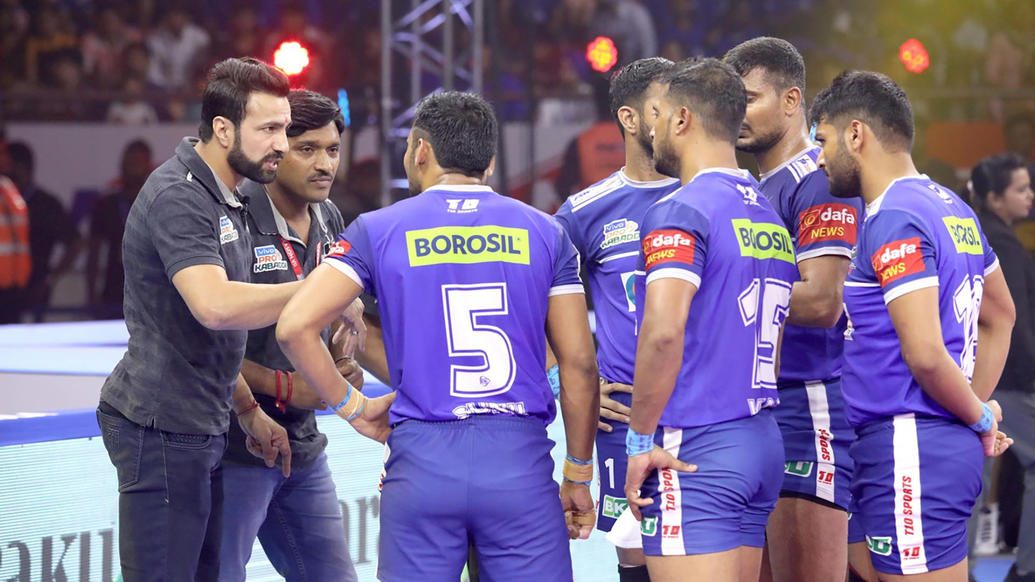 The Haryana Steelers coach was delighted with the way his team responded to his methods in his first season as coach.
Haryana Steelers delighted their home fans with a mighty 52-32 win against Telugu Titans in their last home match at the Tau Devilal Sports Complex in Panchkula on Friday. With this win, the team solidified its place in the third spot of the Season 7 standings with a match still to play. At the post-match press conference, coach Rakesh Kumar represented Haryana Steelers while Jagdish Kumble showed up for Telugu Titans. Some excerpts are below.
Haryana Steelers
Q. Are you disappointed on missing out on a top-two finish?
Rakesh Kumar: I'm a little disappointed that the team was not able to win some of the matches which were well within our grasp. But I am glad we were able to finish our home leg with a win. The best part is that the team is showing some good rhythm in defence as well as raiding.
Q. What learnings will you take into the playoffs?
Rakesh Kumar: I think this win will do our confidence a world of good going forward. The previous match hurt our morale a little bit, especially when it came to our defence. But in this match the entire team, and especially the defence, has performed well. I think these things will really count in the playoffs because we wanted to go into the playoffs high on confidence.
Q. How do you see your journey to the playoffs?
Rakesh Kumar: When I was a player I used to focus on my individual performance as well as that of the team. As a coach, my focus is to get the best out of the players regardless of whether we win or lose. My aim was to ensure the players gave their all in each match and I think I was successful in that regard. I think this approach has worked in most places. There were some matches where we fell short, and some players stumbled in some places. But overall it was a good start for me. I had not expected that I will get such a good response right off the bat as a coach and, now that the team is doing so well, I even have a chance to take them to the title.
Telugu Titans
Q. Abozar Mohajermighani and Vishal Bhardwaj were rested. Any particular reason?
Jagdish Kumble: I have said since the last match, the management observed that when they performed their best, we won matches. But more often than not, they didn't click. So, whatever new players we had, we wanted to give them a chance. But anyway, in today's match, the defence didn't really work and that's why we lost.