pkl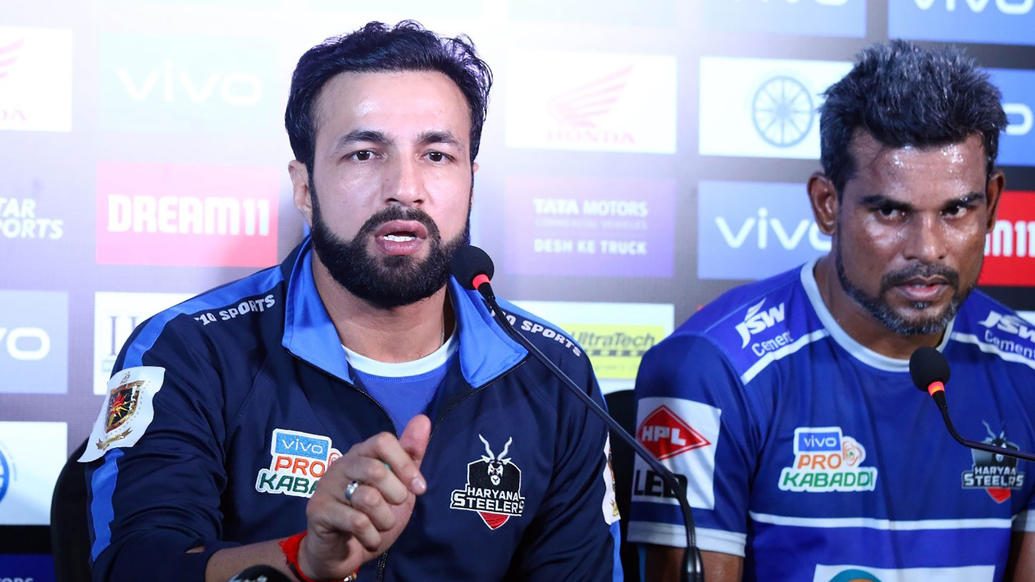 Haryana Steelers coach Rakesh Kumar also explains why he isn't entirely please by his team's victory over U Mumba.
Haryana Steelers leapfrogged U Mumba in VIVO Pro Kabaddi Season 7 standings after a 30-27 win over them at the Jawaharlal Nehru Indoor Stadium in Chennai on Monday. Vikash Kandola scored 9 raid points for the winners and Abhishek Singh also did well for U Mumba during his second half cameo. After the game, Haryana Steelers' coach Rakesh Kumar and skipper Dharmaraj Cheralathan addressed the media at the post-match press conference, while skipper 'Sultan' Fazel Atrachali and coach Sanjeev Kumar represented U Mumba.
Haryana Steelers
Q. Coach, happy with the win?
Rakesh Kumar: Look we're definitely happy because we won the game, but I'm a bit upset as well. We had such a big lead, but we allowed the opposition a chance to make a comeback to the point that we were almost on the verge of losing the game. Even after taking a big lead, we committed some mistakes in the second half. So, I'm happy with the win but not pleased at the manner of it considering the lead that we had.
Q. What did you make of Chand Singh's performance in the second half?
Rakesh Kumar: I had introduced Chand Singh from the bench to avoid the All-Out. He's very good at the ankle hold and opposition raiders aren't aware of that. So, I had full faith in him and told him at the start of the match that when I put you in to play, you have to grab hold of the raider's ankle. So, a lot of the credit for today's win goes to Chand Singh because without him, we would have succumbed to an All-Out much earlier and U Mumba would have more time on the clock to comeback.
Q. Do you like using your raiders flexibly?
Rakesh Kumar: It all depends on the situation. We started the match with Prashanth Kumar Rai raiding because I told him that against six or seven defenders, he must try to score points. He's a very good raider who has just returned from injury. Even though he's not back to his best yet, he'll slowly but surely improve with practice. My instructions to him were not to go too deep and just try for the bonus, which he did. But he's not fit to play a full game, which is why I play him for about 10-15 minutes and then change according to the plan. Vinay and Naveen are also good raiders who know how to get bonus points.
U Mumba
Q. Fazel, it was a good second half from U Mumba despite the loss. What do you think was the turning point?
Fazel Atrachali: I think the Super Tackles that Haryana Steelers made was most important in the game and I think that changed the match because we had one mistake, but we came back.
Q. Coach, do you feel Abhishek Singh and Sandeep Narwal should get more opportunities to raid?
Sanjeev Kumar: Yes, Abhishek absolutely deserves more chances to raid but he was slightly injured, which is why we opted to stick to our winning combination in offence from the last match. When we saw that our starting raiders weren't performing, we decided to put Abhishek in and he performed well.
Q. Coach, do you think your next match against Tamil Thalaivas is a good opportunity for a win given how home teams have performed this season?
Sanjeev Kumar: Absolutely. If you see how the home teams have performed this season then it's' clear that they don't necessarily have any advantage. If you see how the home side's have performed so far, you'll see that it's just U Mumba that has won two at home so far. Apart from us, no one else has managed to do that. Teams have managed to either win just one game or none at all at home this season. The most important thing to remember is that there are no strong or weak teams in this league. Whoever deals with the situations on the mat better during the match is generally the winner.