pkl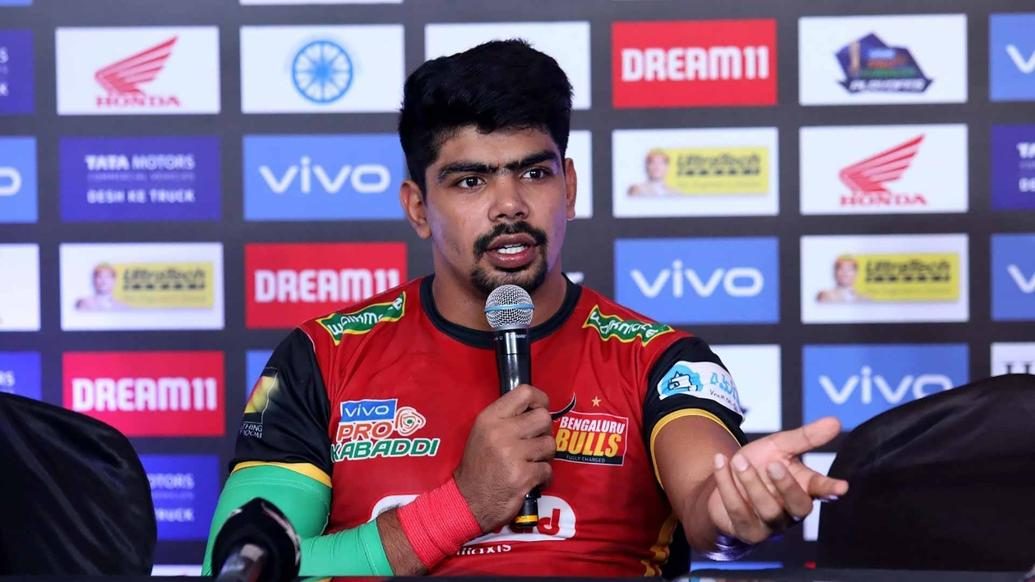 Reigning MVP Pawan Sehrawat laments lost chances after his team's 44-38 loss in semi-final 1.
Two early All-Outs and some smart play towards the end helped Dabang Delhi K.C. edge out Bengaluru Bulls by a scoreline of 44-38 in semi-final 1 at the EKA Arena by TransStadia in Ahmedabad on Wednesday. At the post-match press conference, Dabang Delhi K.C. coach Krishan Kumar Hooda, skipper Joginder Narwal and raider Naveen Kumar took questions for their team, while Pawan Kumar Sehrawat represented Bengaluru Bulls.
Bengaluru Bulls
Q. Thoughts on the game?
Pawan Sehrawat: You cannot rely on Super Tackles to win games. When you concede an All-Out four minutes into the game, you are already behind. The opponents were great no doubt and deserved the win.
Q. Thoughts on the defence?
Pawan Sehrawat: We were lucky to score two technical Super Tackles. I don't remember us scoring a single tackle point in a defence of six or seven. We couldn't stop them in Do-or-die raids either. We just didn't play as well as we should have in a semi-final.
Q. Rohit Kumar didn't look fully fit. Was he carrying an injury?
Pawan Sehrawat: Rohit hasn't been at a 100 per cent fitness for a while. He is still nursing an injury, but he played today because the team needed a leader on the mat. We also needed a third raider who could provide a few points and Rohit did that for us today.
Q. Bengaluru Bulls are known for their comeback but fell short today. What was the pivotal moment?
Pawan Sehrawat: Towards the end, we gave up two points in Do-or-die raids. We had rallied back so well and could have still won if not for that raid. Had we tackled him, we would have gotten them down to three on the mat, but instead, those two touch points sealed the game for them. I'm not saying that was the reason we lost, but we had the chance to win.
Dabang Delhi K.C.
Q. Joginder, Pawan has been in incredible form of late but your team managed to contain him well. What worked?
Joginder Singh Narwal: The coach has been constantly analysing Pawan's play and has been meticulously strategizing against him. So, we played according to the coach's plan and that got us the win.
Q. Naveen, your 20th straight Super 10. Thoughts?
Naveen Kumar: I'm overjoyed with my performance but I'm happier with the team making it to the final.
Q. Coach, are you content with the performance of the team?
Krishan Kumar Hooda: Never. There is always room for improvement. We are not satisfied by just making it to the final. We can play even better. We have played them thrice this year and we tied once, won by two points the other time and today we won by six. We could have won by 10 today, maybe 20. Next time, it could be 30. Who knows? I'm not a fortune teller. But as a coach, it is my job to demand more from my players because there is always something we can work on and improve.