pkl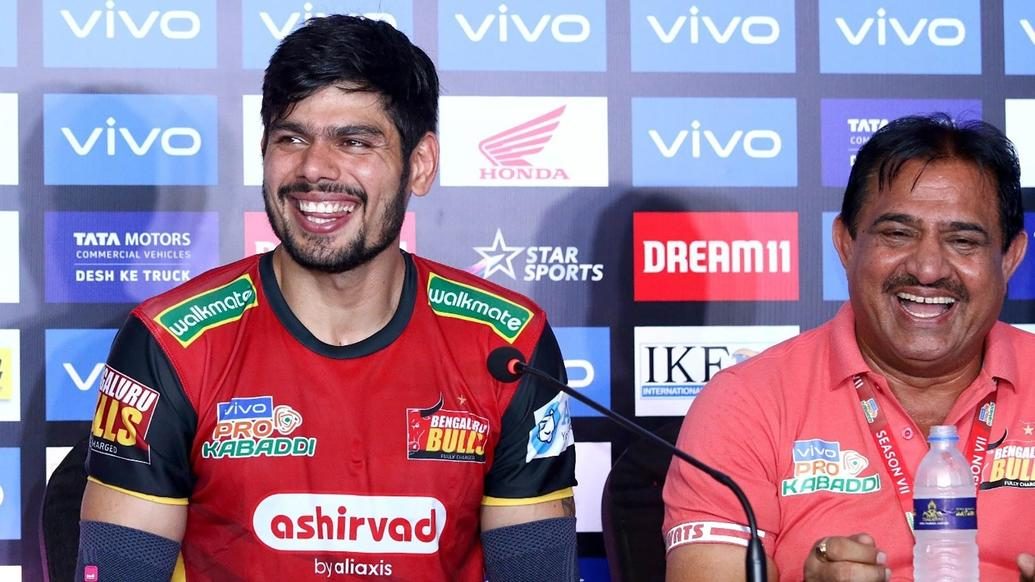 'Hi-Flyer' Pawan Kumar Sehrawat believed that the planning and execution were spot on in his team's 32-21 victory.
A Pawan Kumar Sehrawat and Saurabh Nandal-inspired Bengaluru Bulls beat Tamil Thalaivas by a scoreline of 32-21 in the opening match of the Chennai leg at the Jawaharlal Nehru Indoor Stadium on Saturday. In the post-match press conference, coach Randhir Singh Sehrawat, captain Rohit Kumar and Pawan Sehrawat took questions for Bengaluru Bulls while coach E. Bhaskaran and skipper Ajay Thakur represented Tamil Thalaivas.
Bengaluru Bulls
Q. Thoughts on Saurabh Nandal's performance?
Randhir Singh Sehrawat: He is a rookie and he has played well since his debut. Both my young Cover defenders managed to keep Ajay Thakur and Rahul Chaudhari quiet.
Q. Did you think Tamil Thalaivas' Corners were too tentative against you?
Pawan Kumar Sehrawat: No. I don't think that's the case. The entire Tamil Thalaivas team is extremely talented and we had planned meticulously to counter them. We had a long time to plan for this game and the coach and captain were spot on with their strategy and leadership.
Tamil Thalaivas
Q. Thoughts on the match?
Ajay Thakur: We had the game in our hand. Had we taken the point when the score was 19-17, we could have been in a commanding position. We need to work on being able to capitalise on situations like those.
Q. Pawan was able to penetrate the half quite deep to get the touch points. Was the team too tentative?
Ajay Thakur: He is a star player and teams obviously have to respect that and pick and choose their moments to tackle him. Of course, we could have been a little more aggressive. But when you are trying not to make any errors it gets a little difficult.
Q. Thoughts on Ajith's performance?
E. Bhaskaran: Ajith is an extremely talented player. Today he showcased what he is capable of and we expect a lot more from him. Obviously, there's a lot of room for improvement and I'm sure he will improve.