pkl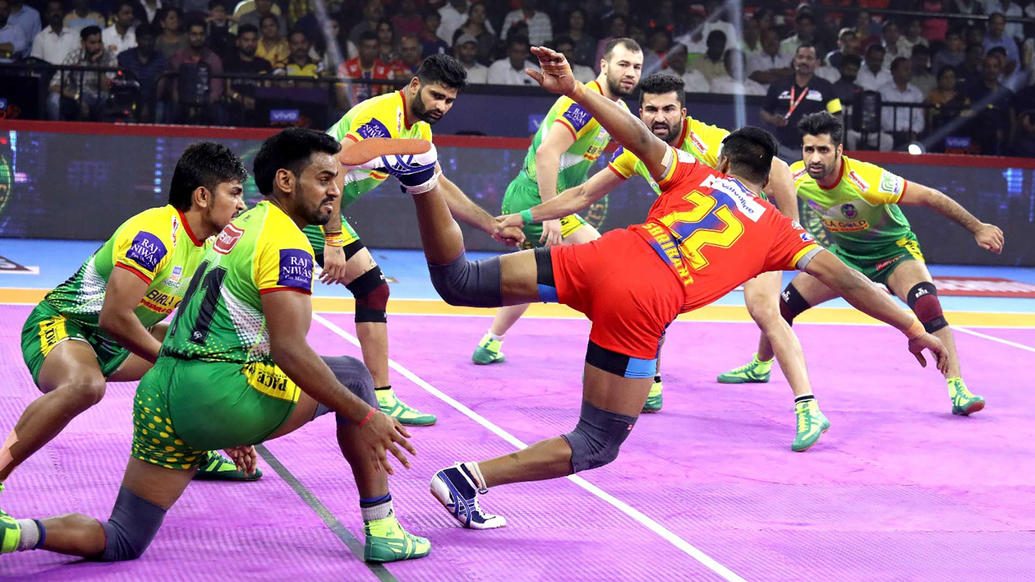 Pardeep Narwal was the top-scorer of the match with 14 points but U.P. Yoddha's all-round effort helped them win 41-29.
Led by Shrikant Jadhav's Super 10 and Nitesh Kumar's High 5, U.P. Yoddha managed to overcome Pardeep Narwal's 14-point performance to defeat Patna Pirates 41-29 at the Sree Kanteerava Stadium in Bengaluru on Friday. Surender Gill was also excellent as a supporting act, scoring 6 raid points and one tackle point for U.P. Yoddha.
Jadhav and Gill got off the block straight away for U.P. Yoddha and made short work of the Patna Pirates defence. They were well backed up by Amit and Nitesh Kumar in defence, conceding just two points before inflicting an All-Out a little over seven minutes into the match.
'Record-Breaker' Pardeep Narwal scored a two-point raid as soon as Patna Pirates took the mat once again. But Jadhav proved difficult to tackle for Patna Pirates' defence and managed to keep his team ahead with a two-point raid of his own which sent Jawahar and Vikas Jaglan to the bench.
The score difference then rose to nine once Narwal was sent to the bench through Nitesh's well-timed Ankle Hold and Patna Pirates were on the verge of conceding another All-Out. However, two Super Tackles by Monu and Hadi Oshtorak helped Patna Pirates claw thet way back into the match.
Patna Pirates capitalise on that momentum with a couple of two-point raids, first by Jaglan and then by Narwal, and reduced U.P. Yoddha down to a solitary man going into halftime, with the scoreboard reading 14-16 in U.P. Yoddha's favour.
Patna Pirates inflicted the All-Out with their opening raid of the second half to take the lead for the first time in the contest. But Jadhav and Nitesh got to work as soon as U.P. Yoddha reassembled and put their team back in the lead just two raids later.
Back-to-back successful raids by Narwal halted U.P. Yoddha's momentum and reduced them down to two men on the mat. Skipper Nitesh, though, remained defiant and brought up his High 5 with a Super Tackle on Narwal. Gill then put in two successful raids separated by a successful tackle on Jaglan to take U.P. Yoddha ahead and leave only two Patna Pirates players on the mat.
Gill inflicted the All-Out on Patna Pirates with a two-point raid to give his team a six-point cushion. Narwal reached High Super 10 soon after and continued to lead the Patna Pirates attack. But Jadhav remained a tough challenge for Patna Pirates' defenders and he soon brought up his Super 10 through a run of three successful raids to help U.P. Yoddha inflict a second All-Out on Patna Pirates and put the game beyond their reach.
Narwal scored another two-point to take his raid point tally on the night to 14, but it was U.P. Yoddha who completed a hat-trick of victories.
Top Performers:
Patna Pirates –
Best Raider – Pardeep Narwal (14 Raid Points)
Best Defender – Monu (3 Tackle Points)
U.P. Yoddha –
Best Raider – Shrikant Jadhav (10 Raid Points)
Best Defender – Nitesh Kumar (5 Tackle Points)