pkl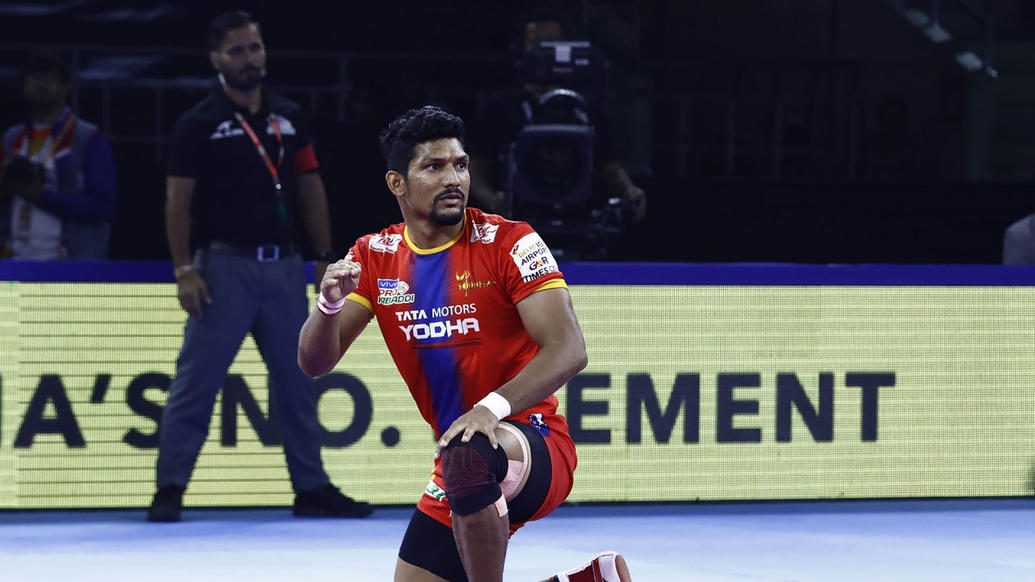 The U.P. Yoddha skipper had nothing but praise for the veteran raider.
A brilliant first half performance followed by a controlled effort in the second helped U.P. Yoddha beat Jaipur Pink Panthers by a scoreline of 31-24 at the Jawaharlal Nehru Indoor Stadium in Chennai on Monday. In the post-match press conference, coach Jasveer Singh, captain Nitesh Kumar and raider Rishank Devadiga took questions for U.P. Yoddha, while Jaipur Pink Panthers were represented by coach Srinivas Reddy and skipper Deepak Niwas Hooda.
U.P. Yoddha
Q. Thoughts on the match?
Jasveer Singh: I told my team not to worry about the results of the past few matches. Just play to your potential. Over the past three days, we practised well and the results are evident.
Q. Thoughts on the raiding unit?
Jasveer Singh: Surender Gill was our designated Do-Or-Die raider today. We asked Rishank to stay on the mat and focus on leading the team. They did their job extremely well.
Q. How helpful is Rishank's presence?
Nitesh Kumar: Rishank ensures I remain stress-free. His leadership is an invaluable asset.
Q. Thoughts on Gill's performance?
Rishank Devadiga: Surender Gill was our X-factor today. We knew they would study and prepare for our other raiders and Gill would be a surprise package. He's been outstanding in training and we are pleased that he's been able to translate that into the match as well.
Jaipur Pink Panthers
Q. Thoughts on the match?
Srinivas Reddy: The defence wasn't on the same page today. The chemistry between the two corners wasn't right. The errors in defence piled up and they took a substantial lead. After that, they managed the time well.
Q. Did it feel like the team was committing some of the same mistakes that they made last season?
Srinivas Reddy: Not really. We just made uncharacteristic mistakes in defence early in the game. Their confidence was boosted by that and they just carried the momentum from there on right up until the end.
Q. Were you surprised that your corners could only manage two points?
Srinivas Reddy: No. VIVO Pro Kabaddi is unpredictable. Any team can win on any given day. U.P. Yoddha have an outstanding roster. Well balanced in offence and defence. They showed great poise and maturity today to get the win.