pkl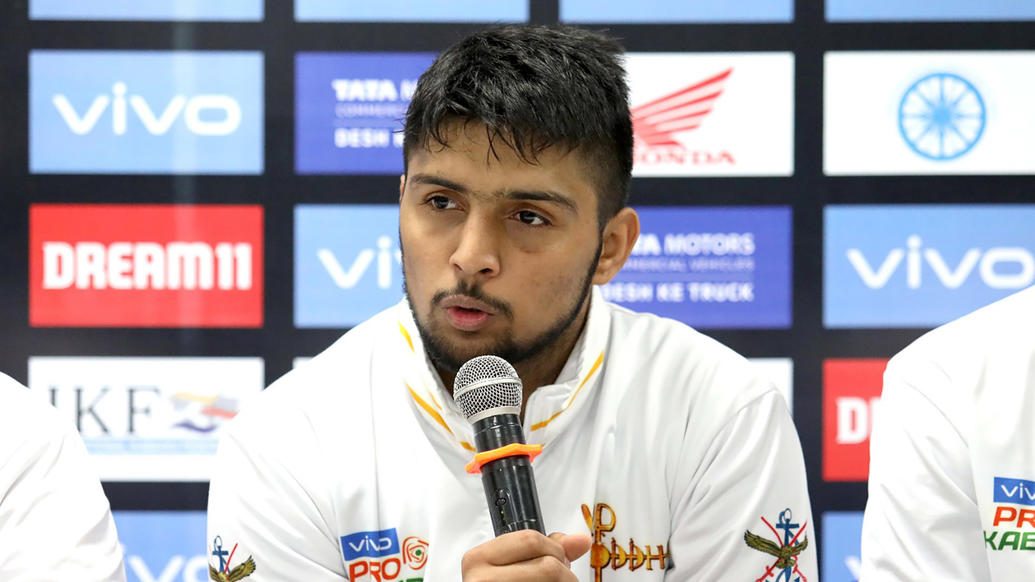 U.P. Yoddha's skipper believes his team has the psychological advantage ahead of their eliminator clash against Bengaluru Bulls.
A strong second half display saw U.P. Yoddha see off Bengaluru Bulls in the final match of the league stage by a scoreline of 45-33 at the Shaheed Vijay Singh Pathik Sports Complex in Greater Noida on Friday. At the post-match press conference, U.P. Yoddha's assistant coach Arjun Singh, raider Surender Gill and captain Nitesh Kumar took questions for their side, while captain Pawan Sehrawat represented Bengaluru Bulls.
U.P. Yoddha
Q. Coach, thoughts on the performance?
Arjun Singh: We wanted to be aggressive right from the word go and I believe we were successful in doing that. We were going to settle for nothing less than a win and the team delivered.

Q. Nitesh, how much confidence will the team take from this performance?
Nitesh Kumar: Beating the champions is perfect preparation for the playoffs, I believe. The team will feel a lot better ahead of the eliminator against this very side. They will try to forget this game and will focus on the fact that they are the defending champions. It will be a completely different game.

Q. What changed in the team's strategy against Pawan in the second half?
Nitesh Kumar: The defence was a bit tentative against him in the first half. We were trying to contain him by not letting him pick up touch points but given his quality, it was a doomed strategy to begin with. In the second half though we were much more aggressive in tackling him and circled around him quickly to trap him and pin him down. So, every time he tried to force the issue in the second half by coming in deep, we pounced on him without hesitation.
Q. Surender, what has been the key to your success?
Surender Gill: The support of the coaching staff and my teammates really helps me out there on the mat. I do not feel the pressure of trying to score points in every raid that I put in, nor am I demoralised when the defence tackles me. Having the likes of Rishank Devadiga and Shrikant Jadhav really helps my confidence.
Bengaluru Bulls
Q. What happened after the first All Out?
Pawan Sehrawat: I was tackled one too many times. They were excellent in defence today. I got tackled too many times against a defence of four and five. And whenever I was successful in scoring points, their raiders answered almost immediately. So, there were a few errors on my part and a few on our defence's.

Q. Is leadership affecting your performance?
Pawan Sehrawat: Not really. I feel as a team and as the lead raider, our offence has been comfortable. Sumit (Singh) scored a few points today, Banty got a couple or so. The defence, however, has been a concern for us.

Q. Any word on Rohit Kumar's comeback?
Pawan Sehrawat: There is 99 per cent chance that he will feature in the playoffs. In the event of injury in the next three days or so, he might have to sit out. But otherwise, he will be leading us in the eliminator.

Q. Will there be more pressure knowing your eliminator opponent beat you today?
Pawan Sehrawat: It's the playoffs. There are no do-overs. So, both teams will undoubtedly feel the pressure and we will be ready.