pkl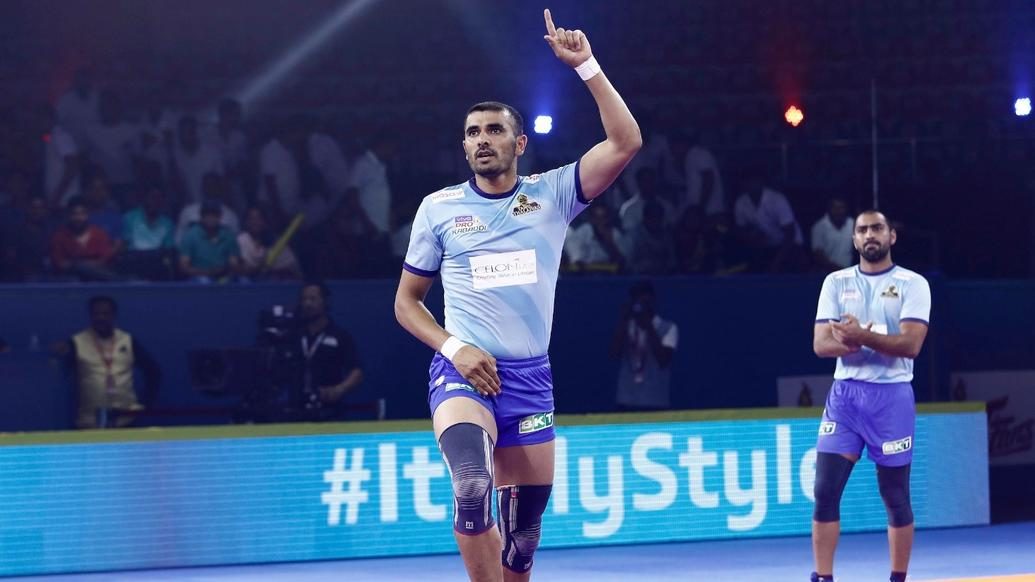 A total of 36 kabaddi players past and present have won the prestigious Arjuna Award.
The National Sports Awards are given to those who have excelled in their respective sporting fields as a recognition of their outstanding achievements.
The awards, generally handed out on National Sports Day on August 29, are presented by the Ministry of Youth Affairs and Sports, Government of India every year.
Sadanand Shetye was the first recipient of the National Sports Award. He was conferred with the Arjuna Award in 1972.
Since then, several other kabaddi players and coaches have gone on the honours list. These include notable Pro Kabaddi stars like Anup Kumar, Ajay Thakur and Deepak Hooda.
In kabaddi, 43 individuals have been honoured with a National Sports Award. Here's a comprehensive list of kabaddi players and coaches who have been on the honour roll.
Arjuna Award winners in kabaddi
The Arjuna Award is given to recognise outstanding achievements in sports. A total of 36 kabaddi players, including both men and women, have received the Arjuna Award. Sadanand Shetye was the first kabaddi player to be honoured with the Arjuna Award in 1972. The all-rounder from Maharashtra won 12 Senior National Championship titles with Indian Railways. Shakuntala Khatavkar, meanwhile, was the first women's kabaddi player to be conferred with the Arjuna Award in 1978.
Prominent names like Ajay Thakur, Rakesh Kumar, Anup Kumar, Manjeet Chhillar, Jasvir Singh and Deepak Niwas Hooda -- who have played in PKL -- have also won the prestigious award.
1972 - Sadanand Shetye
1973 - Bholanath Guin
1978 - Shakuntala Khatavkar
1980 - Shantaram Jadhav
1981 - Monika Nath
1983 - Maya Kashinath
1986 - Rama Sarkar
1990 - Hardeep Singh
1994 - S. Rajrathnam
1994 - Ashok Shinde
1995 - P. Ganeshan
1996 - Shriram Bhavsar
1996 - Neeta Moreshwer Dadwe
1997 - Randhir Singh
1998 - Ashan Kumar
1998 - Biswajit Palit
1999 - Balwinder Singh (Fidda)
1999 - Tirath Raj
2000 - C Honnappa Gowda
2001 - BC Ramesh
2002 - Ram Meher Singh
2003 - Sanjeev Kumar
2004 - Sunder Singh
2005 - Ramesh Kumar
2006 - Navneet Gautam
2009 - Pankaj Shirsat
2010 - Dinesh Kumar
2011 - Rakesh Kumar
2011 - V Tejaswini Bai
2012 - Anup Kumar
2014 - Mamatha Poojari
2015 - Manjeet Chhillar
2015 - Abhilasha Mhatre
2017 - Jasvir Singh
2019 - Ajay Thakur
2020 - Deepak Niwas Hooda
Dronacharya Award winners in kabaddi
The Dronacharya Award is given to coaches to recognise their efforts in driving a sport or an athlete to the top. The chief coach of the Indian national kabaddi team that won gold at the 1990 Asian Games, E. Prasad Rao, was the first-ever recipient of the Dronacharya Award back in 2002. Former Jaipur Pink Panthers coach Balwan Singh and Haryana Steelers coach for Season 5 Rambir Singh Khokhar have also been recognised for their excellence in the field of coaching. Dabang Delhi K.C. head coach Kishan Kumar Hooda was conferred the Dronacharya Award in 2020.
2002 - E. Prasad Rao
2005 - Balwan Singh
2012 - Dr Sunil Dabas
2019 - Rambir Singh Khokhar
2020 - Kishan Kumar Hooda
Dhyan Chand Award winners in kabaddi
Gujarat Giants head coach Manpreet Singh and veteran Indian national kabaddi player Shamsher Singh are the only two kabaddi players to win the Dhyan Chand award, a lifetime achievement sporting honour.
Manpreet Singh is a two-time Kabaddi World Cup winner who was also declared Man of the Match in the final of the 2007 Kabaddi World Cup. He has won 12 international gold medals, including two at the Asian Games. He has also guided the Gujarat Giants to two consecutive Pro Kabaddi finals in seasons 5 and 6. Shamsher Singh, meanwhile, was part of the coaching management for Dabang Delhi K.C. when they qualified for the final in Season 7.
2007 - Shamsher Singh
2020 - Manpreet Singh