pkl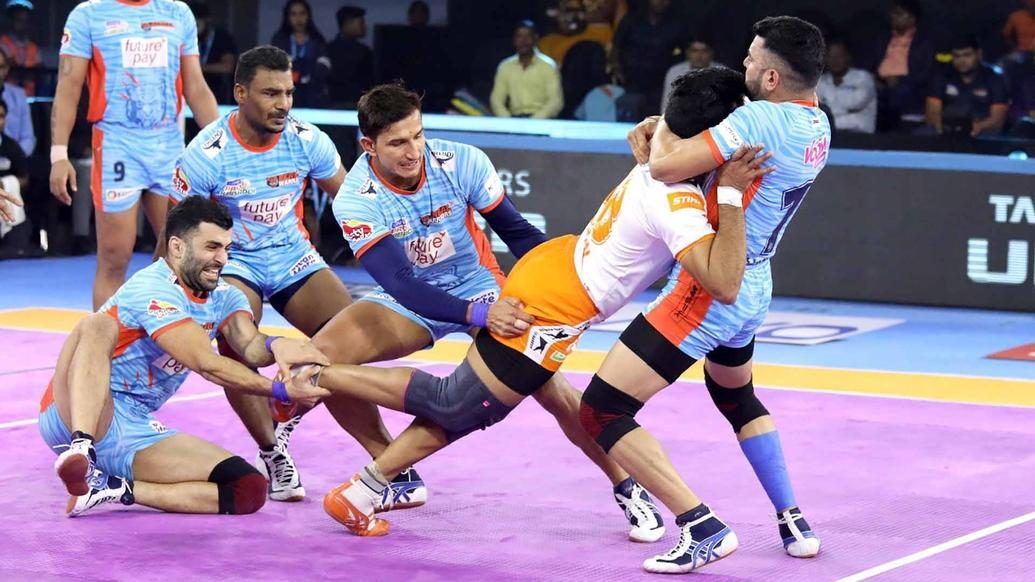 A spectacular late surge by Bengal Warriors gave them a 42-39 win over Puneri Paltan.
Bengal Warriors made a dramatic late comeback in the final minute of their clash against Puneri Paltan to emerge as 42-39 winners at the Netaji Subhash Chandra Bose Indoor Stadium in Kolkata on Sunday. Skipper Maninder Singh scored a Super 10 for the hosts, while Baldev Singh picked up a High 5.
Puneri Paltan started well and moved into an early 4-0 lead before K. Prapanjan picked up a bonus point to get the hosts on the scoreboard. A Super Tackle by Bengal Warriors in the subsequent raid and a Super Raid by Maninder Singh soon after then turned the game in favour of the hosts and put them ahead. With momentum now on their side, Bengal Warriors looked to drive home their advantage and enforced an All-Out in the 10th minute to extend their lead to 13-9.
Puneri Paltan fought back with some decisive tackling and efficient raiding from the likes of Pankaj Mohite and Emad Sedaghatnia. They went on to enforce an All-Out of their own to retake their lead as the teams approached halftime. However, two quick points for Bengal Warriors after the All-Out meant that they took a slender 21-20 advantage into the break.
The back-and-forth nature of the encounter continued in the second period with Puneri Paltan wrestling back the lead within a minute of the restart. Even though Puneri Paltan looked on top at that point, they couldn't quite open up a big lead as the teams continued to trade blows during the first 10 minutes of the half.
Puneri Paltan took a three-point lead into the final quarter of the contest, but the match was still very much in the balance. However, they upped the ante with some exquisite raiding by Mohite and Manjeet as the clock started to wind down and managed to create some breathing space with just under six minutes left to play, after enforcing another All-Out on Bengal Warriors to extend their lead to 36-27.
The game looked done and dusted with a nine-point lead for Puneri Paltan to protect in the last five minutes as they looked to control the game from there. However, a Super Raid by Sukesh Hegde made it a five-point game and gave Bengal Warriors some hope with more than two minutes to play.
Mohammad Nabibakhsh then pulled off a dramatic Super Raid in the dying moments to inflict an All-Out and give his side a 40-39 lead. The home team then kept their composure and scored two more points in the final seconds to claim a three-point win.
Top Performers:
Bengal Warriors –
Best Raider – Maninder Singh (10 Raid Points)
Best Defender – Baldev Singh (5 Tackle Points)
Puneri Paltan –
Best Raider – Pankaj Mohite (11 Raid Points)
Best Defender – Manjeet (3 Tackle Points)