pkl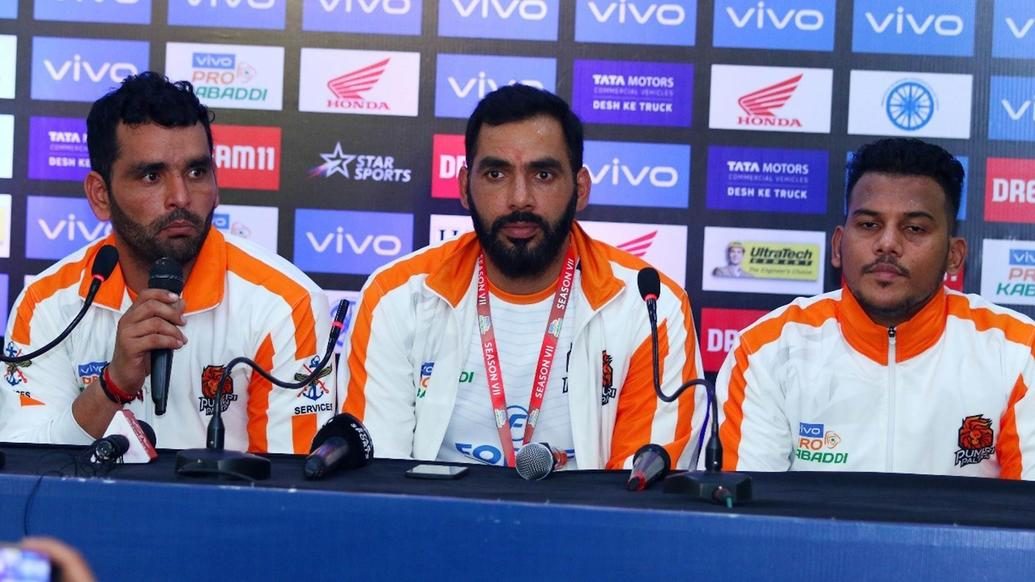 Coach Anup Kumar was highly appreciative of his players and believes the team has found the right combination.
An outstanding High 5 by Girish Maruti Ernak and a brilliant display from the Puneri Paltan raiding unit helped them beat the Gujarat Fortunegiants by a scoreline of 33-31 at the Patliputra Indoor Stadium on Monday. In the post-match press conference, coach Anup Kumar, captain Surjeet Singh and Girish Maruti Ernak took questions from the media while coach Manpreet Singh and captain Sunil Kumar took questions for Gujarat Fortunegiants.
Puneri Paltan
Q. How has this leg been for your team?
Anup Kumar: It's been great so far. We've won against two outstanding teams. My players have shown what they are capable of and it is important for us to continue in the same rhythm. Winning and losing is a part of the game but giving it your all is extremely necessary, I believe.

Q. Thoughts on the performance?
Girish Maruti Ernak: We lost the first three and were determined to do better in this leg. We've worked extremely hard over the past week and we wanted to make sure we play as a team on the mat. I'm happy that we've done just that in the past two games.

Q. Thoughts on your High 5?
Girish Maruti Ernak: I took lessons from the first three games, worked on them, and the result is evident.

Q. Do you finally have the right combination?
Anup Kumar: The combination we believe is the winning one in the camp may not be the one that actually does well during the season. So, we have to be flexible and make those adjustments to win. We've been brilliant over the past two games and everything has worked, so I do feel that this combination is a good one.
Gujarat Fortunegiants
Q. Your thoughts on the game?
Manpreet Singh: We could have played better in defence. In offence as well, but defence primarily.

Q. Did the advanced tackles cost you the game?
Sunil Kumar: We made an advanced tackle when we had them pegged down to three men. Had we shown a little composure there, we could've caught the raider and even inflicted the All-Out.

Q. Sachin returned to form. Thoughts on that?
Manpreet Singh: Form is temporary. It comes and goes. I wasn't worried about him.

Q. Thoughts on the combination?
Manpreet Singh: We try to give all players an opportunity. You never know who will play. You might even see a completely new seven in the next match.