pkl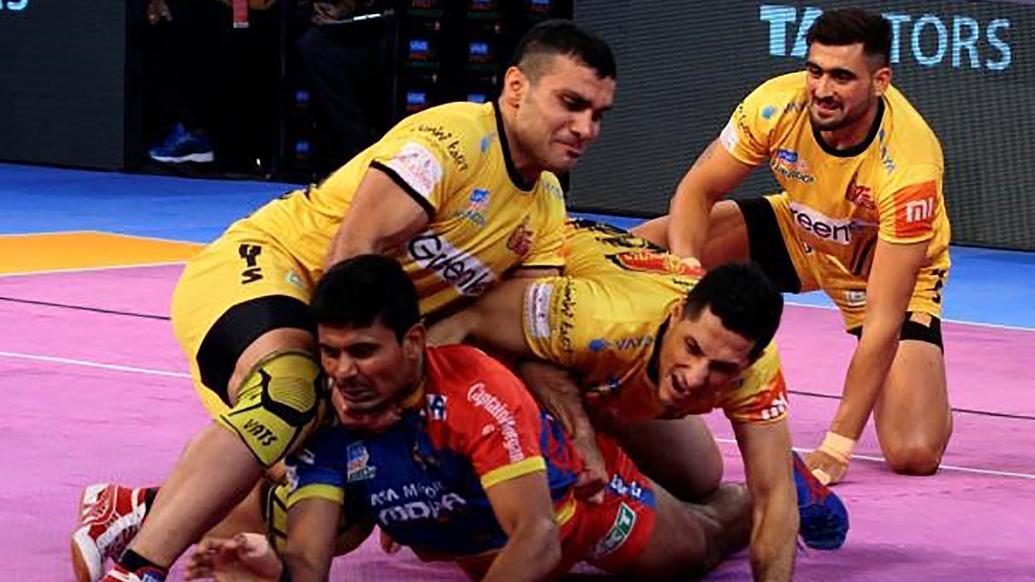 Telugu Titans pulled off a 34-29 victory over U.P. Yoddha on the back of a strong defensive performance.
Abozar Mohajermighani and Vishal Bhardwaj led a resilient Telugu Titans defence to guide their team to a 34-29 victory over U.P. Yoddha at the Motilal Nehru School of Sports, Rai in Sonepat on Saturday. Mighani put in 6 tackles out of which he was beaten by the raider just once, while Bhardwaj was beaten just once in 5 tackles, which goes to show the strength of the Telugu Titans' defence.
Telugu Titans got an early 3-0 lead through Rahul Chaudhari and Nilesh Salunke's successful bonus attempts. Both raiders looked in good rhythm right from the start and were backed up well by Abozar Mohajermighani and Vishal Bhardwaj in defence.
U.P. Yoddha struck back by sending Nilesh Salunke to the bench and putting in successful raids through captain Rishank Devadiga and Prashanth Kumar Rai to bring their team within one point of Telugu Titans at 8-9 in the 10th minute.
Both teams' defenders showed incredible resolve which made scoring difficult for the raiders after the first few minutes of the game. Telugu Titans' defence managed to pull the team ahead by 4 points in the 17th minute but a 2 point raid by Rishank Devadiga narrowed down the difference once again.
Check out the photos from the match here.

U.P. Yoddha managed to bring Telugu Titans down to 3 men riding on that momentum before a Super Tackle initiated by Abozar Mighani's thigh hold helped Telugu Titans recover and they went into halftime with a 5 point advantage at 18-13.
Telugu Titans consolidated on the good work of their defenders in the second half by picking up two quick points through a Rahul Chaudhari raid and a successful tackle on Shrikant Jadhav. Vishal Bhardwaj, Mohsen Maghsoudlou and Abozar Mighani maintained a strong defensive set up and kept snapping up U.P. Yoddha's raiders taking their lead up to 6 points with 11 minutes left on the clock.
Mighani picked up a High 5 while Farhad Milaghardan showed some good all round kabaddi in the second half by keeping the raid points ticking for Telugu Titans and contributing with two strong Ankle Holds in defence.
The game looked under Telugu Titans' control before Prashanth Kumar Rai scored 3 quick points through a bonus and a Super Tackle to bring the game close at 30-26 in the 18th minute. Mighani was sent to the bench for the first time in the game by Rai in the last minute and the score difference came down to 2 points with only the final raid remaining. But Rahul Chaudhari stayed composed and pulled off a Super Raid to take Telugu Titans through with a 5 point margin.
Visit the matchcentre to relive the contest here.