pkl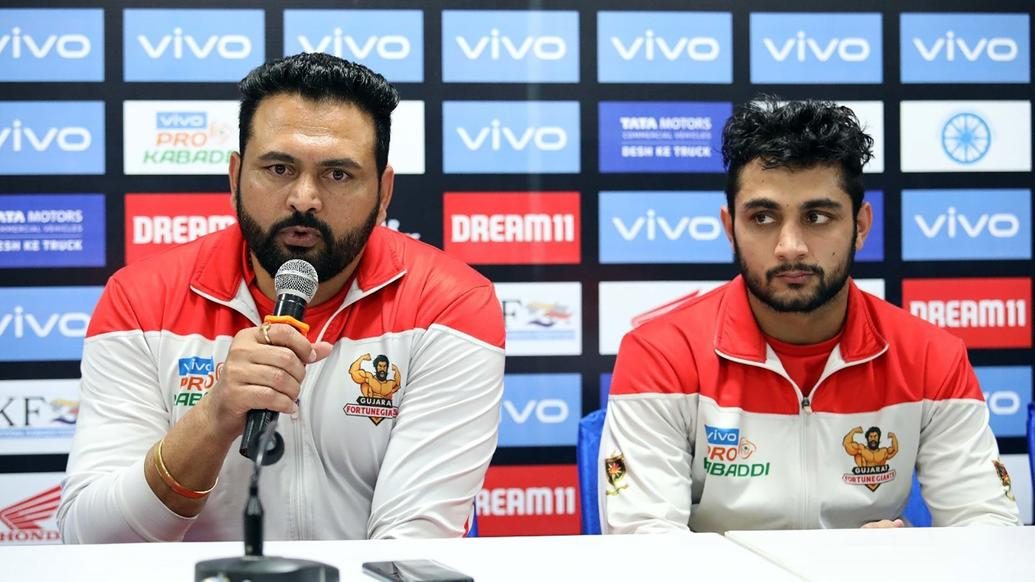 The Gujarat Fortunegiants coach hailed the rookie raider for his impact this season.
A massive second half from Gujarat Fortunegiants helped them beat Telugu Titans by a scoreline of 48-38 at the Shaheed Vijay Singh Pathik Sports Complex in Greater Noida on Monday. At the post-match press conference, Gujarat Fortunegiants' coach Manpreet Singh, skipper Rohit Gulia and raider Sonu Jaglan took questions for their side, while assistant coach Jagdish Kumble and 'Baahubali' Siddharth Desai represented Telugu Titans.
Gujarat Fortunegiants
Q. Coach, how important was this win?
Manpreet Singh: Wish we had a few more wins. The fans of Gujarat Fortunegiants who waited for months for vivo Pro Kabaddi Season 7 and who were with us for the past three months were obviously quite upset because of our performances. So, we wanted to win for the fans. To make sure they had something to smile about. This will serve as a springboard for the future.
Q. What positives will you take from this season?
Manpreet Singh: The fact that we were always in the hunt. Outside of that one blemish, which was our match against Haryana Steelers in Delhi, we have been in a position to either win or tie right until the end in almost all our matches. The matches that we lost were quite close.
Q. Thoughts on Sonu Jaglan's performances?
Manpreet Singh: Sonu Jaglan has been a revelation. He has been the find of the season for us. Among all the new faces in our roster this season, he has stood out the most. He is an exciting talent and there is a lot more to come from Sonu.
Q. Who do you believe will go all the way this season?
Manpreet Singh: I believe all six teams can win it all. Like we've been saying all year long, isse tough kuch nahi (there isn't anything tougher than this) and it truly is impossible to predict the outcome of any game. But, if I had to choose, I believe it's between Dabang Delhi K.C. and Bengal Warriors.
Telugu Titans
Q. What happened in the second half?
Jagdish Kumble: It was a repeat of what has been the case with us for the entire season. We couldn't maintain our lead. The defence, especially, wasn't up to the mark today. The raiders were scoring consistently and with relative ease, but the defence had a poor second half.
Q. What were the positives from this season?
Jagdish Kumble: Not many, I believe. But Siddharth (Desai) was a silver lining. He got going in the second half of the season and we are happy we have him on our roster. The new boys that we played in the past two matches were decent. But the senior players, like Vishal (Bhardwaj) today, haven't been playing well.
Q. Siddharth, thoughts on your performance?
Siddharth Desai: My error against their defence was a big moment in the match. I was tackled against a defence of five and in the very next raid Sonu scored two. That is where we lost control over proceedings.