pkl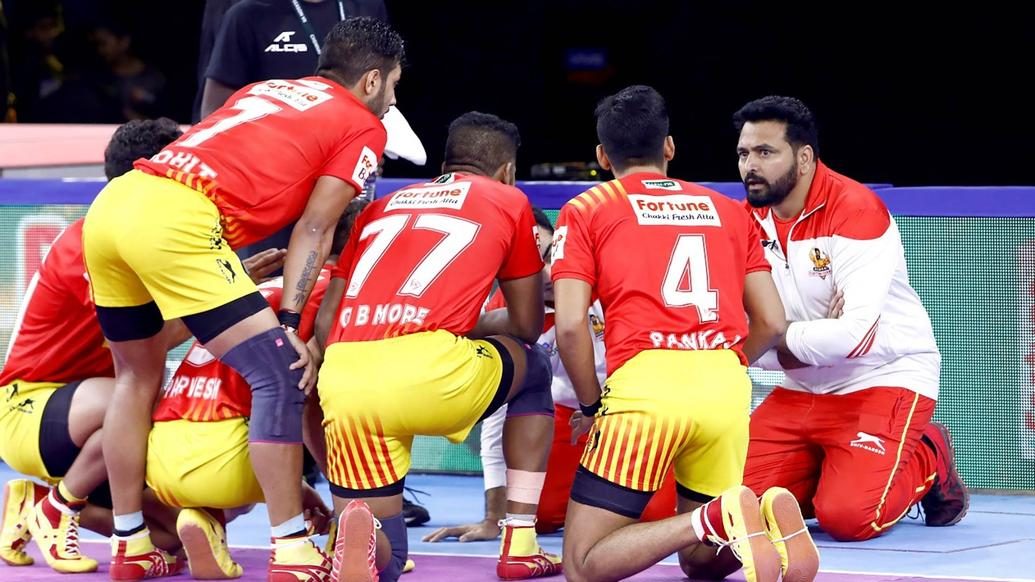 Gujarat Fortunegiants coach Manpreet Singh was delighted to have snapped their six-match winless run.
Gujarat Fortunegiants picked up a much-needed win and ended their six-match winless run in vivo Pro Kabaddi Season 7 after a 29-26 win over Patna Pirates at the Jawaharlal Nehru Indoor Stadium in Chennai on Friday. After the match, Gujarat Fortunegiants' coach Manpreet Singh and captain Sunil Kumar addressed the media at the post-match press conference, while Patna Pirates were represented by their coach Ram Mehar Singh and skipper 'Record-Breaker' Pardeep Narwal.
Gujarat Fortunegiants
Q. Coach, how happy are you after the win?
Manpreet Singh: I was happy with the previous games where we lost too because we didn't play badly in those games despite the results. We went close and lost them by one or two points. But it feels good to win after six matches. We almost had to wait for (what feels like) a month for this win, so it feels good.
Q. Sunil, happy with the defence today?
Sunil Kumar: In the last few games we weren't at our best in defence, but today we were told to just tackle the raiders whenever we felt we had a chance and we followed that formula and found success.
Q. Coach, happy with the performance of your raiders?
Manpreet Singh: Our raiders played well today. They didn't manage to perform that well during our home leg. We had a few days' break after our home leg, which we used to work hard and sweat it out on the mat. We tried to rectify a few of the errors our raiders were making during this period and as a result, they picked up good bonuses and touch points against a defence of six and seven today. Whenever someone put in a good advance tackle, they executed swift escapes as well.
Q. What did you make of Sonu's performance?
Manpreet Singh: Sonu's hasn't managed to play according to his potential so far. He's a very good raider. He's got great skill and a good height. He's capable of scoring a bonus, using the Kick or Touch, and has everything you want a raider to have. It's taking him a bit of time to find form but the day he does come into his own, Gujarat Fortunegiants will be unstoppable.
Patna Pirates
Q. Coach, your thoughts on what was a very tight game?
Ram Mehar Singh: Yes, it was a very close and good game throughout. We had hopes of winning till the end but some mistakes in defence cost us. The advanced tackle by Mohammad Esmaeil Maghsoudlou, which involved Neeraj Kumar as well, was the turning point. Apart from that, the game was in our hands. At the start, both - our defence and attack - did good jobs, but the major mistake was during the turning point. That's where the game changed.
Q. What went wrong in the second half?
Ram Mehar Singh: As I've said, the advanced tackles in defence changed the game in the last 5-10 minutes, as well as after halftime. After the break, whenever the opposition has three or four players left, we make a mistake due to an advanced tackle and that's where the complexion of the game changed.
Q. How difficult will it be for your team going forward?
Ram Mehar Singh: It will be difficult, but we have warriors who can show their true character in difficult circumstances. They produce their best in difficult situations and become stronger.