pkl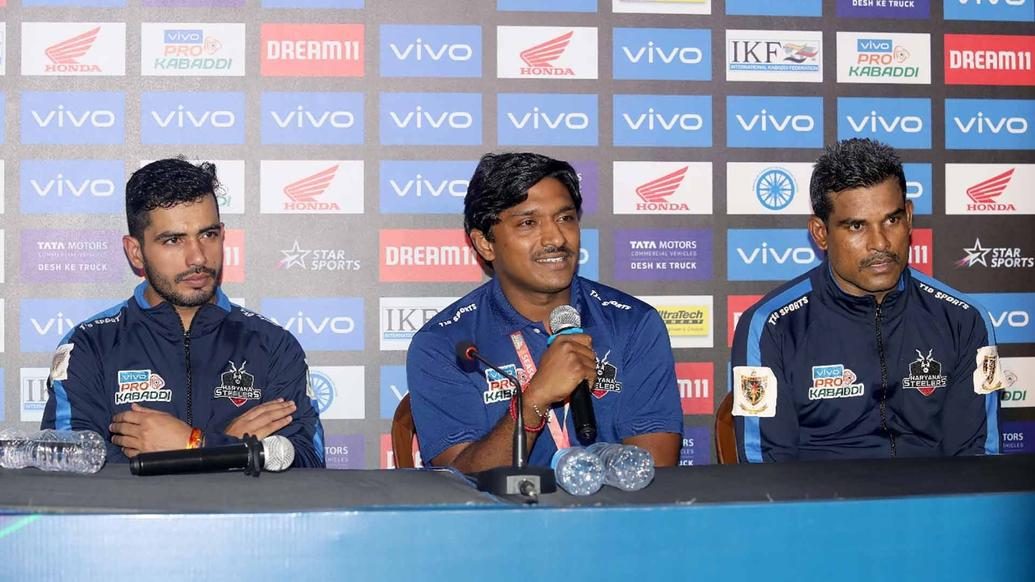 Haryana Steelers' assistant coach Mandar Shetty was delighted with his team's comeback in the final minute to earn a tie.
A late rally from Haryana Steelers helped the team secure a 32-32 tie against Jaipur Pink Panthers at the Netaji Subhash Chandra Bose Indoor Stadium in Kolkata on Wednesday, extending their unbeaten run to six. At the post-match press conference, assistant coach Mandar Shetty, skipper Dharmaraj Cheralathan and raider Vikash Kandola took questions for Haryana Steelers, while coach Srinivas Reddy and captain Deepak Hooda represented Jaipur Pink Panthers.
Haryana Steelers
Q. Coach, thoughts on the game?
Mandar Shetty: We tried our best to win the game. A few lapses in defence gave them the lead at the end. However, the way we fought back was commendable and I'm satisfied with the performance.
Q. Dharmaraj, Vikash wasn't up to the mark today. What went wrong?
Dharmaraj Cheralathan: Vikash (Kandola) has been feeling a bit under the weather. He wasn't at his peak fitness, but he wanted to play, and he tried his best.
Q. You had the lead but couldn't keep it. What happened?
Dharmaraj Cheralathan: The raiders started with purpose and gave us the impetus, but we lost a bit of our intensity in defence and ended up giving away a few easy points. That is what allowed them to claw their way back into the contest.
Q. Coach, was it your strategy to bank on the Do-or-die raid?
Mandar Shetty: We had planned not to commit too deep and draw the errors from the defenders. So, it was definitely a part of our strategy and it worked for most parts.
Jaipur Pink Panthers
Q. Deepak, how do you assess this game?
Deepak Hooda: We repeated the errors that we had made in the previous few matches. We played well and are proud of the way we came back after the early setback, so a tie is a fair result, I believe.
Q. Coach, Vikash and Prashanth Kumar Rai struggled to get going. How did your team manage that?
Srinivas Reddy: Given the form that they are in, we had no choice but to focus on them and strategize meticulously for this game. We managed to keep them quiet and executed the plan to perfection, but we could have won the contest.
Q. Thoughts on the upcoming match?
Srinivas Reddy: Patna Pirates played an incredible game last time around and Pardeep Narwal was unstoppable. And I'd also like to congratulate him on becoming the first player to reach 1000 raid points. An incredible achievement from an incredible player. The last time we played them in Patna, we emerged victorious and I'm confident that the team will emerge victorious in the upcoming match as well.