pkl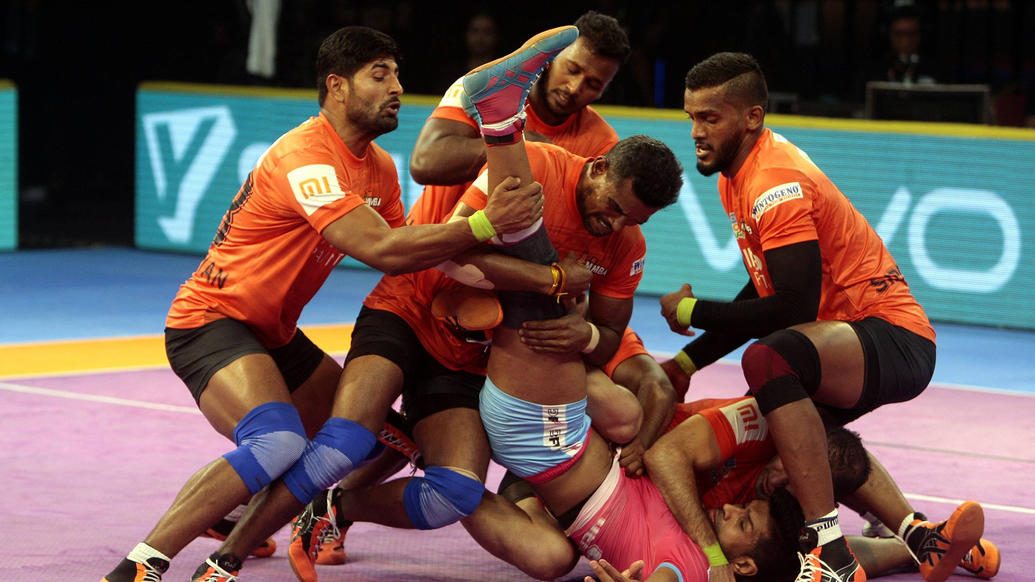 U Mumba score nine points in the final three minutes for their first win of the season.
U Mumba rallied late into the day to seal a thrilling 39-32 win over Jaipur Pink Panthers in Match 7 of VIVO Pro Kabaddi Season 6 at the Jawaharlal Nehru Indoor Stadium in Chennai on Wednesday.
Jaipur got off to a quick start with Left Corner Sandeep Dhull leading the way for Jaipur Pink Panthers in defence with three tackles points in the first half. U Mumba's raiders found it hard to get anything off the Jaipur chain in the early exchanges as the Panthers' lead kept creeping up.
Jaipur's early pressure finally paid off with Dhull's tackle on Siddharth Desai enforcing the first All-Out of the game on U Mumba. But once they got back on the mat, U Mumba's defence came back with a purpose. They offered almost nothing to the Jaipur Pink Panthers raiders with captain Fazel Atrachali leading the way for his side with brilliant holds on Anup Kumar and Deepak Hooda to cut Jaipur's lead to just two.
The second half kicked off with U Mumba attempting to enforce an All-Out on the Panthers and bring parity to the score but Mohit Chhillar's Super Tackles on Siddharth Desai followed by a technical Super Tackle on Dharmaraj Cheralathan kept their score ticking. But U Mumba finally enforced the inevitable All-Out with Surender Singh's tackle on Anup Kumar to leave his side trailing by a single point.
The latter half of the second period was a back-and-forth contest which each team matching the other blow-for-blow. Nitin Rawal got the first and only Super Raid of the match when he managed to coax in Surender Singh, Cheralathan and Rohit Baliyan and it seemed the game had tilted in the Panthers' favour for good, but U Mumba's rookie sensation Siddharth Desai had other ideas, as he replied to Rawal's Super Raid with a two-point raid of his own, completing a Super 10 in the process.
The turning point of the match came in the 36th minute when raider Vinod Kumar got a gripping Ankle Hold on Nitin Rawal and hauled him to get a Super Tackle handing U Mumba the lead at 31-30. U Mumba scored eight straight points in following two minutes, courtesy of Rohit Baliyan and Siddharth Desai scoring two raid points each and U Mumba's defence getting Anup Kumar and Deepak Hooda, enforcing an All-Out and ending any hope that Jaipur Pink Panthers had of winning the match.