pkl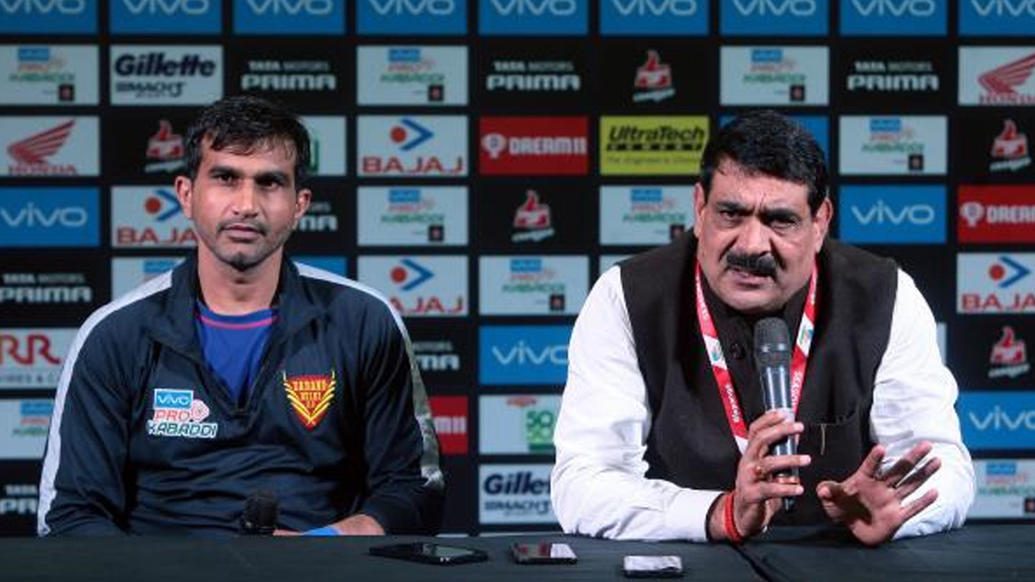 Led by Meraj Sheykh and Vishal Mane, Dabang Delhi K.C. defeated Tamil Thalaivas 37-33 to become the only team so far to win five of their six home fixtures. At the post-match press conference, coach Krishan Kumar Hooda and captain Joginder Narwal took questions for the home team.
Dabang Delhi K.C.
Q1. What are your thoughts on your home leg?
Krishan Kumar Hooda: I am really proud of this team that has set the record for the most matches won by any team in their home leg so far this season. I also want to thank our fans for their constant support. Our only desire was to play well. Just because we have won five matches it doesn't mean that we won't face any challenges going forward. We could lose some matches in the future as well. Every team in this league is strong and things often come down to one or two points in the end. But I have belief in this team. The thing I am most happy about is that we have moved one step closer to the Playoffs with this victory.
Q2. How would you rate your performance in this match?
Joginder Narwal: The most important thing that the coach has taught me is that everything comes down to teamwork. This is not an individual sport and one player cannot win you the game. All the members of our squad have given more than a hundred per cent to the team, as a result of which we have the managed to do so well.
Q3. What do you think are the areas of improvement for your team going forward?
Joginder Narwal: The only game where I think we could have improved was the one against U Mumba. We had a sizeable lead which we gave away in that match. However, I realise that it's a game and such things happen.