pkl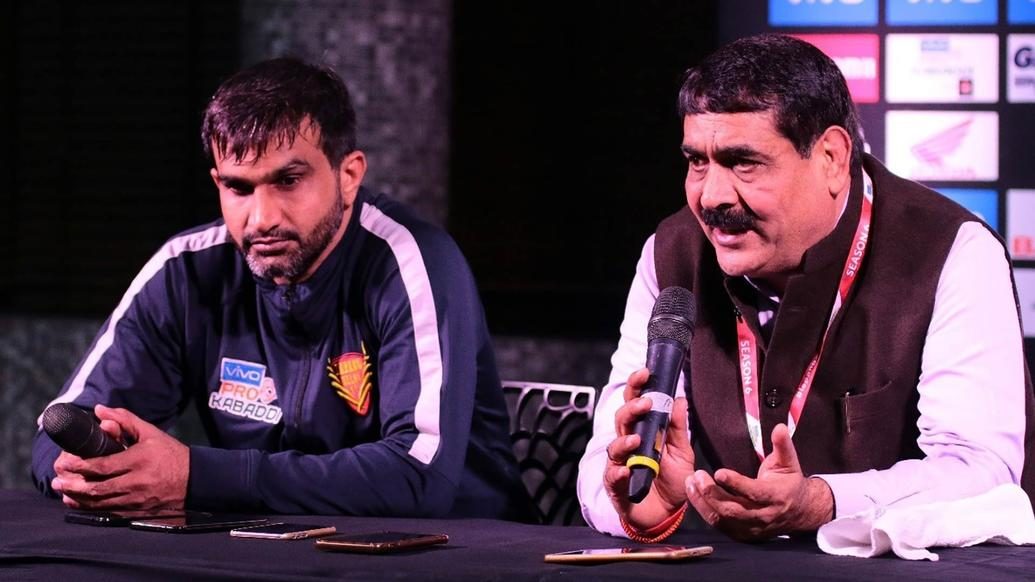 Dabang Delhi K.C. started off their home leg with a 13-point victory over Jaipur Pink Panthers at the Thyagaraj Sports Complex on Friday. Dabang Delhi K.C. were represented at the post-match press conference by captain Joginder Narwal and coach Krishan Kumar Hooda while captain Anup Kumar and coach Srinivas Reddy represented Jaipur Pink Panthers.
Dabang Delhi K.C.
Q: Who do you credit for this victory?
Krishan Kumar Hooda: The credit for this win goes to our players and our fans. Before the game, I met with the team and told them that this is our home leg, everyone is here to cheer for us and we can't disappoint them. The team is playing really well by God's grace. I cannot point out one player who won the game for us; everyone contributed. We hope to continue playing like this. We have a very balanced team. We have committed a few mistakes and lost out in key moments earlier, but we have been constantly improving.
Q. How does it feel when the whole team performs?
Joginder Narwal: We haven't been able to finish off games even when the whole team performed in certain earlier cases. We have lost most of our games by narrow margins. I have told my raiders that if the game goes down to the wire then the defence won't let you down because raiders are the only ones who can win you lost kabaddi games since they have the ability to get multiple points at once. If we keep on playing like we did today, then I have no doubt that we will go through to the Playoffs.
Q. How crucial was the Super Raid that led to the All-Out?
Krishan Kumar Hooda: There wasn't much of a difference in the initial stages of the match. We had them down to three players and sent Meraj Sheykh in to attack on the first raid despite knowing that they would go for the Super Tackle. We got them All-Out twice in a span of five minutes and that enabled us to continue the momentum into the second half.
Jaipur Pink Panthers
Q. Thoughts on the match?
Srinivas Reddy: They negated our defence well in the first half. Meraj Sheykh's five-point raid completely shifted the momentum in their favour. Post that we were constantly chasing the game and their defence had easy tackle opportunities.
Q. Thoughts on Deepak Niwas Hooda's performance?
Srinivas Reddy: His form is quite good, but he can't win us games singlehandedly. The defence needs to back him as well. That is where we are lacking. We have excellent players, but they aren't playing as well as they can.
Q. What are your thoughts on the defence?
Srinivas Reddy: If you check our tackle points, it will indicate just that the defence hasn't done very well today. The raiders scored well but the defence gave up too many points on the trot.