pkl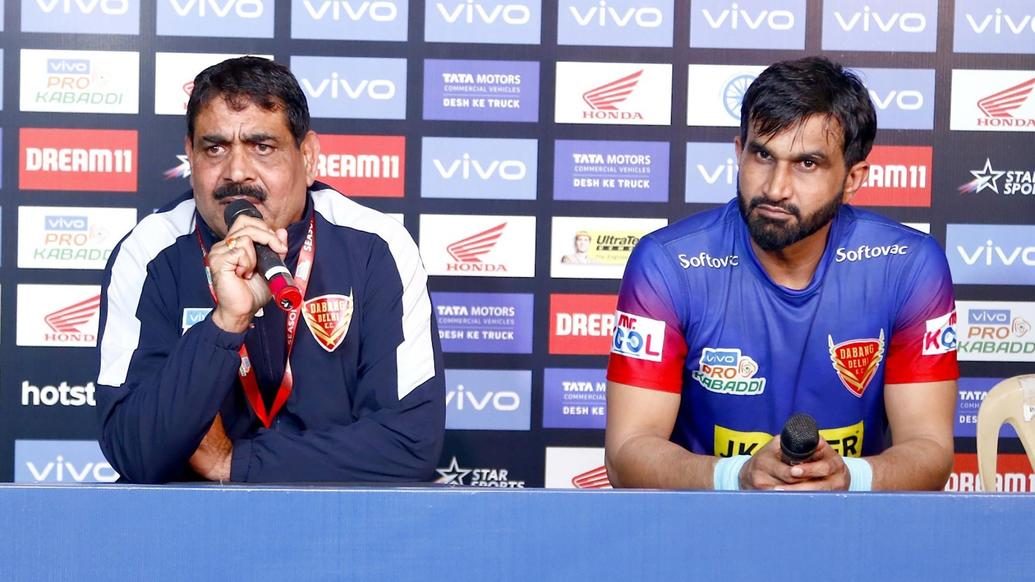 Dabang Delhi K.C.'s coach dedicated his team's 33-31 win to the fans of the team.
A second-half surge from Dabang Delhi K.C. saw them overturn an eight-point deficit and beat Bengaluru Bulls by a scoreline of 33-31 at the Thyagaraj Sports Complex in Delhi on Saturday. In the post-match press conference, Dabang Delhi K.C. coach Krishan Kumar Hooda and captain Joginder Singh Narwal took questions for their team, while Bengaluru Bulls were represented by skipper Rohit Kumar and Pawan Sehrawat.
Dabang Delhi K.C.
Q. Coach, what would you say was the turning point of the contest?
Krishan Kumar Hooda: I wouldn't say there was just one turning point. There were many crucial plays from our defence and our raiders that got us the win.
Q. What positives would you take from this game?
Krishan Kumar Hooda: As we have seen this season, the home teams have had a torrid time. Breaking the home jinx was very satisfying. I'd like to dedicate this win to the people of Delhi and the fans of Dabang Delhi K.C. everywhere.
Q. Who you point out as your main man in the upcoming matches?
Krishan Kumar Hooda: I don't believe in the concept of individuals. I like my team to be able to perform as a unit. Some teams in this league are over-reliant on one player and they haven't had much success. I do have some excellent players, but it's important for us to perform as a unit.
Q. Thoughts on Naveen Kumar's performance?
Joginder Singh Narwal: Naveen has been outstanding since the start of the season. But our raiding unit as a whole is extremely dynamic. The coach decided to use Meraj (Sheykh) as an impact player and he left his imprint on the game and that is visible to all. Naveen is obviously a diamond for us but so are the rest of the raiders.
Q. What happened in the final few minutes?
Rohit Kumar: We got a bit relaxed towards the end and thought we had the game in the bag. We made uncharacteristic errors in defence. And that cost us the game.
Q. Do you think you could have raided a bit more at the start to get some points?
Rohit Kumar: Pawan found his rhythm early. He was in his zone. Had I gone in and broken his raiding momentum, he would have taken some time to regain that. Therefore, it was necessary for him to raid as much as possible.
Pawan Sehrawat: See, once we get that eight point lead, we started playing on the Do-or-die raid and force their hand. And Rohit was the one who was constantly taking the responsibility of going in during the must-score situations.
Q. Does it hurt your morale when you play so well and the team loses?
Pawan Sehrawat: Winning and losing is part of the game. It's no big deal to me.