pkl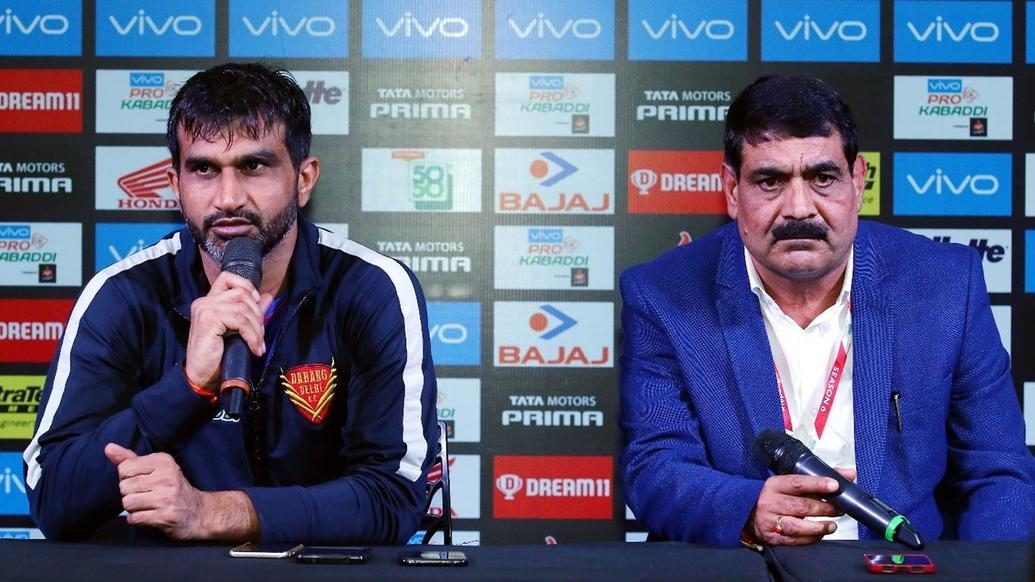 A dexterous display by Dabang Delhi K.C.'s defence helped them beat Puneri Paltan by a scoreline of 35-24 at the Thyagaraj Sports Complex in Delhi on Sunday. In the post-match press conference, Dabang Delhi K.C. were represented by captain Joginder Singh Narwal and coach Krishan Kumar Hooda, whereas captain Girish Maruti Ernak took questions for Puneri Paltan.
Dabang Delhi K.C.
Q. Good win. Thoughts on the performance?
Krishan Kumar Hooda: The team followed the strategy we had made and played well. Like I've said multiple times, I believe in this team and its quality. We've been playing well and I think we can continue in the same vein.
Q. Thoughts on the defence's performance?
Joginder Singh Narwal: I couldn't sleep after last night's defeat; that's how much it upset me. The raiders were outstanding yesterday but as a defensive unit, we could have played better. We, as a team, were brilliant in the first half, indicated by the lead we had. But we couldn't get the result we wanted. We're all experienced players and still couldn't manage the situation. But the coach told us to forget that and just focus on this game. We knew how crucial this fixture was in the context of the standings. And today, we managed the situation well and got the result we want.
Q. Tell us about Satpal's substitution.
Joginder Singh Narwal: Ravinder Pahal was on the bench so we needed a Right Corner on the mat. Satpal plays that position and we brought him on. He repaid the coach's trust in him. He made two excellent tackles and helped us get out of a tricky situation.
Puneri Paltan
Q. Thoughts on the performance?
Girish Maruti Ernak: The defence did not start well and the score just escalated. Our Corners had multiple tackle opportunities but couldn't execute them, and that's where it went wrong.
Q. Did Deepak Kumar Dahiya's performance spark a hope?
Girish Maruti Ernak: Definitely. He did well and we reduced them down to two. Had we taken a touch point there and inflicted the All-Out, it would have been a close contest. But they managed to get out of that situation and then played out the rest of the game on their third raid attempt.
Q. Thoughts on the team's chances of making it to the Playoffs?
Girish Maruti Ernak: Dabang Delhi K.C. are very close to us in the table and have games in hand as well. So we have to win our remaining fixtures to stand a chance.