pkl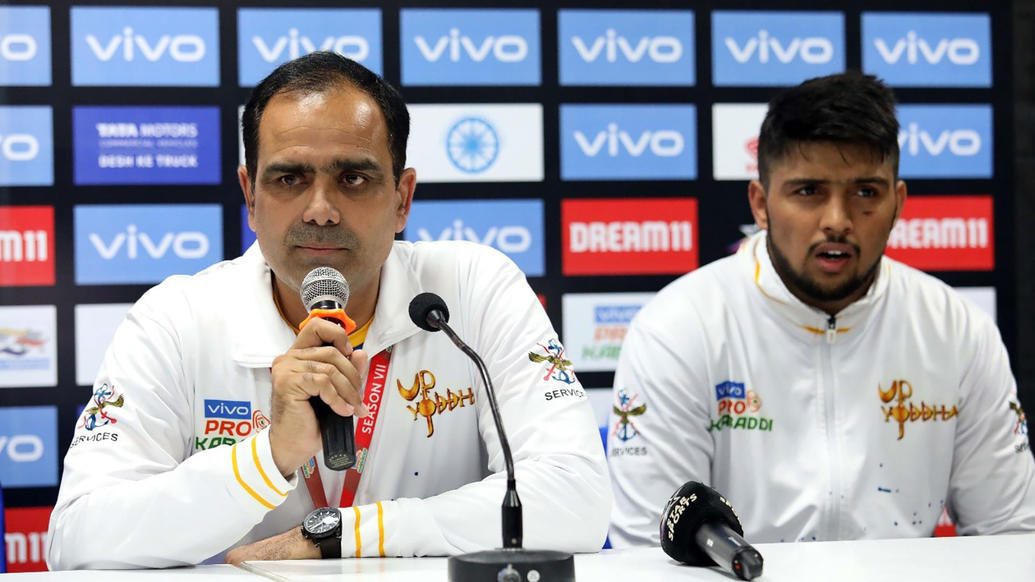 The U.P. Yoddha coach explained why Puneri Paltan were able to make a comeback late in the contest.
A late rally from Puneri Paltan fell just short, as U.P. Yoddha emerged victorious by a scoreline of 43-39 and won their second straight game at the Shaheed Vijay Singh Pathik Sports Complex in Greater Noida on Sunday. At the post-match press conference, coach Jasveer Singh and skipper Nitesh Kumar took questions for U.P. Yoddha, while Puneri Paltan were represented by coach Anup Kumar and captain Surjeet Singh.
U.P. Yoddha
Q. Coach, thoughts on the match?
Jasveer Singh: The game was brilliant and closely fought right until the end. We had an aggressive approach today. We could have controlled the clock and played on the third raid to ensure an easy win. But building confidence of the raiders was the motive. We told them to attack their defence on every raid. So, that approach made it a close game at the end.
Q. Did you alter your strategy once the game got close?
Jasveer Singh: Definitely. Towards the end, we did play on the third raid to ensure we win and thankfully, the team got the job done.
Q. Nitesh, thoughts on your performance?
Nitesh Kumar: The team has been playing well and I'm feeding off that. The coach's strategy has been on point and is the real reason why the team and I are playing well. So, we need to continue in the same vein.
Puneri Paltan
Q. Surjeet, good comeback, but the team couldn't get the win. What was the turning point?
Surjeet Singh: I think Rishank Devadiga's two-point raid was the big turning point of the contest. Had we tackled him even while giving away the bonus, we would have been in the driver's seat. Obviously having to venture deep against a defence of four is extremely tough, especially when you are trailing by two and there's not much time left on the clock.
Q. Anup, how would you sum up your rookie season as a coach?
Anup Kumar: The season hasn't gone according to plan, but it has been a huge learning experience for me, personally. The players made mistakes, but I've also made mistakes as a coach. I will take what I've learned in stride and prepare better next season.
Q. Thoughts on Pardeep Narwal's performance?
Anup Kumar: He is not known as the 'Record-Breaker' for nothing. At this point, he is creating the records and breaking them himself. The way he started today, I felt he was going to break the 39-point record and reclaim his throne. But he got tackled a few times midway and had to sit out for an extended duration and that probably stopped him from scoring 40.
Q. What are your predictions for the playoffs?
Anup Kumar: Playoffs are completely situational. You can plan for a game, but odds are that it goes in another direction. So whichever team plays well on the day will win. You have to be able to react to situations in the playoffs.