pkl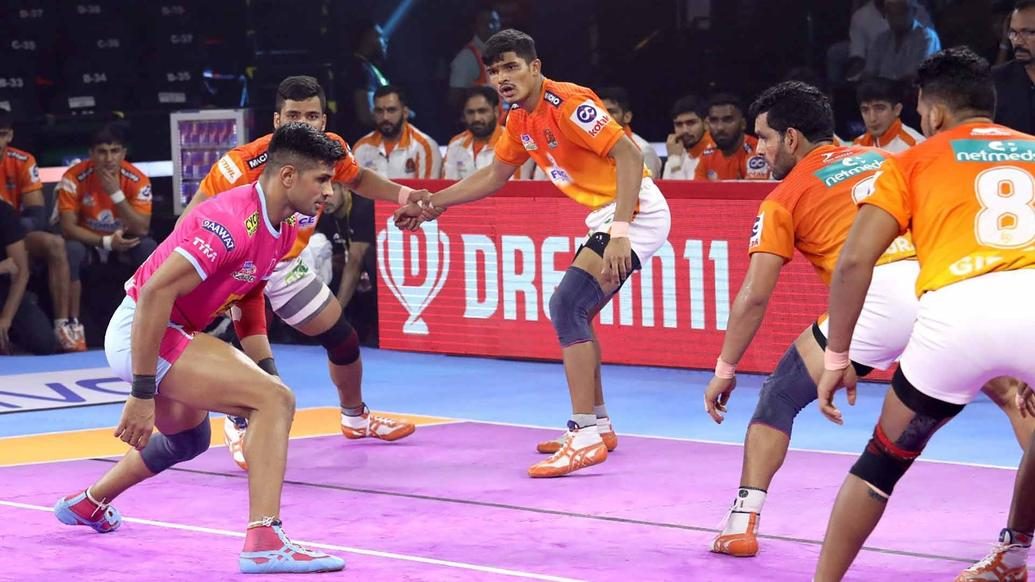 Jaipur Pink Panthers' raiders allowed Puneri Paltan's defence just one tackle point in the first 24 minutes of their 33-25 victory.
An inspired effort from the raiding unit and a clinical display from the defence helped Jaipur Pink Panthers beat Puneri Paltan by a scoreline of 33-25 at the EKA Arena by TransStadia in Ahmedabad on Thursday. With this win, Jaipur Pink Panthers went level on points with second-placed Bengal Warriors in the VIVO Pro Kabaddi Season 7 standings.
Jaipur Pink Panthers were off to a brisk start and quickly took a 5-3 lead courtesy of a couple of tackle points from Vishal, two raid points from skipper Deepak Hooda and another one from Nitin Rawal. Manjeet's third point of the night and Sushant Sail's first helped Puneri Paltan level the scores, but post that, it was all Jaipur Pink Panthers as they outscored Puneri Paltan 5-2 and reduced them down to just a solitary man.
Jaipur Pink Panthers' defence made no mistakes and inflicted the game's first All-Out to take a 13-8 lead in the contest. In the very first raid after the All-Out, Deepak Hooda added two more points to his and the team's score to extend Jaipur Pink Panthers' lead to seven. Puneri Paltan managed to add three more points courtesy of their raiders before the half-time whistle, while allowing two points to Jaipur Pink Panthers to go into the break trailing 17-11.
Puneri Paltan fared much better in the opening exchanges of the second half with their raiders scoring points at regular intervals. However, their defence found it difficult to curb the flow of points and the gap between the two sides remained at six, seven minutes into the half. Two consecutive points from Jaipur Pink Panthers' Left Corner Sandeep Dhull left Puneri Paltan with just one defender on the mat and Deepak Hooda managed to get a touch point off him to inflict a second All-Out and extend his team's lead to nine.
A run of four unanswered points from Jaipur Pink Panthers reduced Puneri Paltan to just three men on the mat, but their defence showed resilience and Super Tackled Deepak Hooda to deny Jaipur Pink Panthers a third All-Out. Sail added another point to his team's score and Surjeet Super Tackled Deepak Hooda again, as Puneri Paltan cut down Jaipur Pink Panthers' lead to 11, sparking hope of earning at least a point from the contest. They scored three further unanswered points, but it was too little too late as time ran out, confirming Jaipur Pink Panthers' victory by eight points.
Top Performers:
Jaipur Pink Panthers –
Best Raider – Deepak Hooda (9 Raid Points)
Best Defender – Vishal (4 Tackle Points)
Puneri Paltan
Best Raider – Pankaj Mohite (8 Raid Points)
Best Defender – Surjeet Singh (3 Tackle Points)