pkl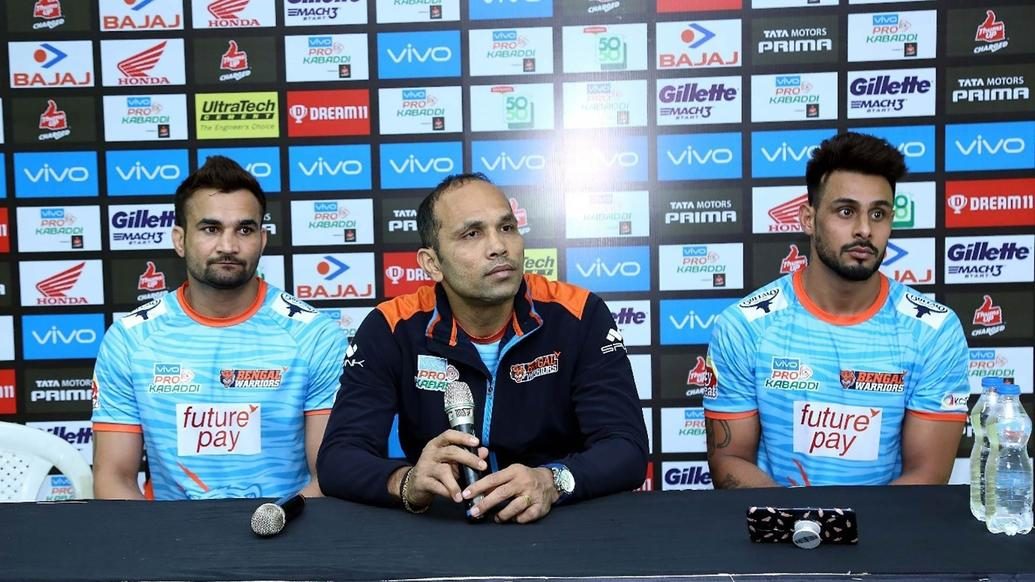 Bengal Warriors scored a come-from-behind victory over Bengaluru Bulls at the Shree Shiv Chhatrapati Sports Complex in Pune on Thursday. Bengal Warriors were represented at the post-match press conference by coach Jagdish Kumble, Ran Singh and Maninder Singh while coach Randhir Singh took questions for Bengaluru Bulls.
Bengal Warriors
Q: You were trailing at half-time. What do you have to say about the win today?
Jagdish Kumble: Our defence didn't get going in the first half which is why we were seven points behind. We slowed the game down in the second half and played according to our strategy. Maninder Singh was in excellent form today. He showed why he is regarded as one the top raiders in VIVO Pro Kabaddi. The plan since the beginning of the game was to win it. We had to change a few strategies during the game but all-in-all it was a very pleasing performance.
Q: Will this win be a confidence booster for the team?
Jagdish Kumble: We have three more games before we move to Kolkata for our home leg. We would ideally like to win all three. That would serve as a confidence booster for the team before our home leg gets underway. The manner in which we won today will surely give the boys some poise heading into the following encounters. We would like to think of this win as one that kicks off our strong end to this season.
Q: What will your strategy be for these three upcoming games?
Jagdish Kumble: We want to win all three games and qualify for the Super Playoffs as the top team in our zone as soon as we can. That makes the route to the final easier. Else we have to play more games against stronger teams from the other zone.
Q: You are still having a few issues with your defence. What do you have to say about that?
Ran Singh: The defence hasn't been able to coordinate. There are many experienced players in the lineup and we should we able to do better. We have been going in for way too many advanced tackles and that hasn't been serving us well. Sometimes it works, other times it doesn't. We hope to perform better as a unit going ahead.
Bengaluru Bulls
Q: Thoughts on the match?
Randhir Singh: The defence leaked more points than we would have liked after we had the 11-point lead. We missed Kashiling Adake as well. We had the game in our grip, but we let it slip.
Q: Was trying to tackle Maninder Singh too many times a mistake?
Randhir Singh: We had planned to target Maninder Singh. I had advised the defenders to tackle him low, but he evaded our attempts quite proficiently.
Q: Plans for the Playoff?
Randhir Singh: We still have to negotiate our way through the league stage and finish in top place. We have some good matches up next, so we are completely focused on doing well in those. If we finish as zone toppers, we'll have an easier path to the final.