pkl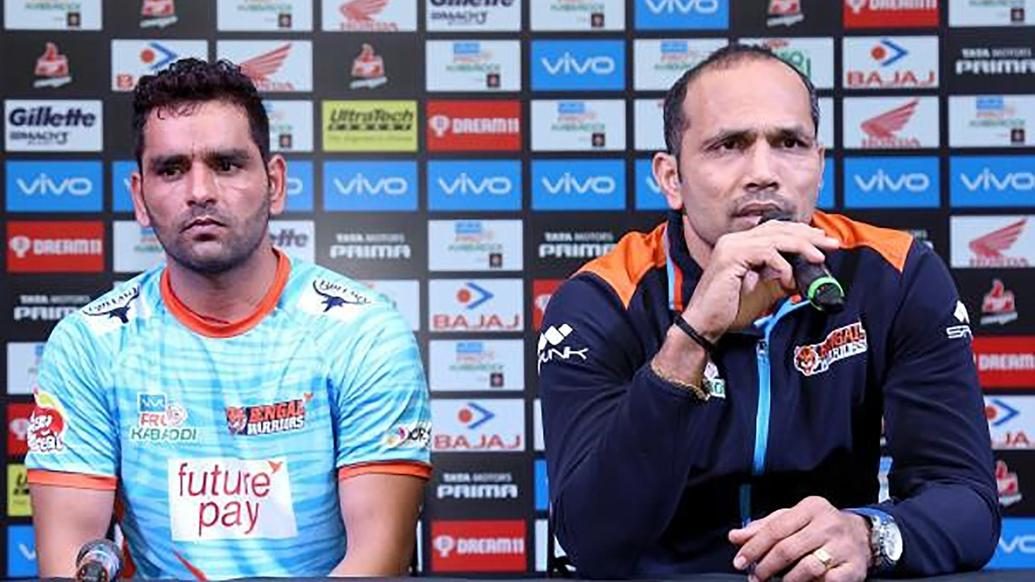 The Bengal Warriors coach felt that his team played well but praised the Haryana Steelers' defence.
Haryana Steelers held on till the dying seconds to seal a close game against Bengal Warriors 35-33 on Wednesday. At the post-match press conference, Bengal Warriors were represented by coach Jagdish Kumble and captain Surjeet Singh while coach Rambir Singh Khokhar and Monu Goyat took questions for Haryana Steelers.
Bengal Warriors
Q. What did you feel about today's match?
Jagdish Kumble: I think this was a good game of kabaddi. There was a point where we could have inflicted another All-Out but instead the raider got Super Tackled. I think that made the difference.
Q. Where do you think the game got away from your team?
Jagdish Kumble: The Super Tackles they pulled off made the difference according to me. This match was lost due to those Super Tackles. But we played well throughout. Our next game is against U Mumba and we will try to work on our weaknesses and not repeat the same mistake there which we made here.
Q. What is your plan going forward?
Jagdish Kumble: Our first target is to ensure a place in the Playoffs. For that, it is important that we take every match as it comes and try to win it. If we had won this match it would have provided a boost to our campaign but now we will try and focus on the coming match. After a couple of matches we have our home leg coming up where will be playing a number of matches on the trot. We want to ensure that we are well prepared for that and have some momentum going into it.
Haryana Steelers
Q. What are your thoughts on today's match?
Rambir Singh Khokhar: All 12 teams are playing at a high level. The team which can manage to make the best use of the team allotted and is able to hold on once they have a lead ends up victorious on the day. We knew our raiders, particularly Monu Goyat, were playing well today. The defence slipped up a bit in the middle but they found their footing again by the end of the game.
Q. What was your plan when Bengal Warriors started coming back into the match?
Monu Goyat: We had a lead initially but ups and downs are part of the game. However, we had a positive momentum throughout this match. Our plan was to keep playing the way we have been without letting pressure get to us and that is what we did.