pkl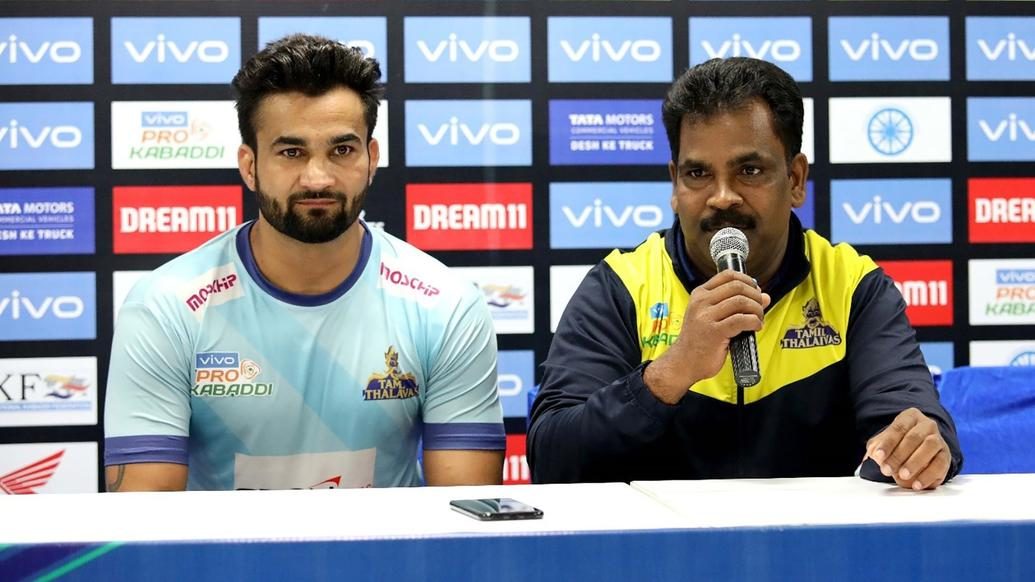 The Tamil Thalaivas coach was relieved after his side ended their 14-match winless run.
V Ajith Kumar's Super 10 helped Tamil Thalaivas end their 14-match winless streak in vivo Pro Kabaddi Season 7 with a 35-33 victory over Jaipur Pink Panthers at the Shaheed Vijay Singh Pathik Sports Complex in Greater Noida on Monday. At the post-match press conference, Tamil Thalaivas coach J Udaya Kumar took questions for his side, while coach Srinivas Reddy and Sandeep Dhull represented Jaipur Pink Panthers.
Tamil Thalaivas
Q. Coach, thoughts on the game?
J Udaya Kumar: We've been craving this win for a while. It came a little later than we would have liked, but better late than never. The younger players have been training hard for the past few weeks and the results are evident in the past two matches. We still need to sort out the support raider situation, but we are getting there.
Q. How was the morale of the team ahead of the game?
J Udaya Kumar: Irrespective of whom you have on your roster, when you go that many games without winning, you obviously feel low. The defence was tentative on the mat because of the lack of confidence.
Q. Ran, how important was this win?
Ran Singh: Extremely important. We have been hard at work to get this result. We lost the game against U.P. Yoddha due to a few errors. We made errors today as well, but we held our nerve at the end to win the match. We have a lot of youngsters on our roster, so it was important for them to get that morale-boosting win. The coach has worked tirelessly and that has resulted in us winning this match.
Jaipur Pink Panthers
Q. Coach, what was the turning point of the contest?
Srinivas Reddy: Our raiders could not score points at crucial junctures. One Super Tackle and then another tackle point when we had them pegged down to three cost us the match.
Q. Thoughts on the game overall?
Srinivas Reddy: We made errors and gave away easy points. Without those errors, we would have probably won the game. So, it is a bit disappointing.
Q. Positives from the season?
Srinivas Reddy: Our start. We were brilliant in the first 11 matches. But then the injuries started to pile up and we missed key players in big matches and crucial moments. The few games we lost during the middle part of the season ended up putting too much pressure on us and that resulted in uncharacteristic errors and subdued performances. That was the primary reason we missed out on the playoffs.
Q. What is the future like for Jaipur Pink Panthers?
Srinivas Reddy: It is now time for us to go back to the drawing board. We will assess our shortcomings this season. Be it offence or defence, we will look at areas that need improvement and see if we can rectify it internally or look for something in the auction.