pkl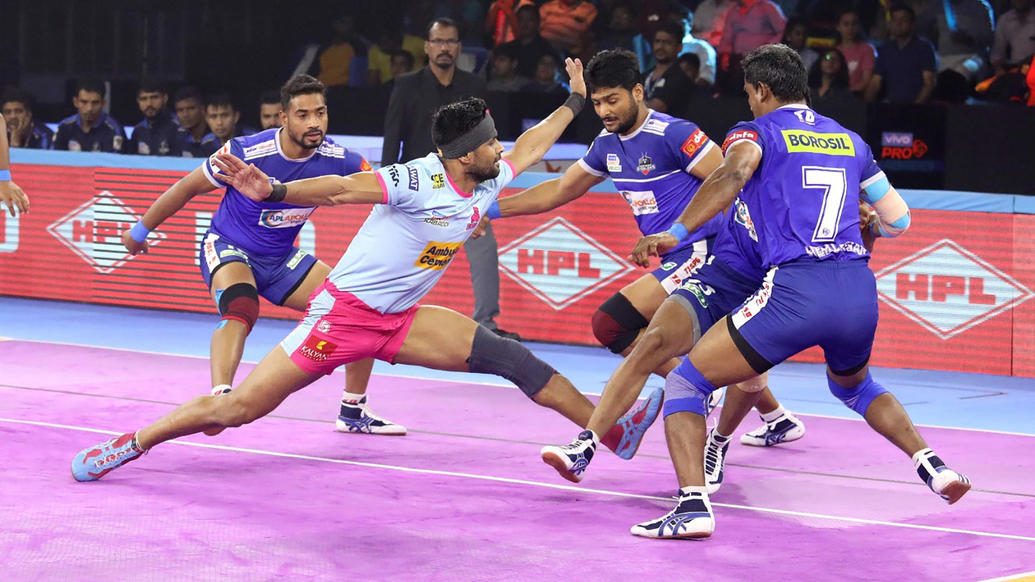 Deepak Hooda scored a Super 10 for Jaipur Pink Panthers but Haryana Steelers' last-minute fight saw them secure a 32-32 tie.
Haryana Steelers and Jaipur Pink Panthers played out a back-and-forth contest that saw them settle for a 32-32 tie at the Netaji Subhash Chandra Bose Indoor Stadium in Kolkata on Wednesday. Deepak Hooda scored 14 raid points for Jaipur Pink Panthers but High 5s from Haryana Steelers' Ravi Kumar and Sunil helped their team get three points from the match.
A close battle between the raiders from both sides ensured that neither team was able to run away with the lead in the first quarter of the match. Hooda kept the points coming for Jaipur Pink Panthers, while Prashanth Kumar Rai and Vikash Kandola found success for Haryana Steelers.
However, Hooda's successful raid in the 10th minute started an excellent run for Jaipur Pink Panthers which saw them inflict an All-Out just three minutes later to take a six-point lead. Haryana Steelers, though, fought back after reentering the mat and sent Hooda to the bench in his first raid itself.
Kandola soon turned on the heat by first taking out Pavan TR and then putting in a three-point Super Raid to help Haryana Steelers inflict an All-Out of their own. Haryana Steelers then sent Nitin Rawal and Nilesh Salunke to the bench courtesy of their defence to go into halftime with an 18-14 lead.
The defenders from both sides started the second period on a positive note which helped Haryana Steelers maintain their lead. But a two-point raid from Hooda, where he got touches on Rai and Vikas Kale, cut the gap to just two points.
Ravi Kumar kept the All-Out at bay, though, with a Super Tackle on Hooda which also brought up his High 5. But once Hooda was revived through Elavarasan's tackle on Kandola, the Jaipur Pink Panthers skipper immediately struck by reaching his Super 10 with a touch on his counterpart Dharmaraj Cheralathan.
Naveen kept scoring bonus points for Haryana Steelers to keep them in the lead, but he was soon taken down by Sandeep Dhull which helped Jaipur Pink Panthers inflict the All-Out and reduce the lead to just a solitary point. They drove home their advantage in the ensuing minutes with successful tackles on Haryana Steelers' main raiders Kandola and Rai to sit on a three-point lead with under a minute left.
But Haryana Steelers sent Hooda to the bench in a do-or-die raid before Cheralathan surprised Dhull with a Toe Touch to make it a one-point game. Rai then managed to score in the penultimate raid to tie the game and Salunke put in an empty raid to end the match as both teams took three-points from the match.
Top Performers:
Jaipur Pink Panthers –
Best Raider – Deepak Hooda (14 Raid Points)
Best Defender – Sandeep Dhull (5 Tackle Points)
Haryana Steelers –
Best Raider – Vikash Kandola (6 Raid Points)
Best Defender – Ravi Kumar (5 Tackle Points)