pkl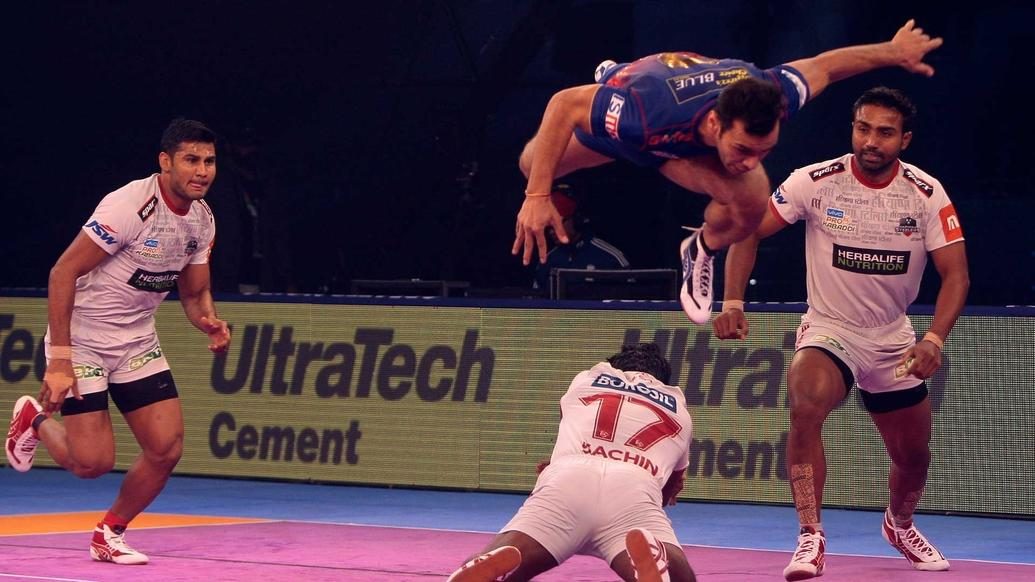 Right Corner Ravinder Pahal inspired Dabang Delhi K.C. to a win over Haryana Steelers as they won 39-33 on the final day of action at the Shaheed Vijay Singh Pathik Sports Complex in Greater Noida on Thursday. Substitute Monu Goyat led the way for Haryana Steelers with a Super 10 but his attempt wasn't enough to prevent his team from slipping to their first ever loss to Dabang Delhi K.C.
The teams were level for the first 5 minutes of the game, after which Dabang Delhi K.C. started taking the game away from Haryana Steelers on the back of their raiders.
Check out the photos from the match here.
A staggering Frog Jump from Meraj Sheykh over Sachin Shingade reduced Haryana Steelers to two players on the mat before his touch on Goyat off the very next raid and a Pahal Ankle Hold on substitute Bhuvneshwar Gaur helped Dabang Delhi K.C. inflict the first All-Out of the game in the 12th minute.
Facing a deficit of five points after the All-Out, Haryana Steelers didn't allow Dabang Delhi K.C. an inch in the next few minutes. They managed to score six of the next eight points before Sunil's Ankle Hold on Pawan Kumar Kadian helped Haryana Steelers inflict their first All-Out in the 18th minute, putting their team in the lead by a point. Haryana Steelers consolidated their lead from this point on and ended the half four points ahead for Dabang Delhi K.C. with the scores reading 19-15.
Dabang Delhi K.C. started the second half on an excellent note as they scored the first six points of the half which included a 3-point Super-Raid from Sheykh in the 5th minute. Vishal Mane then managed to tackle Gaur off the very next raid, inflicting a second All-Out on Haryana Steelers.
Having momentum on their side, Dabang Delhi K.C. took their lead to eight before Haryana Steelers' raiders, led by Goyat, managed to pull things back for their team by bringing the deficit down to four points with four minutes to play. This set the teams up for an exciting finish.
Visit the matchcentre to relive the contest here.
Goyat took it upon himself to keep his side in the game and reached his Super 10 in the 19th minute with a touch on Joginder Narwal. He followed it up with a two-point raid to make things even more interesting towards the end. But once Pahal tackled Goyat in a subsequent raid it effectively sealed the game. The game's first Super Tackle in the closing minutes also gave Pahal his High 5. Naveen Kumar finished things off with a touch on Mayur Shivtarkar to give Dabang Delhi K.C. a 39-33 win.
Top Performers
Haryana Steelers
Top Raider: Monu Goyat (11 raid points)
Top Defender: Sunil (4 tackle points)
Dabang Delhi K.C.
Top Raider: Naveen Kumar (9 raid points)
Top Defender: Ravinder Pahal (6 tackle points)