pkl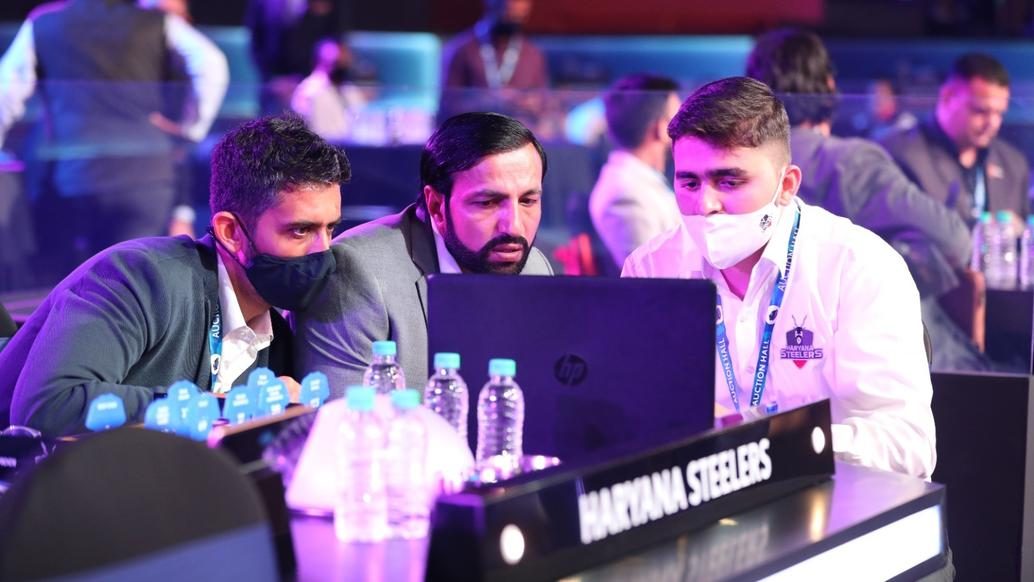 Haryana Steelers' bid on Rohit Gulia made him the most expensive player from the NYP programme to be sold at a Pro Kabaddi auction.
Haryana Steelers went big on youngsters in the vivo Pro Kabaddi Season 8 auction with all-rounders Rohit Gulia and Brijendra Singh Chaudhary being their most expensive picks. The overall focus also seemed to remain on players who can showcase their abilities in both, defence and raiding, to give the team more options.
While young Vikash Kandola will be seen in Haryana Steelers colours again, the addition of former Haryana Steelers skipper Surender Nada and veteran all-rounder Rajesh Narwal lends some much-needed balance of experience to temper the youthful energy of the Haryana Steelers squad.
Vikash Kandola Remains a Central Figure in Offence
Vikash Kandola has been the top raider for Haryana Steelers in their past 2 seasons. The team once again showed faith in the youngster's abilities in Season 8 by retaining him ahead of the auction. Kandola has scored 423 raid points in 55 matches and is Haryana Steelers' highest scorer in vivo Pro Kabaddi so far. He was also among the top 10 raiders of the league in Seasons 6 and 7.
View this post on Instagram
While Kandola was the only Elite Retained Player for Haryana Steelers, they also retained Vinay, Chand Singh, and Vikas Chhillar from the Existing Young Player category. Chand Singh was the only defender from among them which signalled the team's intent to go for a complete overhaul of their defensive set-up in Season 8.
Big Bet on Rohit Gulia
Former Gujarat Giants all-rounder Rohit Gulia was Haryana Steelers' most expensive purchase in the player auction, costing the team 83 Lakh. This also made him the most expensive all-rounder to be auctioned this season. Gulia had his first 100-point campaign in vivo Pro Kabaddi last season and impressed onlookers with his abilities on both sides of the mat.
View this post on Instagram
Gulia currently sits on 241 points from 60 matches with 4 Super 10s to his name. He was also an essential part of the Senior National Kabaddi Championship winning Railways team for the past two editions. The bidding war Haryana Steelers engaged in for the all-rounder makes it clear that they see him as a vital part of their Season 8 squad and this could lead to more opportunities for the youngster to perform on the mat.
Focus on Picking Strong All-rounders
Another player Haryana Steelers went all out for was all-rounder Brijendra Singh Chaudhary. Though Chaudhary is yet to make his vivo Pro Kabaddi debut, he was picked up for 55 Lakh.
Overall, among the 14 players picked by Haryana Steelers at the auction, 6 of them were all-rounders. This means that Haryana Steelers have the highest number of all-rounders in their squad in Season 8. The other all-rounders in the team include veteran Rajesh Narwal, Vikas Jaglan, Iranian Hamid Mirzaei Nader, and Ajay Ghanghas.
Rajesh Narwal will be seen making a comeback to the league. He last played for Dabang Delhi K.C. in vivo Pro Kabaddi Season 6 before missing out in Season 7. The all-rounder finished with the highest tally among all all-rounders in Season 4 and has also won the title previously with Jaipur Pink Panthers in the inaugural season.
Another veteran, Surender Nada, will also be seen making a comeback to the team after leading the side to a playoffs spot in their Season 5 campaign.
vivo Pro Kabaddi Season 8 starts 22 December, 2021. Catch all the LIVE action on the Star Sports Network and on Disney+Hotstar and follow Pro Kabaddi on Instagram, Facebook & Twitter for all the latest updates!