pkl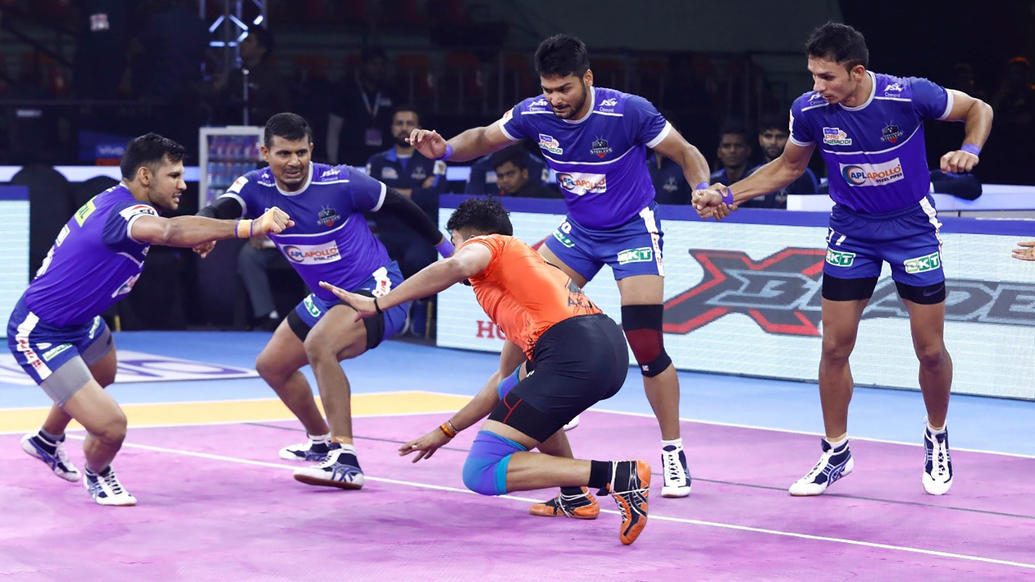 Vikash Kandola's 9 raid points helped Haryana Steelers overcome U Mumba 30-27.
Haryana Steelers held their nerve through a close contest to register a narrow 30-27 win over U Mumba at the Jawaharlal Nehru Indoor Stadium in Chennai on Monday. Vikash Kandola played a starring role for Haryana Steelers with 9 raid points, including a couple of crucial points in the closing stages of the contest.
U Mumba started brightly thanks to an early tackle by Harendra Kumar that sent Haryana Steelers' dangerman Kandola to the bench. Arjun Deshwal then got in on the action with a successful two-point raid. Haryana Steelers, though, fought back as Kandola returned to the mat and executed a Super Raid to put his side into a 5-4 lead.
The Season 2 champions responded with a two-point raid by Athul MS to retake the lead as both sets of raiders dominated the first 10 minutes of the contest. Just as it looked like Haryana Steelers were edging towards inflicting an All-Out, U Mumba's Sandeep Narwal came up with a Super Tackle.
However, Sandeep's contribution merely delayed the inevitable as Haryana Steelers went on to enforce an All-Out on U Mumba and take a 13-8 lead. The first half came to a close with Haryana Steelers very much on top as their defenders also began to grow into the contest. They took a 16-8 lead into the break and ensured that U Mumba would start the second half with just four men on court.
Haryana Steelers began the second period looking to inflict a second All-Out on U Mumba. However, Fazel 'Sultan' Atrachali executed a Super Tackle to thwart Haryana Steelers' momentum, while giving U Mumba fresh impetus. Atrachali's tackle helped turn the tides of the contest in U Mumba's favour, but Haryana Steelers executed successive Super Tackles to maintain their lead.
A two-point raid in a Do-or-Die situation by Sandeep Narwal finally helped usher in an All-Out on Haryana Steelers with a little over four minutes left to play. Though the score was 26-23 in favour of Haryana Steelers after the All-Out, U Mumba had momentum on their side.
A couple of successful raids by Abhishek Singh and one by Athul reduced the gap to one point. Kandola, though, showed tremendous resolve and continued to score raid points for Haryana Steelers to squash U Mumba's chances of a comeback and give his side a slender three-point victory.
Top Performers:
U Mumba –
Best Raider – Abhishek Singh (6 Raid Points)
Best Defender – Fazel Atrachali (4 Tackle Points)
Haryana Steelers –
Best Raider – Vikash Kandola (9 Raid Points)
Best Defender – Ravi Kumar (3 Tackle Points)