pkl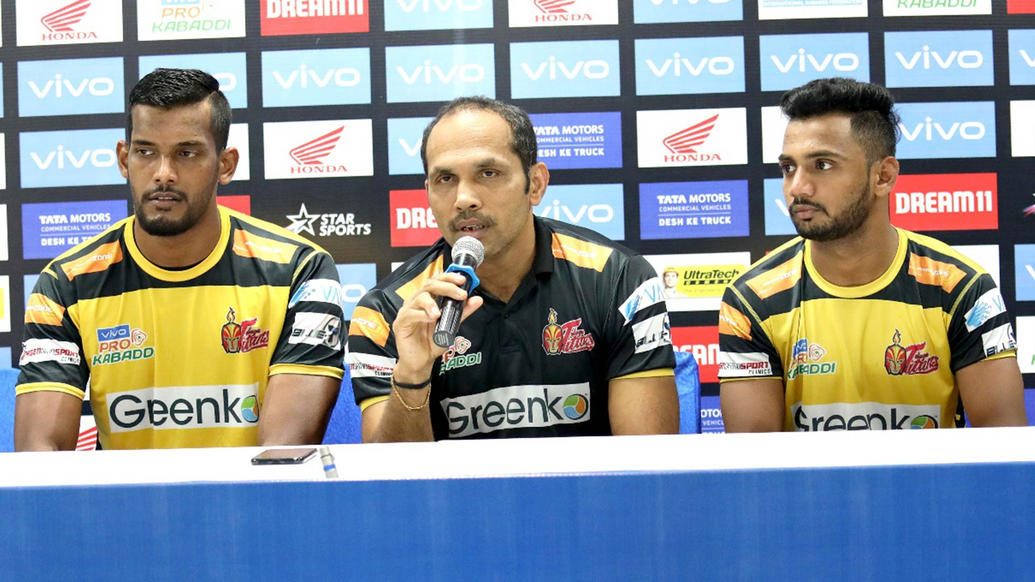 The Telugu Titans assistant coach revealed what he told his players before the match.
A masterful second-half display from Siddharth Desai helped Telugu Titans beat U.P. Yoddha by a scoreline of 41-36 at the Shaheed Vijay Singh Pathik Sports Complex in Greater Noida on Wednesday. At the post-match press conference, Telugu Titans' assistant coach Jagdish Kumble, Siddharth Desai and Krushna Madane took questions for their side, while coach Jasveer Singh and skipper Nitesh Kumar represented U.P. Yoddha.
Telugu Titans
Q. Coach, thoughts on the match?
Jagdish Kumble: We had been playing quite a few of our youngsters in our previous matches, especially in defence. They are very young so at times they had trouble controlling the match, which is why we played Vishal Bhardwaj in the previous match as well. We controlled the match well and even had a lead in the first half. All I told the players before the match is to play to their potential since I had the belief that they had it in them to win. Siddharth was tackled a couple of times but he raided according to plan. In the second half, I told the boys that we can win the match, but it is important to keep the defence steady. That is what they did, and we got the win.

Q. Siddharth, thoughts on your performance?
Siddharth Desai: I got tackled 2-3 times in the first half after which they had a lead of six. I had to go for it after that point. I was tackled from the right side a couple of times, so I tried from the left side. I got support from the team after that, which took us home.

Q. Krushna, was there any pressure as a youngster in the team?
Krushna Madane: There was no pressure as such. The coach had only told us how to play according to his strategy and that is all we had to do.
U.P. Yoddha
Q. Coach, thoughts on the match?
Jasveer Singh: We had a sizeable lead, so we wanted to try out some of our bench players. They weren't able to handle the situation from there. They were hurried in defence which cost us the lead and the match.

Q. Monu Goyat got tackled quite often towards the end. Thoughts?
Jasveer Singh: Yes, he should have at least taken a bonus point during some of those raids. There wasn't much time left for them to come back so even if we got bonus points, we would have had more of a lead to protect.

Q. Nitesh, thoughts on your first home loss?
Nitesh Kumar: The team was doing very well in the beginning. We had managed to hold onto our lead even after halftime. But the errors we made in defence in the final 10 minutes cost us the match as we weren't able to see off their challenge after that.