pkl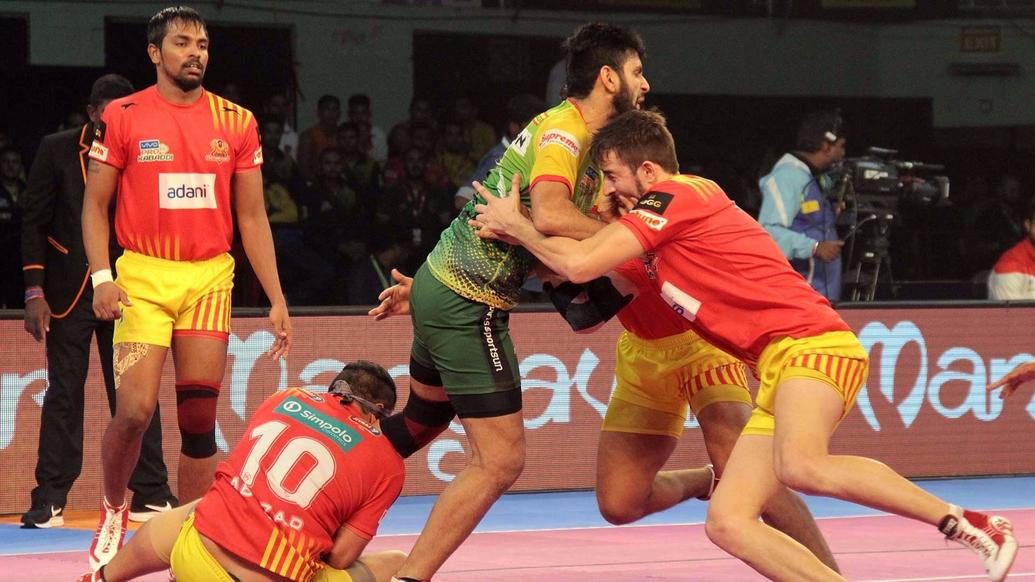 Gujarat Fortunegiants raced to the top of Zone A by securing a 30-29 victory on the back of a strong defensive display against Patna Pirates.
In a battle of the defences, Gujarat Fortunegiants edged Patna Pirates by a single point to return to winning ways at the Jawaharlal Nehru Indoor Stadium in Chennai on Friday. Both sides fought hard till the end but Gujarat scraped through owing to the High 5s by their defenders Parvesh Bhainswal and Abozar Mighani. The top raider of the match was Chandran Ranjit for the Fortunegiants who walked away with 7 raid points from the contest.
It was a battle of equals in the early part of the game with both teams showing respect for the other and playing well within their abilities. The defenders led the pack for both sides resulting in a slow start. The Pirates got the early advantage through Monu Goyat, going 8-6 up in the 12th minute. Down to three men, Gujarat fell back on their defence and super tackled Goyat to bring the difference down to 1 point and immediately after picked up Pardeep Narwal to level at 11-11 in the last minute of the first half. They took the momentum from there to score two quick points and finished the half with a 13-11 advantage.
Gujarat picked up an early All-Out in the second half by stopping Patna's last man on the mat, Vijay, in his tracks and taking a 19-12 lead. From there, their defence went on to prove why they are among the most dangerous in the league. They did not allow any easy points for the Patna raiders and went up by 9 points at 23-14 soon after. Ranjit backed up their effort by returning a 3-point super raid and reducing the Pirates down to 2 men. However, Patna were not willing to give up without a fight and super tackled Gujarat's Rohit Gulia twice to avoid an All-Out.
On a night when their raiders failed to fire, the much criticised Patna defence finally led the charge for them by successfully tackling Gujarat's raiders time and time again and keeping their team in the hunt at 29-24 with 5 minutes on the clock. Mighani, however, kept Gujarat ahead by not allowing Patna any points when they came to raid and reached his High 5 in the 18th minute. Jaideep scored 6 tackle points and fought hard for Patna but Gujarat just ran down the clock in the closing minutes to finish with a 30-29 victory.