pkl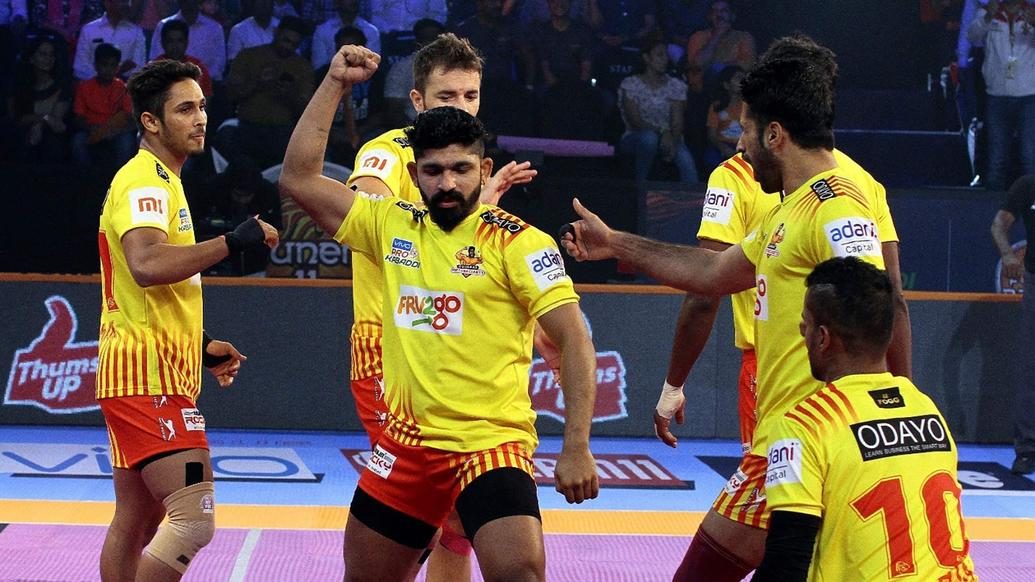 A brilliant second half display from Gujarat Fortunegiants hands them their maiden win in Season 6.
With a quality all-round display in the second half, Gujarat Fortunegiants scored their first win in Season 6 of VIVO Pro Kabaddi against Puneri Paltan with a 34-28 scoreline at the Shree Shiv Chhatrapati Sports Complex in Pune on Thursday. Raider Sachin led his team with 12 points and was ably supported by Parvesh Bhainswal in defence with four tackle points.
The first half of the match boiled down to Nitin Tomar versus Sachin, as both raiders clocked up point after point for their team throughout the half. Gujarat Fortunegiants got off to an early start taking a 4-0 lead with K. Prapanjan getting two points in his first two raids split by Sachin getting a touch point and Ruturaj Shivaji Koravi tackling Rajesh Mondal. But Nitin Tomar quickly brought his team back into the contest, getting a Bonus and inducing a self out and following it up with a touch point of Hadi Oshtorak to reduce Gujarat Fortunegiants' lead to just one.
Check out the photos from the match here.

With the score at 5-4 in Gujarat Fortunegiants' favour, Tomar got a Super Raid giving his side a two-point lead. But Sachin got two points on his two subsequent raids to bring parity to the score. Tomar and Sachin went back and forth for the next few minutes of the half before Sachin tackled Tomar in the 19th minute as Gujarat Fortunegiants took a 15-13 lead. The final points of the half went to Girish Maruti Ernak as Puneri Paltan's captain got a Super Tackle on Prapanjan to end the half at 15 apiece.
With Tomar off the mat, Puneri Paltan subbed Deepak Kumar Dahiya into the match and that decision paid off immediately as the raider got a couple of touch points to begin the second half. With the score at 20-20, Koravi tackled Dahiya leaving just two men on the mat for Puneri Paltan. On the following raid by Sachin, Akshay Jadhav stepped out of bounds and Shubham Shinde pulled the raider's shirt rendering them both out and Gujarat Fortunegiants successful inflicted the first All Out of the match on Puneri Paltan.
With the score at 25-20 in Gujarat Fortunegiants' favour, Puneri Paltan tried to force a comeback and scored two straight points to reduce their opponents' lead to three. But Gujarat Fortunegiants fired back as skipper Sunil Kumar tackled Dahiya and then Ajay Kumar produced the moment of the match, as he got a Bonus and three touch points to score a four-point Super Raid pushing his team's lead to eight points, in what proved to be the killer blow to Puneri Paltan's charge.

Visit the matchcentre to relive the contest here.
With just over three minutes left, it was all about clock management for Gujarat Fortunegiants as they closed in on victory over the home side. With the score at 32-23, Ajay Kumar went in for a raid with just three Puneri Paltan men on the mat and got a self-out handing them a Super Tackle and Jadhav got a touch point on his subsequent raid to reduce the deficit to five. Despite Ernak getting another Super Tackle on Mahendra Rajput and completing a High 5 in the process, Gujarat Fortunegiants held on and a Bhainswal tackle on Shinde on the match final raid secured his team's first win of the campaign.