pkl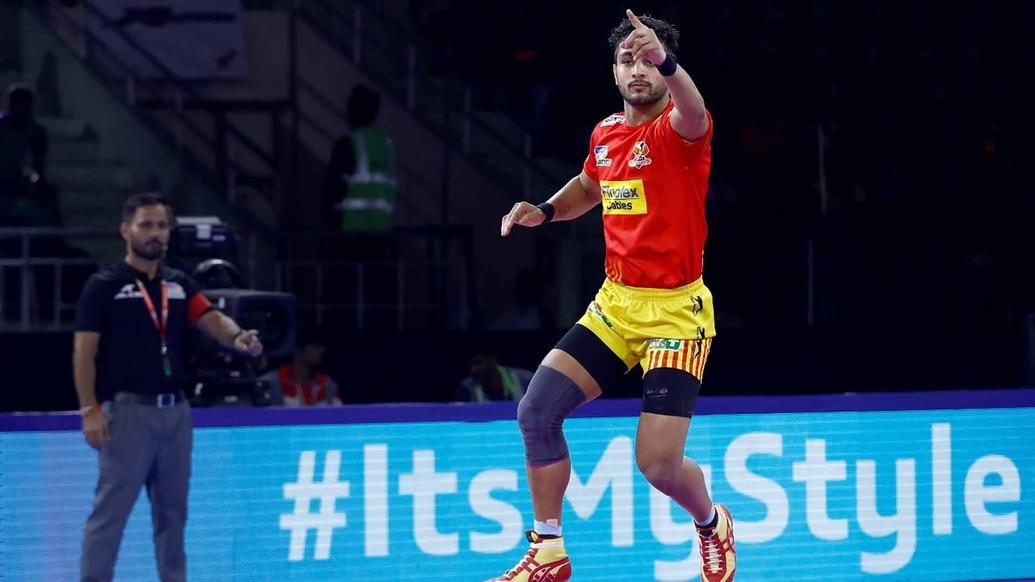 After an early setback, Gujarat Fortunegiants came back strong to beat Patna Pirates 29-26.
After conceding the advantage in the first quarter, Gujarat Fortunegiants forged a spirited comeback and beat Patna Pirates by a scoreline of 29-26 at the Jawaharlal Nehru Indoor in Chennai on Friday. With this win, Gujarat Fortunegiants ended their six-match losing streak.
'Record-Breaker' Pardeep Narwal got his team off to an ideal start, scoring a raid point in his first raid and following it up with a sensational Super Raid to put his team up by three. He added another raid point to his tally with a touch on More G B, which left Gujarat Fortunegiants with just a couple of players on the mat.
Jaideep's successful tackle on Sonu and Pardeep's sixth raid point of the night helped Patna Pirates inflict the game's first All-Out and take a 10-3 lead in the contest.
Post the early setback, Gujarat Fortunegiants responded by outscoring Patna Pirates 5-3 in the next few minutes. But a raid point from Mohammad Maghsoudlou and a tackle point from Jaideep helped their team restore their seven-point lead. More G B and Rohit Gulia scored a point each to cut Gujarat Fortunegiants' deficit, as the two teams headed into the half-time break with Patna Pirates leading 15-12.
Ruturaj Koravi and Gulia extended their team's scoring run in the second half which left Patna Pirates with just a solitary man on the mat. Gujarat Fortunegiants' defence made light work of that raider to inflict the All-Out and help the team take the lead for the first time in the contest. More G B's two-point raid and Pankaj's tackle extended Gujarat Fortunegiants' lead to four and reduced Patna Pirates down to just three men on the mat.
But the Patna Pirates defence was resilient and Super Tackled Gulia before pinning down Sonu in Gujarat Fortunegiants' subsequent raid to cut the deficit to just one-point. The difference between the sides remained a point for the next three minutes until Gulia's two-point raid extended Gujarat Fortunegiants' lead to three with just over four minutes left in the contest.
Patna Pirates scored two of the next three points in the match to give the game a nervy finish. But Gulia's touch point on Maghsoudlou with seconds left ensured that Gujarat Fortunegiants took home the win.
Top Performers:
Gujarat Fortunegiants
Best Raider – Rohit Gulia (10 Raid Points)
Best Defender – Sunil Kumar (3 Tackle Points)
Patna Pirates
Best Raider – Pardeep Narwal (9 Raid Points)
Best Defender – Monu (3 Tackle Points)