pkl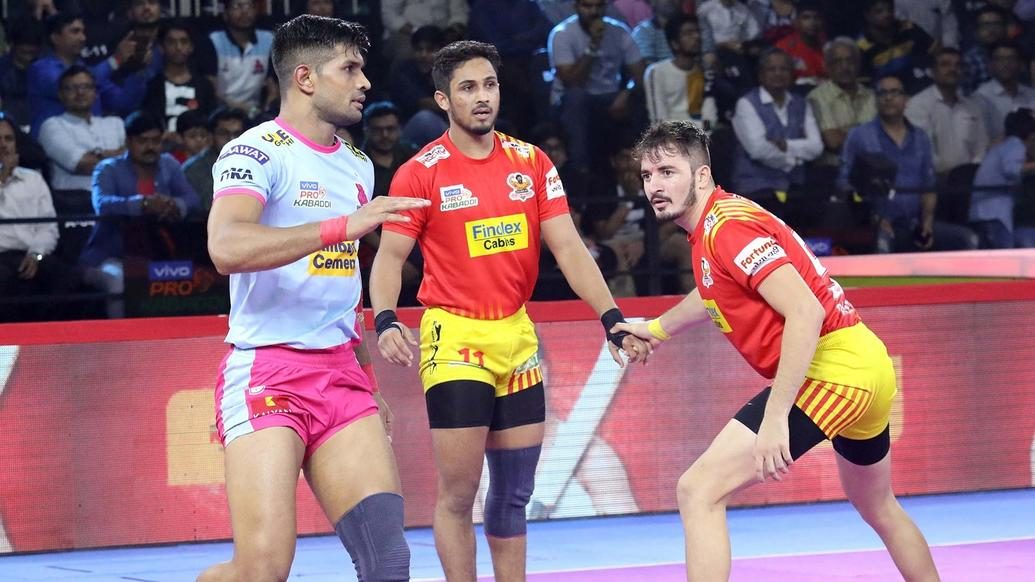 Former Gujarat Fortunegiants skipper Sunil Kumar and Parvesh Bhainswal have played a vital role in the recent success of their side.
While raiders like Sachin Tanwar and Rohit Gulia have given Gujarat Fortunegiants a significant edge in the raiding department, it's Sunil Kumar and Parvesh Bhainswal who have emerged as the defensive cornerstone of the team.
"Parvesh and Sunil have got a great instinct for when to strike and are fearless due to the number of years they have played together," explained Sachin Tanwar when asked what makes the two defenders so lethal on the mat.
"They have been playing together for 10-12 years now and are quite experienced. So if they want to pull off a chain tackle, they are very confident in their ability to do it."
Parvesh Bhainswal and Sunil Kumar have combined to score 367 tackle points for Gujarat Fortunegiants over the past three seasons. The left cover, Parvesh Bhainswal, has amassed 189 tackle points while Sunil has 178 tackle points to his name.
During Pro Kabaddi's live chat show on Instagram, Beyond The Mat, Parvesh Bhainswal also explained how his bond with Sunil, dating back to their childhood, paved their way to success in Pro Kabaddi.
"Sunil and I are cousins; he is my uncle's son," Parvesh said. "So we went to school together, and that's when our kabaddi journey started. From university level to junior nationals to senior nationals, we have always played together in the same team and have won gold medals in almost all the tournaments."
There has been only one occasion where the two played for two different teams. That was during PKL Season 4 when Parvesh Bhainswal turned up for Jaipur Pink Panthers while Sunil Kumar made the Patna Pirates roster.
"That was probably the only time we played for two different teams in a tournament. After that, we've been together, and the desire to win has also grown stronger than ever," Parvesh added.
Their partnership has proved fruitful for Pro Kabaddi too as it was the duo of Parvesh and Sunil who popularised the chain hold in the league.
"Bhupendra sir is from my village in Sonipat and has been coaching me since I was in fifth class. The centre chain of the team in our hometown is the best till today. He used to focus on Sunil and me, and taught us a different technique called the chain hold, which is now known as the Chain Tackle," revealed Parvesh.