pkl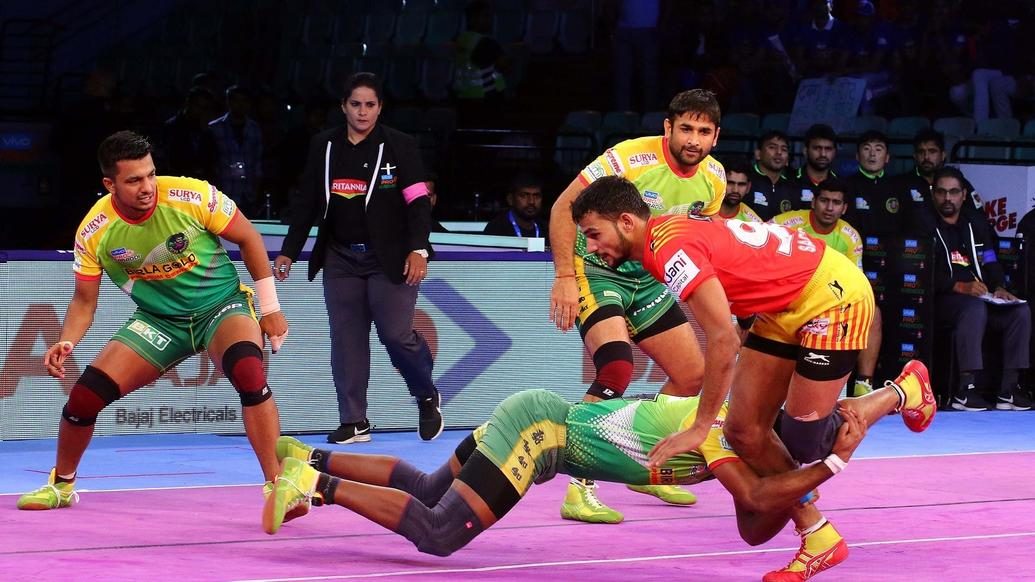 With both their raiding and defence kicking in, Gujarat Fortunegiants registered a 45-27 victory over Patna Pirates in their Inter Zone Challenge Week match at the Thyagaraj Indoor Stadium in Delhi on Tuesday. Sachin and K. Prapanjan scored nine and eight raid points respectively while Parvesh Bhainswal brought up the defence with eight tackle points that translated into a definitive High 5.
Gujarat Fortunegiants showed their aggressive intent right from the get-go as they grabbed two points in the opening minute of the match, first with Sachin's successful raid and then his tackle on Patna Pirates' star raider Pardeep Narwal.
Check out the photos from the match here.
From there, Gujarat Fortunegiants kept on adding to their tally with the defending champions unable to do enough to keep up. The score read 7-2 in Gujarat Fortunegiants' favour before Jawahar's Super Tackle on Dong Geon Lee offered Patna Pirates a chance to get in the game. But Gujarat Fortunegiants asserted themselves as a combination of their raids and tackles soon inflicted an All Out on Patna Pirates with the score reading 13-5.
When they reassembled, Patna Pirates were determined to get back in the game. Sachin was tackled first and that was followed by a successful Pardeep Narwal raid, which eventually transpired to be his only one for the match. Prapanjan then stepped up by going on a four-point run, that included a two-point raid, that got the scoreline to 17-8 in Gujarat Fortunegiants' favour. And when Sachin successfully managed to tackle Manjeet next, Patna Pirates deficit ballooned to 10 points. The half soon ended at 20-12 leaving Patna Pirates a mountain to climb in the second half.
When the two teams took to the mat again, Pardeep Narwal's exit at the hands of Bhainswal was followed by Prapanjan's successive successful raids and when Bhainswal tackled Vikas Jaglan, he not only completed a High 5 but got Patna Pirates' second All Out of the night with Gujarat Fortunegiants leading 26-13.
Visit the matchcentre to relive the contest here.
At the reset, the Gujarat Fortunegiants assault continued as Pardeep Narwal succumbed to Prapanjan's tackle increasing Patna Pirates' deficit to 14 points. A back and forth then followed between the two sides with Gujarat Fortunegiants continuing to hold the edge as the difference soared to 17 points at 32-15.
A 6-2 points run, that included a Super Tackle by Manish on Prapanjan, showed that Patna Pirates were not ready to give up but that momentum was checked when Sachin recorded the first Super Raid of the match getting Jaglan, Jaideep and Vijay out to bring the score-difference to 17 again. If that wasn't the final nail, substitute Dharmender got a Super Raid of his own with Patna Pirates falling to their third All Out at a score of 43-22.
With just a few minutes left, the closing stages were played out to give Gujarat Fortunegiants an 18-point win over the triple champions.
Top performers
Gujarat Fortunegiants
Best Raider: Sachin (9 Raid Points)
Best Defender: Parvesh Bhainswal (8 Tackle Points)
Patna Pirates
Best Raider: Deepak Narwal (4 Raid Points)
Best Defender: Jawahar (5 Tackle Points)