pkl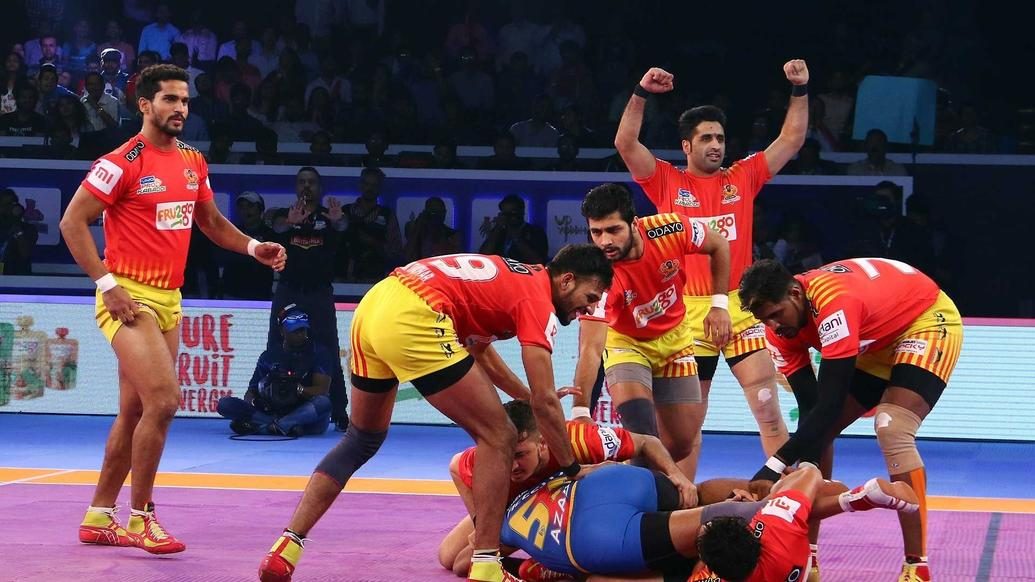 A strong performance at the start of the second half helped Gujarat Fortunegiants beat U.P. Yoddha 38-31.
A 14-point run that started at the back end of the first half proved to be the catalyst of Gujarat Fortunegiants' 38-31 victory over U.P. Yoddha in Qualifier 2 at the Dome@NSCI SVP Stadium in Mumbai on Thursday. This win sees them go through to their second consecutive VIVO Pro Kabaddi final, where they'll take on Bengaluru Bulls in a battle between the Zone toppers.
Both teams' defensive setups were at the top of their game ahead of this fixture, but it was the raiders who were off to a flying start. Gujarat Fortunegiants' Sachin picked up four raid points in the opening five minutes and K Prapanjan scored one, while for U.P. Yoddha, Prashanth Kumar Rai led the way with two raid points and captain Rishank Devadiga, along with Shrikant Jadhav, contributed one each. The first tackle point of the night came in the sixth minute, courtesy of an Ankle Hold from Nitesh Kumar.
Check out the photos from the match here.
Prapanjan's two-point raid left U.P. Yoddha with just three men on the mat but, with the Super Tackle On, Sachin Kumar stopped the raider in his tracks to earn two points for his side before Nitesh Kumar scored another Super Tackle to level the scores at 11-11. Kumar then scored his fourth tackle point of the night with a Dash on Sachin and, in the subsequent raid, Jadhav sent opposition captain Sunil Kumar to the bench as U.P. Yoddha looked to assert their authority over the contest.
But in quick a turn of events, a self-out from Sachin Kumar followed by a two-point raid from Rohit Gulia swung the momentum back in Gujarat Fortunegiants' favour and Hadi Oshtorak's second successful tackle of the match left U.P. Yoddha with just two men on the mat. With his first tackle point of the night, Parvesh Bhainswal brought down Azad Singh to inflict the All-Out on U.P. Yoddha, giving Gujarat Fortunegiants a 19-14 lead heading into the halftime break.
Gujarat Fortunegiants carried that momentum into the second half and Prapanjan kicked off the scoring with a touch point on Nitesh Kumar. Sunil Kumar scored his first tackle point with a Thigh Hold on Jadhav and Sachin continued his solid work on the night, sending Jeeva Kumar to the bench. Oshtorak scored his third tackle point before Gulia got rid of Sachin Kumar, leaving only two men on the mat for U.P. Yoddha. Bhainswal's second tackle point followed by Sachin's touch point inflicted a second All-Out on U.P. Yoddha and gave Gujarat Fortunegiants a 14-point lead in the contest. Jeeva Kumar's tackle on Sachin ended Gujarat Fortunegiants' run of 14 straight points as U.P. Yoddha found themselves facing a big deficit in the final 10 minutes of the contest.
Visit the matchcentre to relive the contest here.
Rai's successful bonus attempt followed by back-to-back tackles from Nitesh Kumar gave U.P. Yoddha a glimmer of hope. Three touch points from Sachin Kumar in three raids then left Gujarat Fortunegiants with just a solitary man on the mat. But a two-point raid from Sachin Vittala put his team back up by 11 points with just over two minutes left in the contest. Jadhav managed to eliminate both Gujarat Fortunegiants defenders on the mat to inflict an All-Out, however, with time running out, U.P. Yoddha needed to keep piling up the points to close the gap.
U.P. Yoddha scored three quick points to bring the deficit down to just five, but a self-out each from Sachin Kumar and Nitesh Kumar effectively ended the contest. Jadhav and Azad Singh did add a point each to their team's score, split by Gulia's touch point on Sachin Kumar, but it was too little too late as Gujarat Fortunegiants hung on to win.
Top Performers -
Gujarat Fortunegiants
Best Raider: Sachin (9 Raid Points)
Best Defender: Sunil Kumar (3 Tackle Points)
U.P. Yoddha
Best Raider: Shrikant Jadhav (7 Raid Points)
Best Defender: Nitesh Kumar (6 Tackle Points)