pkl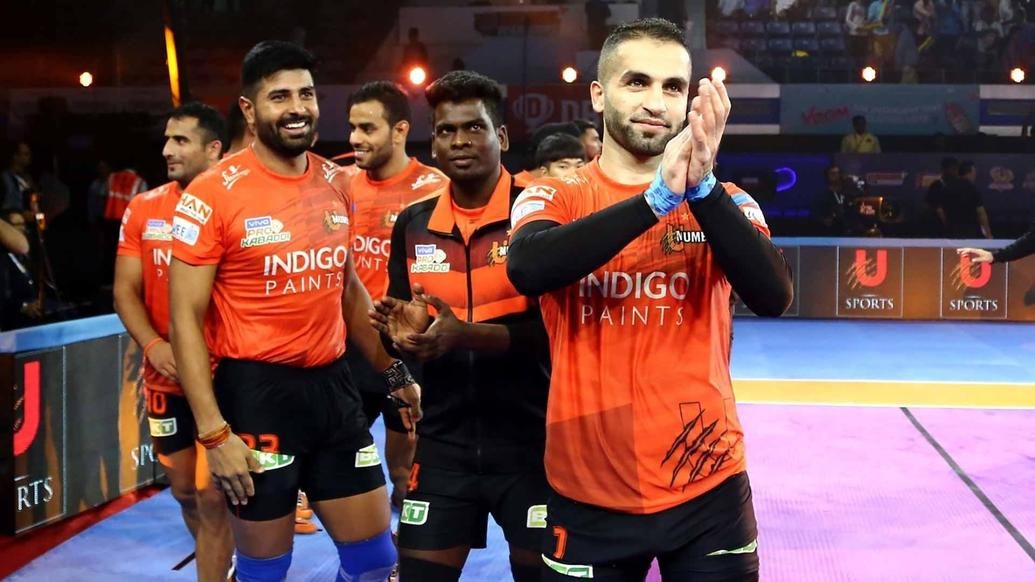 Hailing a balanced team, the U Mumba captain is taking it step-by-step this season.
U Mumba played out a convincing 41-27 victory against Telugu Titans at the Netaji Subhash Chandra Bose Indoor Stadium in Kolkata on Tuesday. While the elated winning team isn't resting on his laurels, the losing side acknowledged that there is a steep hill to climb, as the two Iranians addressed in the post-match press conference.
U Mumba
Q. What went right for the team?
Fazel Atrachali: We needed this win. Because if we lose now, it gets tougher to reach the playoffs. We knew how Siddharth Desai would play, because we played together last season. I know he uses a lot of power. For our defence, power is no problem. Their defenders Abozar Mighani and Vishal Bhardwaj came at us constantly because for them a High 5 is very important. I told my players to get closer to them to lure them, and Abhishek Singh and Arjun Deshwal did very well.
Q. Was the combination of defence and raiding well balanced in the team?
Fazel Atrachali: Yes, it is balanced and that was very important. Because, for example, if we had only Abhishek and if he doesn't score one night, we would have nothing. But since we have Arjun and Rohit Baliyan, that balances it out. In defence, also it's the same thing. And in kabaddi, if you play like a team, then it becomes difficult to get beaten.
Q. What are your plans as we head towards the playoffs?
Fazel Atrachali: We are taking it step-by-step. We are only thinking about tomorrow, as we have a match (against Bengal Warriors). We aren't thinking about playoffs, because there's still a month to go for it. If we win the next two matches, then we'll start thinking about the playoffs.
Telugu Titans
Q. What didn't work out for Telugu Titans in the match?
Gholamreza Mazandarani: First of all, U Mumba played a little better. And when we don't follow the team plan, we don't stand much of a chance. Next match we will keep our focus and try again. On paper, we have a chance of making it in the top six but it's very difficult, not easy.
Q. Which side can improve; the raiders or the defenders?
Gholamreza Mazandarani: Today, only Rakesh Gowda played better than the rest of the raiders, the remaining weren't quite up to the mark. When players follow the team plan, it all works out. Otherwise you can't do anything. We have a strategy; when we follow it, we have a good chance.
Q. How do you assess your chances on reaching the playoffs?
Gholamreza Mazandarani: We have eight matches left, we need to win maybe six or seven. This is really difficult. For every team, all matches are important and so are points. They will also be fighting. But we will also try.