pkl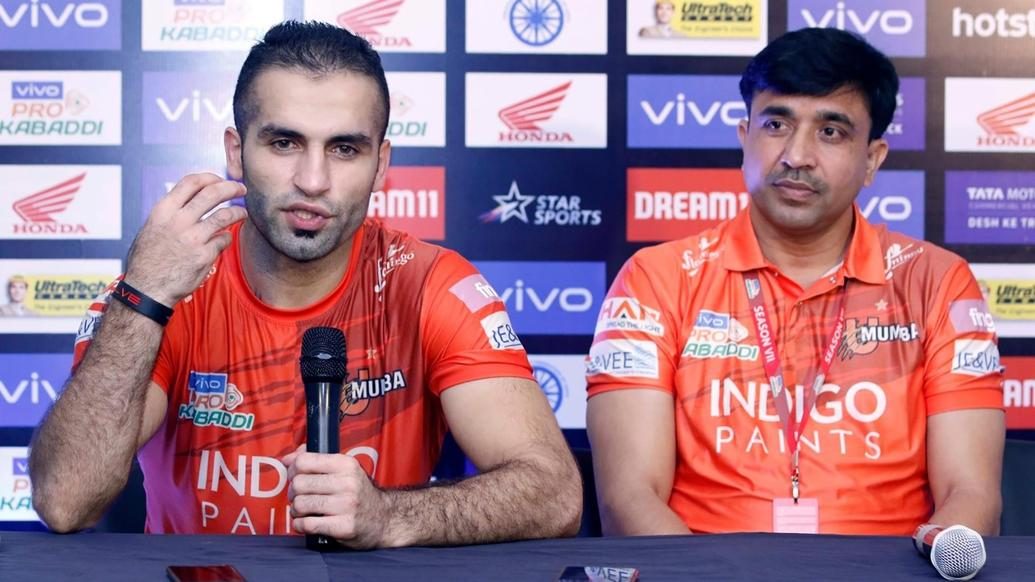 U Mumba captain Fazel Atrachali hailed their victory, while opposition coach Manpreet Singh acknowledged what did Gujarat Fortunegiants in.
U Mumba put in a memorable performance at the Dome, NSCI, SVP Stadium on Friday to beat Gujarat Fortunegiants 32-20 in the final match of the Mumbai leg. It was a stellar performance by the home side to overcome a Gujarat Fortunegiants side which had been unbeaten in VIVO Pro Kabaddi Season 7 prior to the encounter. For U Mumba, coach Sanjeev Kumar and captain Fazel 'Sultan' Atrachali fielded questions on their home turf, while Gujarat Fortunegiants coach Manpreet Singh and skipper Sunil Kumar reflected on their day.
U Mumba
Q. Coach, how would you assess the defence of the teams today?
Sanjeev Kumar: Both the teams' defence was good. The main point was that whichever team got the All-Out first, that team would win. Whatever lead got accumulated was after the points collected after the first All-Out. If we had been All-Out first, then it would have been difficult for us.
Q. How competitive was this match?
Sanjeev Kumar: If our defence had leaked points then we didn't have much hope that our raiders would have got the points. So that's what I told Sandeep Narwal and Fazel Atrachali, that whether it's a bonus or a successful raid, if they get a point, then consider us lost. We couldn't afford to give a point.
Q. Fazel, how important was it to end the home leg on a high?
Fazel Atrachali: Every match was important, but this match was more important because we are in the home leg and we lost two matches. We were unlucky in the last two matches, but we learned from them. Tonight was important because if we had lost three straight matches as a home team then it would have brought the confidence down. But we have bounced back. Now in the next match, we will go with more energy.
Gujarat Fortunegiants
Q. Did the four-point Super Raid by Surinder Singh have a big impact?
Manpreet Singh: It was a very good match. After the first All-Out, that's where the match turned in U Mumba's favour. But the boys played very well, nevertheless. There was a point in the match that was turning in favour of Gujarat Fortunegiants. But the raid by the Sardarji (Surinder Singh) - those four points - I thought was the winning moment for them. Because when someone takes four points then it gets tough. But we kept trying, regardless. We put in the effort and got to learn where we erred the most. So, we'll fix everything for the next match.
Q. Sunil, did the team do a little bit too much with the advanced tackles?
Sunil Kumar: That's where we could have done better. They weren't attacking us, but we went in and attacked them, and gave too many points away to their raiders.
Q. Coach, how difficult is it to play back-to-back matches?
Manpreet Singh: It is very difficult because you don't play to lose, that's obvious. When you play to win - one day against U Mumba and then Haryana Steelers the next - both are different teams, it becomes very tough for all teams, not just Gujarat Fortunegiants. But then that's the excitement about VIVO Pro Kabaddi. So, when you play every day, the performance consequently goes up and down.