pkl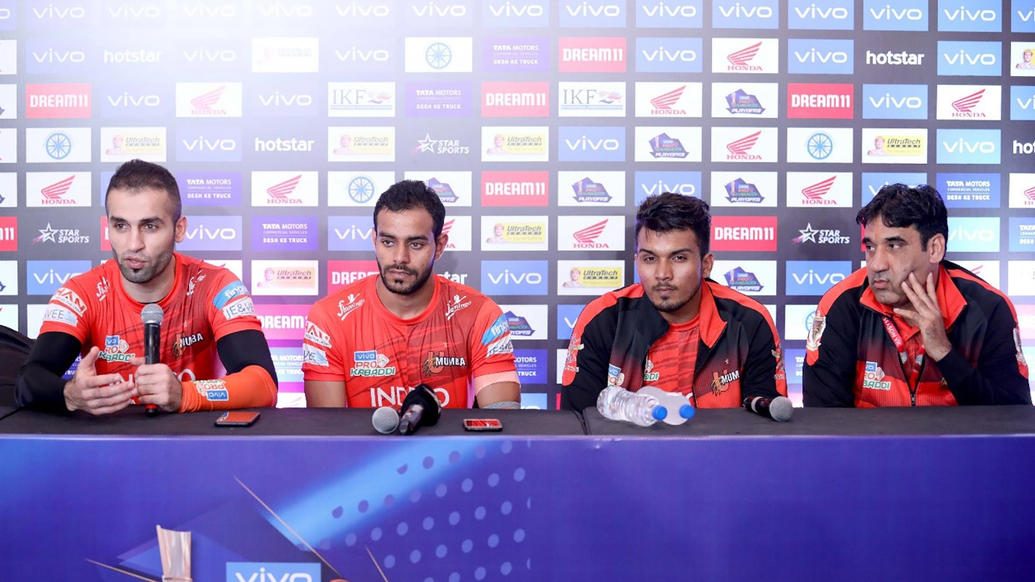 The U Mumba skipper stressed the importance of teamwork after they beat Haryana Steelers in Eliminator 2.
U Mumba set up a Semi-final encounter with Bengal Warriors in Season 7 of vivo Pro Kabaddi after a 46-38 win over Haryana Steelers at the EKA Arena by TransStadia in Ahmedabad on Monday. Abhishek Singh and Arjun Deshwal combined for a total of 31 raid points on the night as the Season 2 champions notched up a comfortable win. U Mumba's coach Sanjeev Kumar, captain 'Sultan' Fazel Atrachali, Abhishek Singh and Arjun Deshwal were present at the post-match press conference, while Haryana Steelers' coach Rakesh Kumar and skipper Dharmaraj Cheralathan answered reporters.
U Mumba
Q. Coach, defence is your strength but your offence helped you win tonight. Thoughts?
Sanjeev Kumar: The first time you asked me this question I gave you the same answer. No one knew 'Baahubali' Siddharth Desai (who was with U Mumba) last year but he's very well-known this season. Something similar is happening with Abhishek and Arjun this year. Even Pardeep Narwal was an unknown when he first entered Pro Kabaddi. I always had great faith in (Abhishek and Arjun) and they proved me right with their performances tonight.
Q. Fazel, how proud are you to make it to the semi-finals?
Fazel Atrachali: Firstly, I'm very happy to qualify for the semi-finals. Similar to last season, no one believed that U Mumba could qualify, and everyone was looking for a star play in our team. But as I said last year, we make the stars, like Abhishek (this season). My idea is that if we play as a team, we win. I'm proud of my team as well as Abhishek and Arjun because they stuck to the game-plan. They executed everything that I asked them to do, so we have very good teamwork, and nothing is better than that.
Q. Abhishek, what was the mindset before the game?
Abhishek Singh: Well, it was the playoffs and (Fazel) told us to play freely without any pressure. The plan was to just go out there to do our best and play well. Plus, we hadn't lost to them by a big margin in the previous games as well. So, we applied pressure on them from the start with bonus points and the defence did their part as well. Now our focus is to do well in our next match against Bengal Warriors.
Q. Arjun, what did the skipper tell you before the game and how was it to raid in tandem with Abhishek?
Arjun Deshwal: Fazel asked us to play freely straight from the outset, which is why my partnership with Abhishek thrived tonight, and our defence also delivered, hence we won.
Q. Abhishek, how was it raiding in tandem with Arjun?
Abhishek Singh: Our combination has always been good. We have experience of playing together for U.P. at state level and we have always done well together. We always get quite a few points for the team while raiding in tandem. Last year, also, we were together but an injury to him prevented our partnership from flourishing for U Mumba. This season, he's been good and, despite suffering another injury setback midseason, he's come back strongly, and we are raiding well together.
Haryana Steelers
Q. Dharmaraj, what was the team-talk at halftime while trailing?
Dharmaraj Cheralathan: We had to change our strategy because our defence wasn't functioning well. We had quite a few lapses in defence resulting in a change of plans for us.
Q. Coach, thoughts on your defence's performance?
Rakesh Kumar: The points we scored are all because of our raiders. If you look at the points we scored through the defence, you will just see a few tackle points, which is why we lost tonight.
Q. Dharmaraj, thoughts on Rakesh as a coach?
Dharmaraj Cheralathan: We have played together and against each other for 15 years and for me, he has delivered a very good performance as a coach in his debut season in the role. He has worked very hard and Haryana Steelers didn't qualify for the playoffs tonight because of lapses in defence, nothing else.