pkl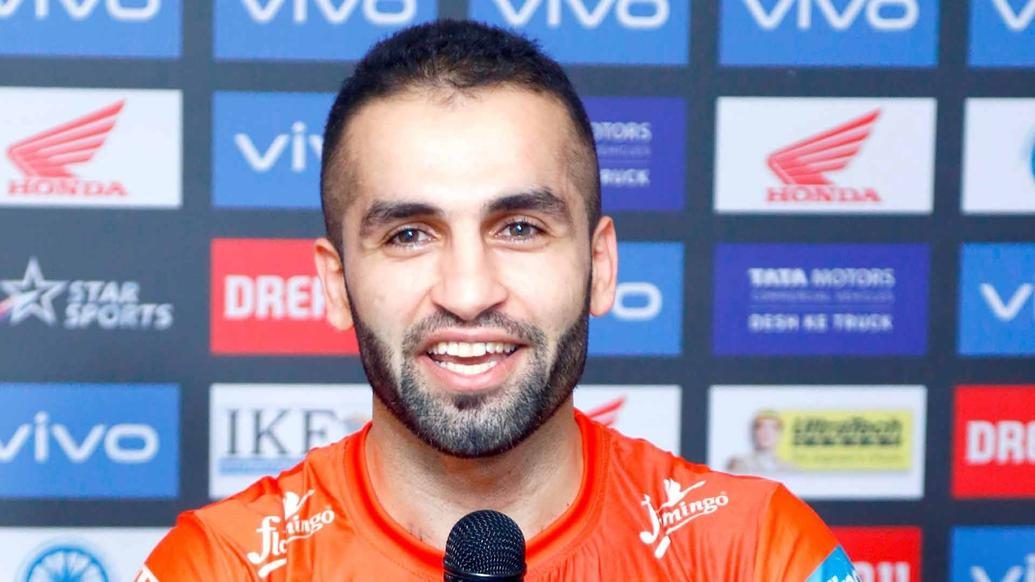 The Iranian was delighted that his team came out on top in a game that went down to the wire.
A Super Raid from Rohit Baliyan just as the clock ran out was the difference for U Mumba as they saw off a valiant Patna Pirates comeback to win 34-30 at the EKA Arena by TransStadia in Ahmedabad on Friday. In the post-match press conference, coach Sanjeev Kumar Baliyan, skipper Fazel Atrachali and raider Rohit Baliyan took questions for U Mumba, while Patna Pirates were represented by coach Ram Mehar Singh and captain Pardeep Narwal.
U Mumba
Q. Thoughts on the game?
Fazel Atrachali: This match was kabaddi in a nutshell.
Q. Thoughts on the finish?
Fazel Atrachali: If you see our games that have gone down to the wire, against U.P. Yoddha and Bengal Warriors, we were slightly unfortunate to end up losing. But tonight, luck was on our side. Rohit Baliyan was excellent. I'm happy with his performance.
Q. Thoughts on the team?
Fazel Atrachali: I think everyone played well. Athul MS was good. Baliyan was, obviously, outstanding. Sandeep Narwal had a good game. So many players made timely contributions.
Q. What were you thinking during that last raid?
Rohit Baliyan: I was just trying to avoid the All-Out. Had I lost the point, we would have lost the game. So, it was crucial for me to stay calm and not panic.
Patna Pirates
Q. Thoughts on the game?
Ram Mehar Singh: Things did not pan out as we had hoped in the first half. We made advanced tackles and gave up a few points. That really was the turning point.
Q. Thoughts on the raiders' performance?
Ram Mehar Singh: The raiders did their job. Jang Kun Lee played his part. Mohammad Maghsoudlou also performed well. The defenders couldn't match the performance of the raiders and that cost us the game.
Q. Would you look at changing up the team combination?
Ram Mehar Singh: We'll assess the game, analyse specific areas where we could have done better, have discussions and then decide if we need to look at some of the other players in the squad.