pkl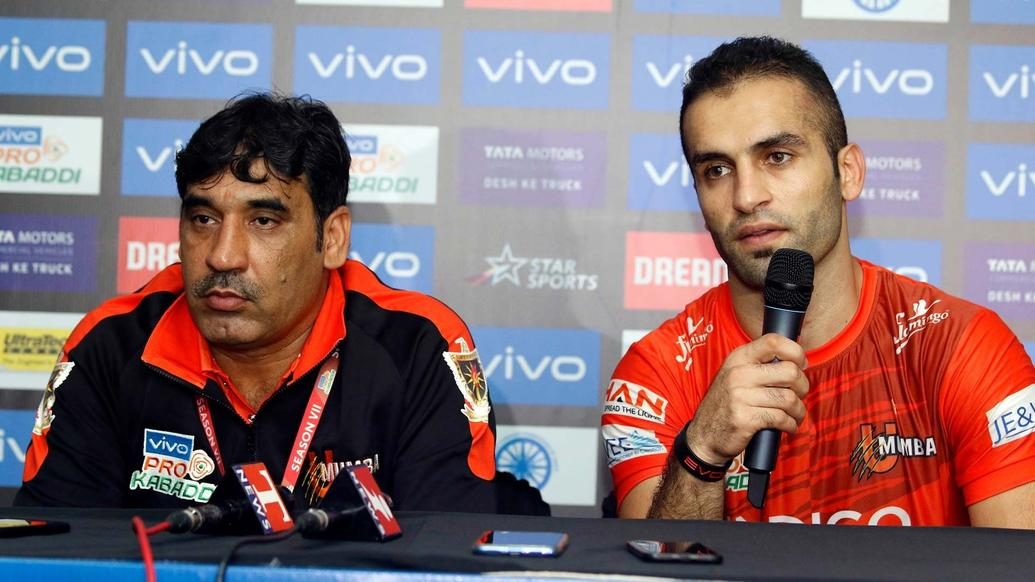 Kumar also heaped praise on raider Abhishek Singh and corner duo Fazel Atrachali and Sandeep Narwal.
A masterful display by U Mumba helped them come out as 31-25 winners against Telugu Titans in the first match of VIVO Pro Kabaddi Season 7 at the Gachibowli Indoor Stadium in Hyderabad. Abhishek Singh starred for U Mumba in the raiding department, picking up a Super 10 while captain Fazel Atrachali and all-rounder Sandeep Narwal led the defensive contributions with four points each.
In the post-match press conference, coach Sanjeev Kumar and captain Fazel Atrachali took questions for U Mumba while Telugu Titans were represented by coach Gholamreza Mazandarani.
U Mumba
Q.Thoughts on the game?
Sanjeev Kumar: Both teams are quite good. Today, it worked out for us. Fazel, Abhishek and Sandeep played quite well. They also had a couple of players that played well, but today, everything worked out on our end.
Q. Fazel said that U Mumba's plan against Siddharth Desai will only be revealed on the mat. Are you satisfied with how things transpired?
Sanjeev Kumar: We did have certain plans to limit him and we managed to execute them.
Q. What are your thoughts on Abhishek Singh's performance?
Fazel Atrachali: Obviously there was some chatter about who our lead raiders would be. But we have Abhishek Singh and Arjun, who did not play much today, and we also have Dong Geon Lee. It isn't just about Abhishek. It is about the team. And we played well as a team.
Q. Telugu Titans were close to inflicting an All-Out at the end. What was going through your mind then?
Fazel Atrachali: It's the first game of the season and there are bound to be things that we can improve upon. This was a good experience for us. The first match is always difficult.
Telugu Titans
Q. Thoughts on Siddharth Desai's performance?
Mazandarani: He's just one player. We cannot expect him to propel us to victory in every game. U Mumba's defensive unit played with him last season and that worked to their advantage. Also, he's still adjusting to the change. We'll have a chat and I'm sure he'll be back to his best.
Q. What were the positives from this game?
Mazandarani: We played well towards the end. Obviously, this is a good learning experience for us. The season is long, and no team goes unbeaten. So, we can take some lessons from this game and work on improving in areas that we didn't excel in.
Q. Do you think your team is defence heavy?
Mazandarani: No. We have a lot of young raiders that we will try out over the course of the season. Today we played 19-year-old Rakesh Gowda and it was his debut and I think he played quite well. We will try out the others as well and then decide whom to play.