pkl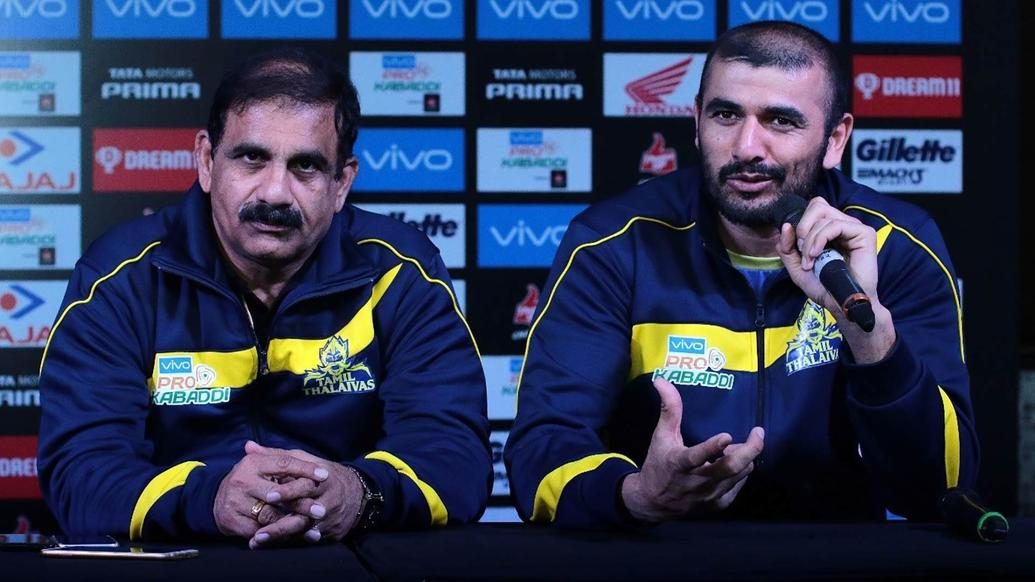 Pardeep Narwal's raid point in the final minute of the match salvaged a tie for Patna Pirates against Tamil Thalaivas at the Thyagaraj Sports Complex in Delhi on Friday. In the post-match press conference, coach Ram Mehar Singh and captain Pardeep Narwal took questions for Patna Pirates, whereas Tamil Thalaivas were represented by coach E Bhaskaran and captain Ajay Thakur.
Tamil Thalaivas
Q: Are you satisfied with the result?
E Bhaskaran: We needed a win today in order to stay in contention for the Playoffs, so we are not satisfied with the tie. We played a very good game today. This is how we intend to play all our games, with this intensity. However, the tie will ensure our morale for the games ahead stays high as we need to win those games.
Q: What was going through your head during the final raid?
Ajay Thakur: The plan was to try for a point. The bonus was available, so I was thinking I would go for the bonus but their defence played a tight line, so I needed to go for a touch point. However, there was no chance to score. Had I continued searching for the point, there was a good chance that I would have been caught and we would have lost the game.
Patna Pirates
Q: Are you satisfied with the result?
Ram Mehar Singh: This was one match that could have gone either way till the final whistle. Thankfully, we didn't lose but got a tie so I'm happy with the result. We made quite a few errors, especially in the last couple of minutes when we were in control of the game. We should have controlled the game from that point on, but we couldn't and hence the game ended in a tie.
Q: You won five straight games before today's match. What would you consider as your strengths and weaknesses?
Ram Mehar Singh: Both our departments, offence and defence, have been playing well. In the five games we won, both departments performed brilliantly. As far as today's game is concerned, the defence committed mistakes that could have been avoided. Our raiders, Pardeep Narwal to an extent and Manjeet, committed quite a few errors as well. Manjeet was on the receiving end of a Super Tackle twice. We conceded four points there. Instead, we should have collected the points in that situation.
Q: What was the thinking behind the last raid of the match?
Pardeep Narwal: We didn't want to give Ajay Thakur the bonus. We wanted him to work for the point. We played a high line and didn't give him a point but unfortunately, we couldn't get one either.