pkl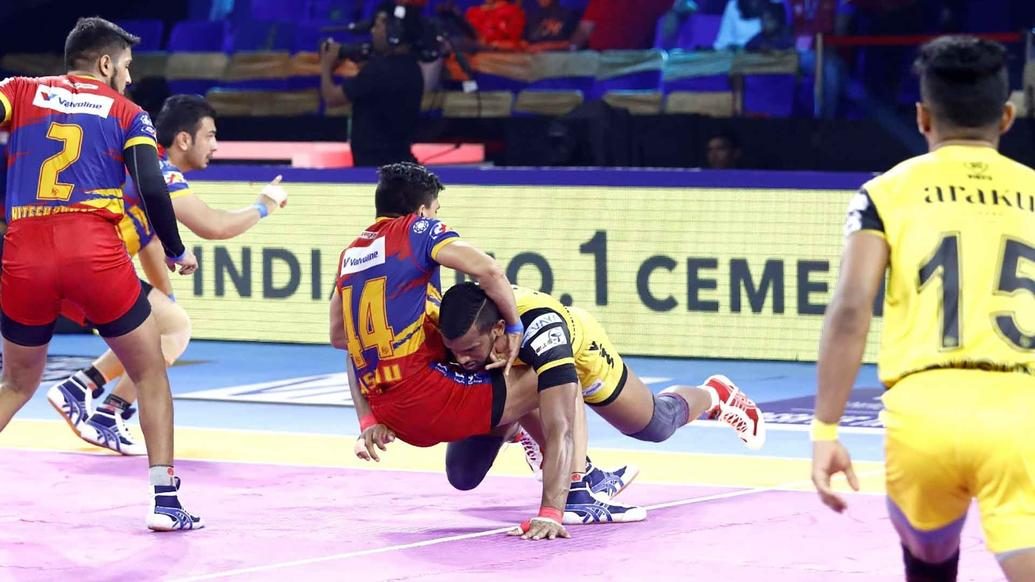 Siddharth Desai scored 15 raid points to help Telugu Titans defeat U.P. Yoddha 41-36 in their last match of the season.
'Baahubali' Siddharth Desai scored a Super 10 to lead a second-half Telugu Titans fightback, which resulted in a 41-36 victory for them over U.P. Yoddha at the Shaheed Vijay Singh Pathik Sports Complex in Greater Noida on Wednesday. Sumit scored another High 5 for the hosts as U.P. Yoddha tasted defeat at home for the first time this season.
Telugu Titans built some momentum at the start of the match through Desai's decisive raids and Krushna Madane's tackle to send Monu Goyat to the bench. However, Rishank Devadiga and Shrikant Jadhav prevented an early All-Out from being inflicted with some sharp raids of their own.
The home side managed to reduce the deficit to just one point after skipper Nitesh Kumar finally managed to send Desai to the bench in the 12th minute of the half. They then levelled the score through Devadiga's touch point on Akash Choudhary.
With momentum now on their side, U.P. Yoddha soon raced into the lead through Jadhav's two-point raid, which eliminated defenders C. Arun and Madane to leave just a solitary man on the mat for Telugu Titans. The home side inflicted the All-Out in the next raid to take a three-point lead before Jadhav and Nitesh helped them extend their advantage to 20-14 by halftime.
U.P. Yoddha were dominant in the initial period of the second half as Sumit sent Desai to the bench, while Jadhav and Devadiga picked up touch points with ease. This allowed them to inflict another All-Out on Telugu Titans just four minutes into the half to open up an 11-point lead.
However, Arun's tackle on Devadiga started a successful run for the visitors that saw the 'Baahubali' make short work of the U.P. Yoddha defence to reach his Super 10 and inflict an All-Out, cutting the deficit to just six. A four-point Super Raid from Desai then brought U.P. Yoddha down to three but Sumit Super Tackled him in his next raid attempt to keep his side ahead.
Farhad Milaghardan took over raiding responsibilities in Desai's absence and put in a two-point raid to tie the score at 35-35 with less than three minutes left to play. This also reduced U.P. Yoddha to a solitary man.
The ensuing All-Out put the home side at a two-point disadvantage with little time left on the clock. The hosts continued to fight but the visitors didn't give them an inch as Madane and Arun held firm in defence to help their team win by five points.
Top Performers:
U.P. Yoddha –
Best Raider – Shrikant Jadhav (8 Raid Points)
Best Defender – Sumit (5 Tackle Points)
Telugu Titans –
Best Raider – Siddharth Desai (15 Raid Points)
Best Defender – Krushna Madane (4 Tackle Points)