pkl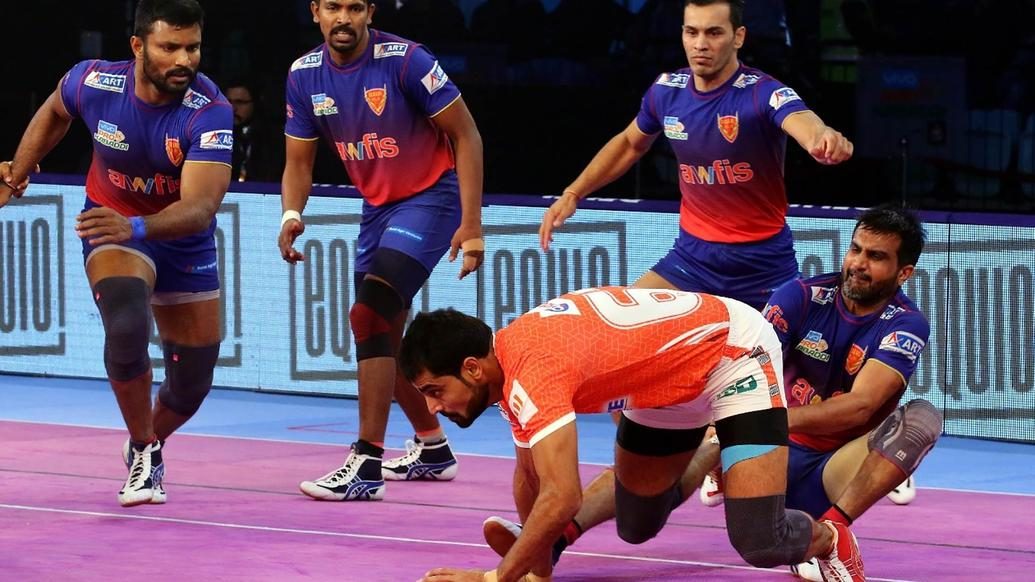 A clinical display in defence from Dabang Delhi K.C. handed them a 35-24 victory over Puneri Paltan at the Thyagaraj Sports Complex in Delhi on Sunday. This victory helped the home team close the gap on third-placed Puneri Paltan to just two points with three additional games in hand.
Check out the photos from the match here.
Dabang Delhi K.C. were off to a blinder of a start courtesy of two tackle points from Vishal Mane and Ravinder Pahal followed by two raid points from Meraj Sheykh and Naveen Kumar to give their side a 4-0 lead. Puneri Paltan finally managed to get on the scoreboard via a touch point from Akshay Jadhav. But that would prove to be the only point they could manage before Sheykh's touch point on More G B followed by Naveen Kumar's Super Raid inflicted an All-Out and gave their side a 10-1 lead in just the sixth minute of the match.
Puneri Paltan showed signs of recovery, scoring three straight points courtesy of a touch point each from More G B and Jadhav, split by a tackle point from Sandeep Narwal. In the 11th minute, More G B continued Puneri Paltan's fight back by scoring a two-point raid to bring down his team's deficit to seven.
Rinku Narwal's tackle on Naveen Kumar and Deepa Kumar Dahiya's touch point on Pahal would reduce Dabang Delhi K.C. down to just three as Puneri Paltan sniffed an All-Out. With the Super Tackle on, Dabang Delhi K.C. brought in defender Satpal and it paid dividends as he managed to bring down the raider and gets two points for his team. Puneri Paltan's defence tackled Sheykh for the final point of the half as the teams went into the break with Dabang Delhi K.C. leading 18-10.
The second half kicked off with Rinku Narwal's tackle on Shabeer Bappu reducing Dabang Delhi K.C. down to just two men and the All-Out being closer than ever for Puneri Paltan. But Satpal executed a brilliant Ankle Hold and, with the support of his captain, managed to get his second Super Tackle of the contest and give his side a 20-11 lead. Dabang Delhi K.C. would add three more points to their score to increase their team's lead to 12 points. But a bonus point followed by a Super Raid from Dahiya kept his team's hopes alive.
Visit the matchcentre to relive the contest here.
Dahiya's efforts proved to be just momentary respite, though, as two quick touch points from Ranjit and Sheykh reduced Puneri Paltan down to a solitary man on the mat. Dabang Delhi K.C.'s defence made short work of the raider, tackling him down to inflict a second All-Out on Puneri Paltan and take a 31-18 lead in the contest.
Dahiya continued to wage a lone battle and scored four points in three minutes to complete a Super 10, but Sheykh replied with three points of his own to negate the effects of Dahiya's efforts and maintain Dabang Delhi K.C.'s healthy lead.
With the clock winding down and Dabang Delhi K.C.'s lead at nine, Puneri Paltan attempted to bring down the deficit to seven or under and score at least a point from the contest. But Mane's tackle on Dahiya and Sheykh's touch point on Girish Maruti Ernak increased the home side's lead to 11 as the clock expired and handed Dabang Delhi K.C. their second victory in three days.
Top performers
Dabang Delhi K.C.
Best Raider: Meraj Sheykh (7 Raid Points)
Best Defender: Vishal Mane (4 Tackle Points)
Puneri Paltan
Best Raider: Deepak Kumar Dahiya (10 Raid Points)
Best Defender: Rinku Narwal (3 Tackle Points)