Deepak Hooda's late heroics help Jaipur Pink Panthers earn a draw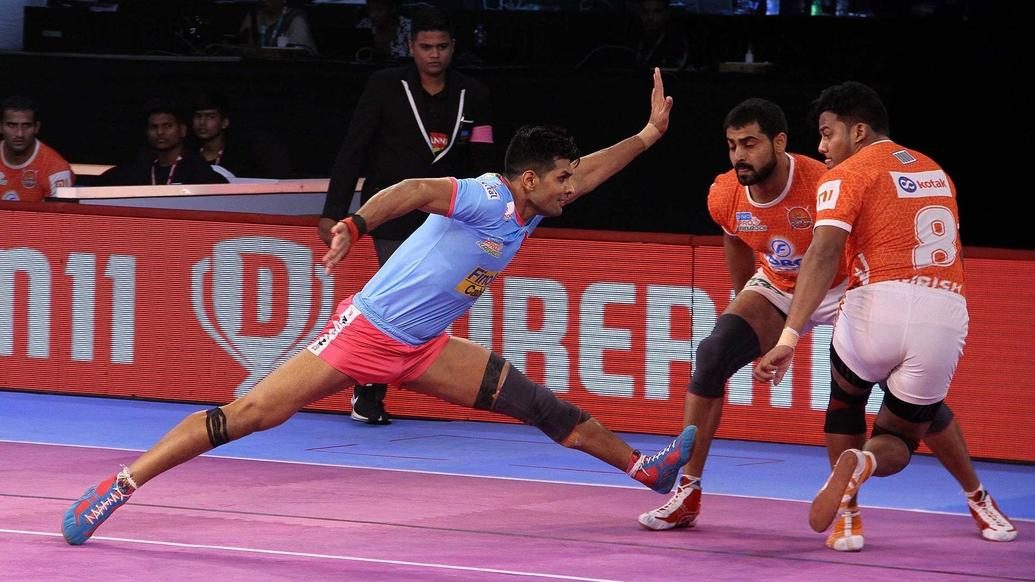 A thriller of a contest at the Shree Shiv Chhatrapati Sports Complex in Pune that went down to the very last raid of the match ended with honours even as Puneri Paltan and Jaipur Pink Panthers played out a 30-30 tie. Puneri Paltan captain Girish Maruti Ernak had seemed to have won the game for his side with his fifth and sixth tackle points of the night, but Deepak Niwas Hooda, who finished with 11 raid points, managed to get a point in the final raid to salvage a tie for his side.
Both defences were at the top of their game early on, making life difficult for the raiders. With the game evenly poised at 5-5, Right Corner Mohit Chhillar managed to stop Monu in his tracks.
Check out the photos from the match here.
With momentum firmly in their side, Sandeep Dhull managed to tackle Akshay Jadhav, which was followed by Hooda getting a touch on Ravi Kumar to reduce Puneri Paltan down to just a solitary man. Jaipur Pink Panthers' defence made short work of the last man, inflicting the game's first All Out and taking a 13-7 lead in the match. Both teams shared the next six points of the game evenly before Sunil Siddhgavali tackled Monu for the final point of the half as the teams went into the break with Jaipur Pink Panthers leading 17-10.
In the 23rd minute, with Puneri Paltan down to just three men, Hooda came in to raid and seemed to have managed a Running Hand Touch on Girish Maruti Ernak before stepping into the lobby. But a review suggested that there was no touch on the defender and Puneri Paltan were handed a Super Tackle. Deepak Kumar Dahiya and Monu then added two more points to cut down Jaipur Pink Panthers' lead to just three. What followed was the game-changing moment of the match.
More GB went in to raid and stepped out of bounds taking Sandeep Dhull, Siddhgavali and Anup Kumar with him. This handed Puneri Paltan three revivals and reduced Jaipur Pink Panthers' lead down to just one. But Hooda was defiant, as he got three raid points in two raid attempts before assisting a brilliant Super Tackle to push the team's lead back up to five.
Two more points from Puneri Paltan reduced Jaipur Pink Panthers down to just Hooda yet again and this time, the defence managed to tackle the raider to inflict an All-Out and reduce the deficit down to just one. But two huge tackles from captain Ernak gave his side a 30-28 lead in the game with just over a minute left in the contest.
Visit the matchcentre to relive the contest here.
Amit Kumar managed to tackle Monu to reduce the deficit to just one and leave the game to a duel between Hooda and Puneri Paltan's defence. With the game on the line, Hooda delivered the goods as he successfully evaded a tackle attempt from Ernak to earn his side a point just as the clock expired to finish the game in a thrilling tie.
Top performers-
Puneri Paltan
Best Raider: Deepak Kumar Dahiya (5 Raid Points)
Best Defender: Girish Maruti Ernak (6 Tackle Points)
Jaipur Pink Panthers
Best Raider: Deepak Niwas Hooda (11 Raid Points)
Best Defender: Amit Kumar (4 Tackle Points)