pkl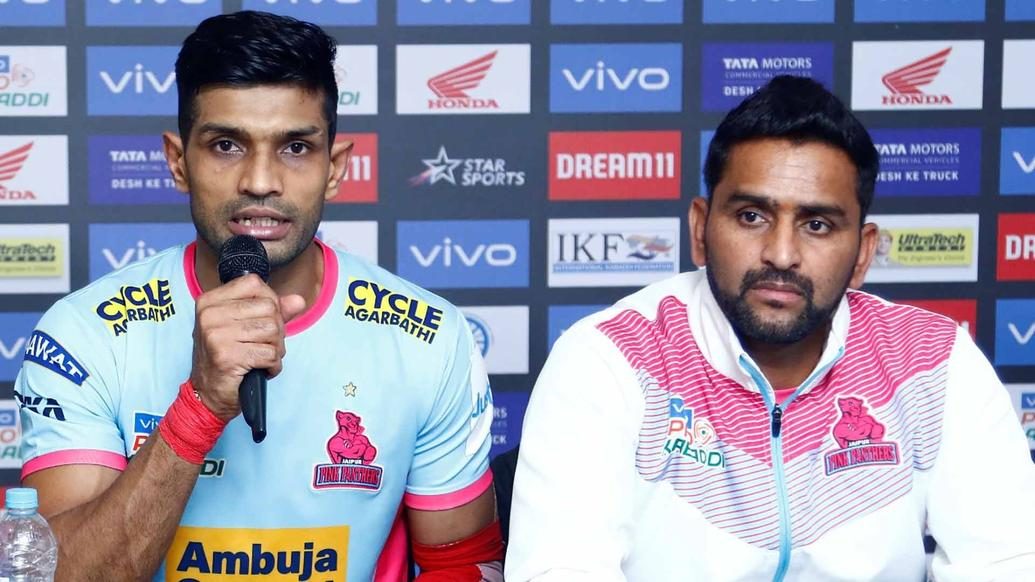 Captain Deepak Hooda expressed his happiness after Jaipur Pink Panthers' gritty performance against Gujarat Fortunegiants.
Jaipur Pink Panthers fought till the very last minute against Gujarat Fortunegiants to register a 22-19 victory in a low-scoring match at the EKA Arena by TransStadia in Ahmedabad on Friday. Deepak Hooda top scored in the match with 7 points to his name. At the post-match press conference, Deepak Hooda, coach Srinivas Reddy and Sandeep Dhull took questions for Jaipur Pink Panthers, while Manpreet Singh and captain Sunil Kumar addressed the media on behalf of Gujarat Fortunegiants. Some excerpts are below.
Jaipur Pink Panthers
Q. Coach. who would you credit this victory to?
Srinivas Reddy: I always say that this is a team sport. It takes a collective to win. Our defence and offence played with patience, calculation and strategically. It was important to play mind games against this opponent and we had planned for that. We didn't give in till the final minute and the result of that is for all to see.
Q. What were your instructions to Deepak Hooda and the team?
Srinivas Reddy: This is Deepak's seventh season on the trot. So naturally, he has matured the more he has played. He has played in a number of crunch matches, so as a captain, he has to deliver. I told him that along with your role as a captain, your performance should be like that of a captain as well. In the same manner, our two defenders – Sandeep Dhull and Pavan TR – both played with outstanding patience. Whoever we brought on, they delivered for us today.
Q. Deepak, did it ever feel like the match was slipping away?
Deepak Hooda: No, it never felt like the match was slipping away. A couple of points here and there can always be made up. We had decided to play like a team and stick to the basics. I want to credit the entire team for sticking together till the end and executing our plan to precision. I consider myself lucky to be playing with this team.
Gujarat Fortunegiants
Q. Coach, thoughts on the match?
Manpreet Singh: The team has played very well in all the matches, especially the ones in the home leg. The players are giving their hundred percent but sometimes luck is not on our side. There are many moments which could have gone either way in all the matches. If there is any shortcoming we will try and overcome it for the upcoming matches.
Q. How is the motivation of the team after this leg?
Manpreet Singh: I don't think motivation is a problem. The team is not losing any match without a fight. Each match is coming down to the wire, so I don't think there is any lack of motivation in the side. It's just that luck isn't favouring us at the moment.
Q. Will there be a change in the strategy going forward?
Manpreet Singh: Gameplans and strategies are made keeping the particular opposition in mind. We have strategies made for each match and we will change. I still have complete faith in myself and my team.