pkl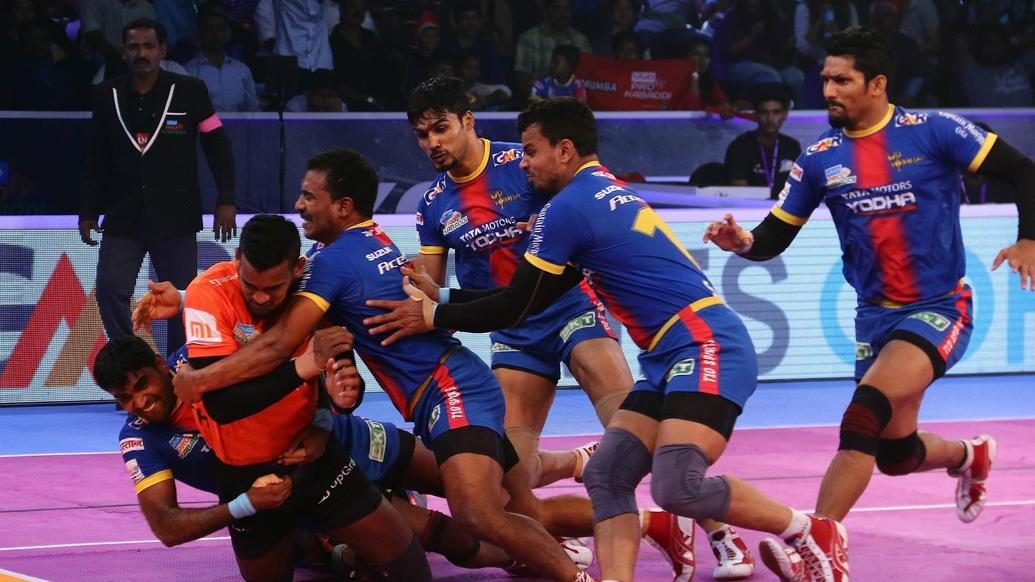 Nitesh Kumar and Jeeva Kumar combined to pick up 13 tackle points and helped their team beat U Mumba by a scoreline of 34-29.
A mammoth eight-tackle point performance from the league's leading tackle point-scorer Nitesh Kumar and a High 5 from veteran Cover defender Jeeva Kumar helped U.P. Yoddha beat U Mumba by a scoreline of 34-29 at the Rajiv Gandhi Indoor Stadium in Kochi. U.P. Yoddha also set a franchise record with 18 tackle points, their highest tally in a single match.
The opening exchanges of the match belonged to the raiders as U Mumba's Siddharth Desai and Rohit Baliyan got two points each while U.P. Yoddha's Prashanth Kumar Rai scored three to keep level pegging in the contest. But U.P. Yoddha upped the ante as Nitesh Kumar tackled Desai to send the raider to the bench and a self-out from Darshan Kadian followed by Shrikant Jadhav's first raid point of the match left U Mumba with just a solitary man on the mat. Nitesh Kumar made short work of the raider as U.P. Yoddha inflicted an early All-Out to take an 11-7 lead in the contest.
Check out the photos from the match here.
Post the All-Out, Desai quickly added two more points to his tally but U.P. Yoddha's defence were playing with supreme confidence and soon after sent the raider to the bench courtesy of a strong tackle from Jeeva Kumar. The rest of U Mumba's raiding department also struggled against the might of U.P. Yoddha's defence, as Narender and Nitesh tackled Kadian and Baliyan, respectively, to give their team a 16-11 lead in the contest. But three tackle points from U Mumba's defence's and a touch point from Kadian helped U Mumba finish the half with some momentum on their side as the teams headed into the half time break with U.P. Yoddha leading 18-15.
U.P. Yoddha's continued to starve U Mumba's offence, as Nitesh and Narender added a tackle point each and captain Rishank Devadiga scored a raid point each in his first two raids of the second half. Then three points in two raids from Shrikant Jadhav followed by Nitesh Kumar's sixth tackle point of the night gave U.P. Yoddha a sizeable lead. Abolfazl Maghsoudlou finally managed to send Nitesh Kumar to the bench but it was a short stay as Jeeva Kumar Dashed Baliyan out of bounds to revive the Right Corner and put his team up by seven points.
Fazel Atrachali's tackle on Devadiga started a run of four straight points for U Mumba and reduced U.P. Yoddha down to just three men as U Mumba closed the gap to just three points. But with the Super Tackle on, Jeeva Kumar got a block on Desai to put his team back up by five and complete a High 5, his first of the campaign. Nitesh Kumar continued a stellar night with a tackle on Desai and shortly after U.P. Yoddha found themselves up by seven points just over a minute left in the contest.
Visit the matchcentre to relive the contest here.
Substitute Abhishek Singh picked up a two-point raid and then got a tackle point on Jadhav to give U Mumba a glimmer of hope. But Prashanth Kumar Rai's touch point followed by Nitesh Kumar's eighth tackle point of the night effectively ended any hope of a U Mumba revival. Desai scored the final point of the match with a touch on Nitesh Kumar, but it was U.P. Yoddha who moved on to Eliminator 3 with a staggering performance.
Top Performers
U.P. Yoddha
Best Raider – Shrikant Jadhav (5 Raid Points)
Best Defender – Nitesh Kumar (8 Tackle Points)
U Mumba
Best Raider – Siddharth Desai (7 Raid Points)
Best Defender – Fazel Atrachali (4 Tackle Points)