pkl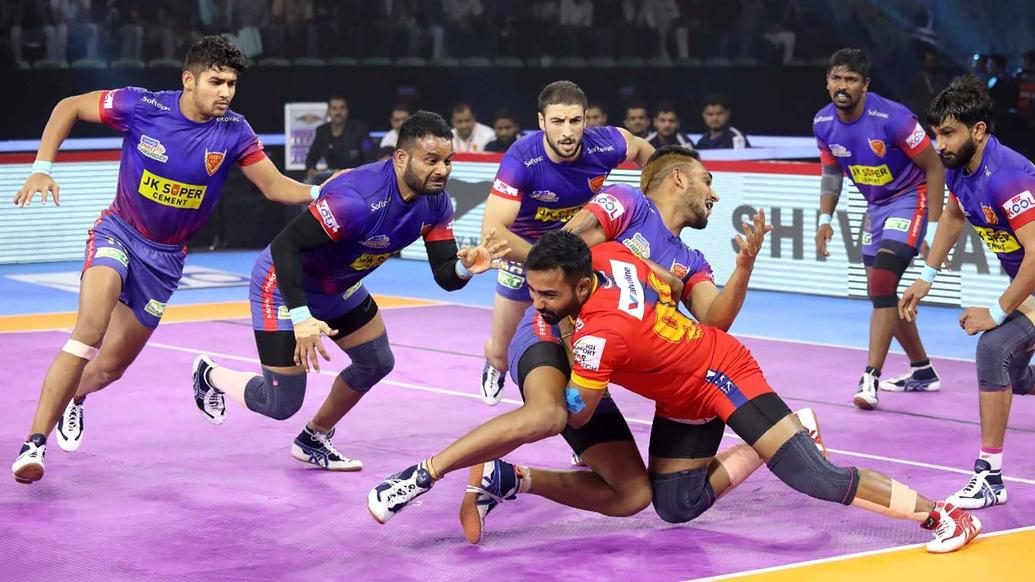 Dabang Delhi K.C. went to the top of the Season 7 standings after beating U.P. Yoddha 36-27.
Dabang Delhi K.C. rose to the summit of the vivo Pro Kabaddi Season 7 standings with a 36-27 win over U.P. Yoddha at the Thyagaraj Sports Complex in Delhi on Sunday. Naveen Kumar finished the game with a whopping 16 raid points, while Ravinder Pahal registered a High 5.
U.P. Yoddha started strongly and took an early 4-0 lead. But Naveen ensured that they didn't open up a big lead with a couple of swift raids. Naveen, in fact, was proving to be the most difficult player for the visitors to contain and, along with Pahal, accounted for most of Dabang Delhi K.C.'s points in the first half.
As the half wore on, U.P. Yoddha found containing Naveen increasingly difficult. The Dabang Delhi K.C. youngster's efficiency while raiding helped enforce an All-Out on U.P. Yoddha with a little less than two minutes left in the half.
The home side then finished the half strongly and went into the break with a 15-11 lead.
The second period saw Dabang Delhi K.C. build on their lead in the first 10 minutes with a few more successful raids from Naveen and decisive tackles from their defenders. U.P. Yoddha, though, weren't about to go down without a fight and tried to forge a comeback. They were chipping away at Dabang Delhi K.C.'s lead, but a successful Do-or-Die raid by Chandran Ranjit at a pivotal juncture changed the momentum.
Naveen completed his seventh Super 10 moments later and then helped inflict a second All-Out on U.P. Yoddha with a little over four minutes left to play. With a 30-19 lead to protect in the closing stages, it looked as though the game was in the bag for Dabang Delhi K.C.
But a four-point Super Raid by Rishank Devadiga changed all that and set up an interesting finish. However, just when it looked as though U.P. Yoddha were about to inflict an All-Out, Naveen came to the rescue for Dabang Delhi K.C. yet again with a two-point raid. His raid deflated the opposition and instilled confidence in his team as Dabang Delhi K.C. went on to register back-to-back wins at home.
Top Performers:
Dabang Delhi K.C. –
Best Raider – Naveen Kumar (16 Raid Points)
Best Defender – Ravinder Pahal (5 Tackle Points)
U.P. Yoddha –
Best Raider – Monu Goyat (10 Raid Points)
Best Defender – Sumit (3 Tackle Points)